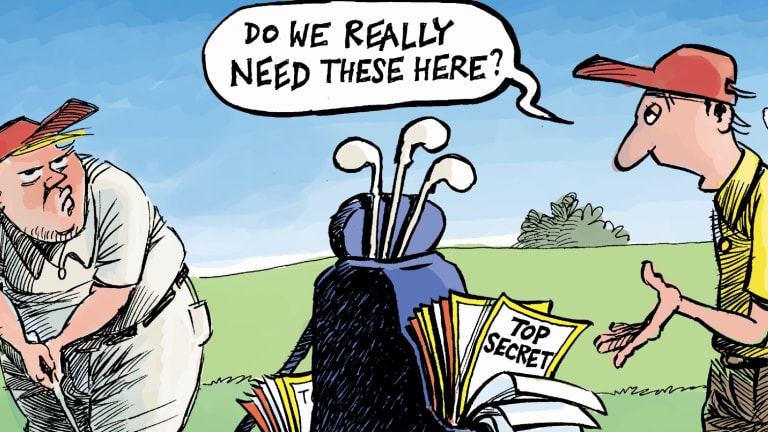 Trump's Seized Files Include Document on Foreign Nation's Nuclear Capacity
Why did Trump hold these highest level of secrets and what were his plans?
A document pertaining to a foreign government's nuclear capacity was reportedly among the files that federal agents seized from Donald Trump's Florida home last month, raising further alarm about the former U.S. president's handling of secret material and—according to nonproliferation advocates—spotlighting the inherent dangers of atomic weaponry.
According to the Washington Post, FBI agents who raided Mar-a-Lago on August 8 found "a document describing a foreign government's military defenses, including its nuclear capabilities." The reporting does not specify which nation.
"This isn't solely about Donald Trump: it's an indictment of the inherent flaws and fragility of the nuclear system."
"Documents about such highly classified operations require special clearances on a need-to-know basis, not just top-secret clearance," the newspaper observed Tuesday. "Some special-access programs can have as few as a couple dozen government personnel authorized to know of an operation's existence. Records that deal with such programs are kept under lock and key, almost always in a secure compartmented information facility, with a designated control officer to keep careful tabs on their location."
"But such documents were stored at Mar-a-Lago, with uncertain security, more than 18 months after Trump left the White House," the Post continued.
Stephen Miles, executive director of Win Without War, called the new reporting "deeply alarming" and added, "It's worth remembering that Trump was impeached for trying to extort a foreign leader."
"We know blackmail is exceedingly within his realm of behavior, which means literally any nuclear power could be the one implicated here," Miles wrote on Twitter. "The reporting is vague and worth noting that it need not be a nuclear weapons country but could be a country with a nuclear program, like Iran. Was Trump holding onto docs about Iran's nuclear program? If so, what for?"
"Last but not least we know Trump had zero intellectual interest in these issues," Miles argued. "There's no chance he held onto this out of simple curiosity and these are not documents one has by accident. Why did Trump hold these highest level of secrets and what were his plans?"
The Post's reporting came just a day after a Trump-appointed federal judge granted the former president's request for a special master to review documents seized during the Mar-a-Lago raid. The judge's decision, which was roundly pilloried by legal experts and could face an appeal from the Justice Department, halted federal prosecutors' examination of the retrieved material pending a special master review.
The newspaper noted Tuesday that "after months of trying, according to government court filings, the FBI has recovered more than 300 classified documents from Mar-a-Lago this year: 184 in a set of 15 boxes sent to the National Archives and Records Administration in January, 38 more handed over by a Trump lawyer to investigators in June, and more than 100 additional documents unearthed in a court-approved search on August 8."
"It was in this last batch of government secrets, the people familiar with the matter said, that the information about a foreign government's nuclear-defense readiness was found," the Post added. "These people did not identify the foreign government in question, say where at Mar-a-Lago the document was found, or offer additional details about one of the Justice Department's most sensitive national security investigations."
To nuclear nonproliferation campaigners, the new revelations mark yet another damning charge against a global order that has allowed and encouraged the spread of atomic weapons with the power to cause untold devastation.
Derek Johnson, managing partner of Global Zero—a campaign supporting the total abolition of nuclear weapons—said in a statement late Tuesday that "if you're feeling unsettled about these new revelations, it's important to keep in mind that what's sitting beneath that feeling is nuclear weapons."
"That an ousted president could run off with highly sensitive documents, in clear violation of federal law, is stunning—but the fact that these secrets are about weapons that can kill hundreds of millions of people is orders of magnitude more consequential," said Johnson. "Nuclear weapons expose Americans and the world to unacceptably high and, as we're seeing tonight, unpredictable risks. That part of this story can't be overlooked and is what makes it so alarming. It's also worth noting that the man who carted off state secrets on a foreign nation's nuclear capabilities is the same one who had absolute authority to launch a nuclear attack at any time—and is doing everything he can to regain that power."
This isn't solely about Donald Trump: it's an indictment of the inherent flaws and fragility of the nuclear system," Johnson continued. "Nuclear risks require an unattainable level of perfection and control. If the system to manage those risks is inadequate in the United States—and it's impossible to conclude otherwise—the same is true in every nuclear-armed nation. The world we live in is simply too dangerous and unpredictable for nuclear weapons; the case for abolishing them makes itself."