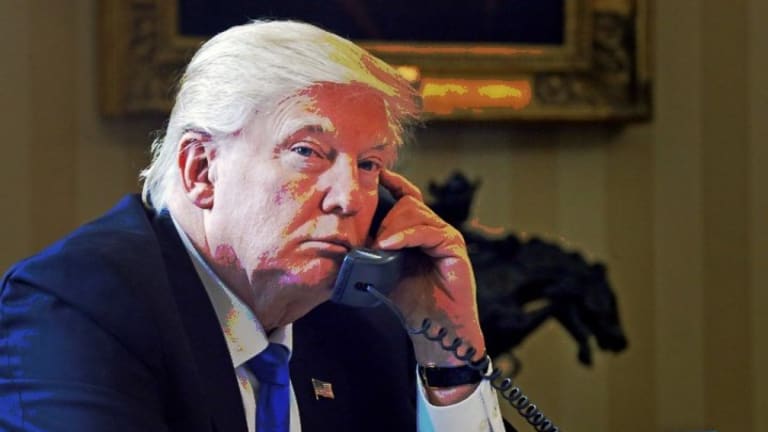 Donny, What's Really on That Tape?
Berry Craig: Because Trump won't divulge the recording or lift the gag order against his toadies, it's hard not to conclude that he's guilty.
The media blew it again.
When President Trump met with Paraguay's president, Mario Abdo Benítez, in the White House the other day, he claimed for the umpteenth time that the transcript of his phone conversation with Ukrainian President Volodymyr Zelensky was "perfect" and proof of "no quid pro quo."
For the umpteenth time, nobody from the Fourth Estate asked Trump why he won't release what would be ironclad proof of what he said: an unedited recording of the call. So this old reporter asked a retired White House reporter what gives.
"It seems like a reasonable question to ask," said Bill Straub, a former Washington correspondent for the Kentucky and Cincinnati Posts and a political correspondent for Scripps Howard News Service.
Straub, a Kentucky Journalism Hall of Famer, conceded that some reporter might have asked asked Trump and he missed it. If some scribe or TV newshound did inquire about the recording of the call, I missed it, too. Anyway, I'd ask the question every time the president claims the transcript clears him.
Trump huddled with Paraguay's president shortly after the House Judiciary Committee voted to impeach him. The whole House is supposed to vote tomorrow.
Because Trump won't divulge the recording or lift the gag order against his toadies, it's hard not to conclude that he's guilty.
The Democrats say the transcript proves Trump abused his presidential power by delaying almost $400 million in vital U.S. military aid in exchange for Ukraine's announcing it was investigating Joe Biden and his son, who worked for a Ukrainian gas company.
Trump wanted dirt on Hunter Biden's dad evidently because the former vice president is the Democrat he's most scared of facing next year.
If I were guilty of any crime and knew a tape recording would exonerate me, you bet I'd let the Fourth Estate hear it. I understand the necessity of keeping the lid on most private calls between a U.S. president and other world leaders. But Trump is facing impeachment, which surely would justify letting it out.
Apparently, Secretary of State Mike Pompeo, acting Chief of Staff Mick Mulvaney, Attorney Gen. William Barr and other Trump courtiers know what's really in the call. Evidently, John Bolton, whom Trump sacked as his national security adviser, does, too. But Trump won't let them testify to Congress.
If I were innocent, I'd order them to line up and spill it.
Because Trump won't divulge the recording or lift the gag order against his toadies, it's hard not to conclude that he's guilty. Why else would he be keeping the country in the dark?
I'd wager the farm that some of his administration sycophants, Trump TV talking heads and a chunk of his nearly all-white base base figure he's guilty. But they don't care. They're sticking with their Great White Hope, their Yankee George Wallace, 'till the last dog dies.
By the way, it's also been a spell since I've heard a reporter ask Trump about his tax returns. If I were still one, I'd at least make him fib again that he can't talk taxes because he's under audit. The returns must be direly incriminating or, at the least, deeply embarrassing. No matter, the Ever Trumpers have been fine with Trump stonewalling all along.
"It didn't hurt him when he ran, and he's not going to do anything he doesn't have to do," bottom-lined Straub, who writes a political column for Kentucky Forward and Northern Kentucky Tribune online.
Meanwhile, hogs will fly before Mitch McConnell's Senate turns Trump out of office. Moscow Mitch and the president are banking on Ever Trumpers to reelect both of them.
[dc]"A[/dc]ll of Trump's attention is directed at his supporters," Straub said. "He's not interested in picking up anybody else. He doesn't really care about them. The only people he's talking to are his dedicated disciples."
Berry Craig