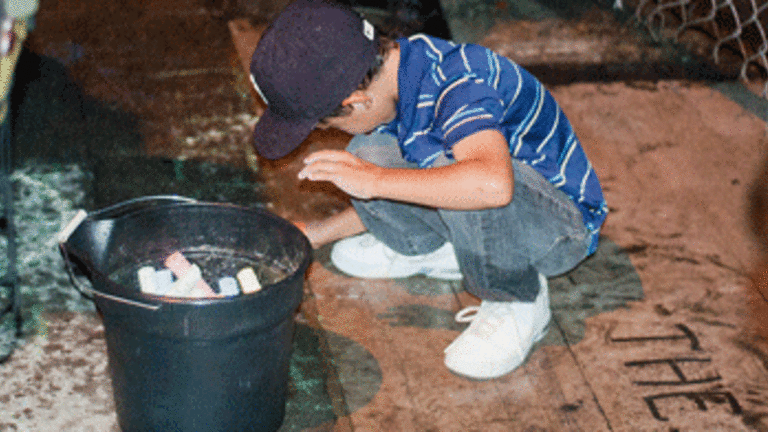 Chalk Walk Protesters Rebuff Villaraigosa
Cheryl Aichele: Apparently, the City believes their chalking event is legal because they had a permit. However, the box the chalk comes in seems to encourage what the Mayor calls criminal behavior.
After last Thursday night's Downtown LA Art Walk melee, the City blames Chalk Walk organizers for the mini riot and Chalk Walk participants blame the City for excessive show of force, violence, abuse of power, and selective enforcement.
Los Angeles City Mayor, Antonio Villaraigosa, told reporters that what Chalk Walkers did was against the law and not protected by the Constitution.
"That's not free speech, that's criminal behavior," the Mayor told news crews after Art Walk.
Now, participants of Chalk Walk accuse the mayor of similar "criminal behavior".
As Stephen Box pointed out, on March 7, 2009, rhe Mayor, City Councilmen, and other officials handed out boxes of yellow chalk to be used on the streets and sidewalks of Sunset Blvd to welcome cyclist Lance Armstrong into town to raise funds for Armstrong's Hope Rides Again art campaign sponsored by Nike.
The City allowed iconic artist, Shepard Fairey, to use yellow chalk on the side of a building to draw an image for the event. Fairey later donated $15,000 to Occupy LA after he used a picture of one of the participants of Occupy LA to create the Time Magazine cover for Person of the Year 2011, the Activist.
Much like at Chalk Walk, the Armstrong event had children enjoying the festivities.
Apparently, the city believes their chalking event is legal because they had a permit. However, the box the chalk comes in seems to encourage what the Mayor calls criminal behavior.
The bright yellow box of chalk they handed out for Armstrong specifically says, "Show your commitment to the cause by filling sidewalks, driveways, and any blank canvas with your statement of intent, encouragement and inspiration." Presumably, the box suggests that people do such things without permits.
From online photos, it appears at least one participant in the chalking for Armstrong took liberties forFreedom of Expression against the Mayor by writing "The Mayor is a Fool".
Chalk Walkers also say the Mayor endorses Ciclavia which shuts down the streets for people to walk, bike, and chalk in the streets without worrying about cars. The city allows chalk art in the streets for this event.
Chalk Walkers say the Venice Boardwalk is covered in advertised chalk art from Pepsi and others.
In addition, there was an anti-walmart permitted protest in Chinatown several weeks ago. Photos from the event show chalk written all over the streets.
Participants of Occupy LA that attended the walmart protest –which union and non-profits organized – said that action had no arrests and no riot gear.
Furthermore, the week before Chalk Walk, the LA Times featured an article about the Weingart Center's chalk-art campaign to raise money via text messaged donations for homeless in downtown.
Additionally, the City's own Parking Enforcers use chalk on private property when they mark tires of vehicles they wish to monitor for time restrains.
However, it is illegal to remove that chalk from one's own tires in certain circumstances.
Again, the City will argue that these events have permits yet they fail to acknowledge the Constitutional ruling of chalk as Free Speech by the 9th Circuit Court of Appeals in MacKinney v. Neilsen 1995, which specifically states
"No reasonable person can think chalk could damage a sidewalk."
"It seems like the city will only allow chalk on sidewalks if someone pays to get a permit," said one Chalk Walker, "It's called Free Speech for a reason, it's supposed to be free for all people, not commodified for corporate sponsors and monied interests."
Chalk Walkers even question whether the City of Los Angeles even has a permit specifically allowing chalking.
"Chalkvists", activists who use chalk for their activism, say the intimidation, arrests, and violence from Thursday was not simply about chalk but about political repressing their movement since they have now focused in Central City Association, a business lobbying organization, which activists say has displaced small business owners, minorities, and homeless from down town for decades and lobbied against the 99%'s interest in favor of the 1%.
LAPD had made a dozen arrests of activists before Thursday and activists were their outreach to the community regarding the repression.
Cheryl Aichele
Occupy LA
NOTE: This was written by an individual participant in Occupy LA but is not an official statement. All official statements have to have consensus from Occupy LA's general assembly.
Posted: Thursday, 19 July 2012