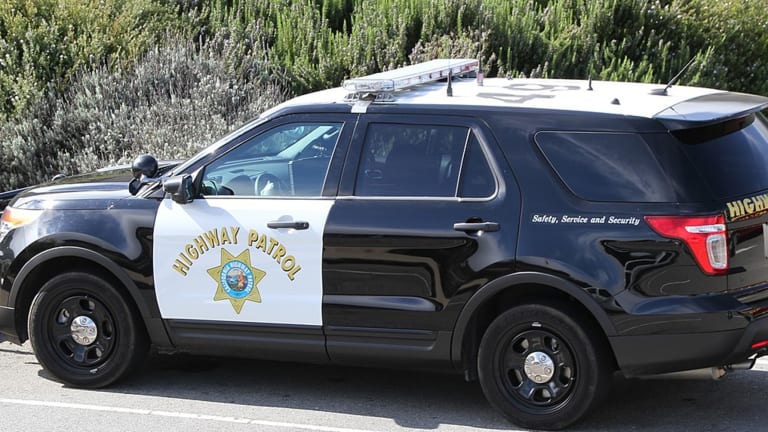 When Police Drive Under the Influence
Two DUI Investigations with Starkly Different Outcomes
Police conduct on-and-off-duty from 2020 keeps showing up. Once viewed, most of it can't be unseen.
Two newly released videos recorded in 2020 show California Highway Patrol (CHP) officers in separate DUI investigations months apart. One ends with a Pasadena Police Department Sergeant Michael Gligorijevic scampering away free. The other, 38-year old Edward Bronstein, was pinned to a mat inside the Altadena CHP Station. Bronstein is seen and heard calling out "I can't breathe."
Given the similarities, why did these two DUI investigations end so differently? Both drivers were detained for suspicion of DUI. At some point, both men evaded the police. However, only one ended tragically. One – suspected of driving under the influence – didn't make it home. The other, the one with a badge – well, he's no longer running. According to the video, given the option of a field sobriety test or a physical fitness test, he chooses the latter, he ran.
In July 2020, Pasadena Police Sgt Gligorijevic was detained by a CHP officer for suspicion of DUI. Moments after being detained, Gligorijevic fled on foot. The CHP officers can be heard saying, just before calling off the manhunt, "we have a good ID. Let Pasadena deal with him." An unknown CHP officer can be heard saying the DASH CAM audio is recording.
In stark contrast, as reported on March 16th by NBC News and after a 2-year delay, - a federal judge unsealed a video taken by the CHP that captures the death of Bronstein, who was in their custody following a March 31, 2020 traffic stop near Altadena, California. The cell phone video appears to show several CHP officers committed to seeing their investigation through. The video was recorded by an unknown officer.
Last week, Conversation Live released a video via the Pasadena Black Pages of Sgt. Gligorijevic fleeing from the CHP on July 11, 2020. Reading CHP Officer Annett's report (one of the better-written and accurate narratives I've read), it matched up exactly with what was captured by the DASH CAM video and audio.
Good job Officer Annett. Writing the report almost three weeks after the incident--couldn't hurt.
I noticed something was up when the first report was redacted. CHP also released a "Supplemental Report" last year.
Carlos Miller, Editor-in-Chief of PINAC News also raised a good question, one that I have thought about too. "Where is the original report?" How many times was the original report kicked back?
You don't have to be a lawyer, judge, or journalist to know what supplemental means. But to add clarity, Officer Annett, the arresting officer in the Gligorijevic case, submitted at least one additional report after the initial report was submitted.
Under ordinary conditions, when the CHP detains and/or arrests a driver for suspicion of driving with a blood/alcohol level that exceeds the legal limit, the arresting law officer must seize the person's California Driver License and mail it to the California Department of Motor Vehicles (DMV) Headquarters in Sacramento, CA along with a copy of the arrest report. That action triggers several events; 1) the driver's license is immediately suspended; 2) the driver is issued a DMV Form DS-367 which acts as a temporary driver license valid for 30 days.
In this case, there appears to have been a departure from the normal procedure. Officer Annett, the arresting officer, wrote at least one additional report to add evidence or to clarify information he may have received after the arrest. Although it appears Gligorijevic was detained for suspicion of DUI based on clear evidence shown in the DashCam video, Gligorijevic is not charged with DUI and not subjected to the events that typically flow from that charge, i.e. driver license suspension/revocation. I've been unsuccessful at gaining access to Annett's original report.
Public Service Announcement
"Buzz driving is drunk driving." We've all seen the commercials from the Ad Council.
One alcohol-related death occurs every 52 minutes, according to the NHTSA. Drunk driving causes more than 10,000 deaths every year, about 1/3 of all traffic-related deaths. In a recent year, more than 230 children were killed in drunk driving collisions.
I was four when a drunk driver plowed into my 19-year-old cousin Hellie's car on a Bay Area freeway. She was attempting to exit the highway near her Richmond home. Her car went through the guardrail and flew off the offramp, landing on a busy Barrett Avenue below.
When she finally made it home, much to everyone's prayers--she was in vegetated condition. I recall tubes, a breathing machine, and the consistent beeping sound coming from the heart monitor.
"It was a miracle that she survived," Hellie's younger brother Marcus Felder shared via text message. Although she spent three and a half years in a coma, she still could laugh and smile when she heard something funny or cry when she heard something sad. That was her (our) only communication."
My Aunt and cousin's home was different. Visiting was different.
I can still hear my Aunt's Marlboro Red raspy voice cautioning the other older cousins about the danger of drinking and driving.
"I had anxiety about turning 19, and then 23." Felder continued about the impact on families. The memory is seared into Felder's early childhood memories. Reflecting on the trauma caused by seeing his big sister's life stolen as an adolescent, became a deterrent for him to not drink.
Hellie succumbed to her injuries, she passed away at the age of 23.
The man behind the wheel was cited for Driving Under the Influence - a DUI.
More Reaction from the Pasadena City Leadership
The Pasadena Star-News reported on the story involving Sgt Gligorijevic running away from the CHP last Friday, and meanwhile, Pasadena City leaders haven't been shy in sharing their thoughts. "I'm gratified that he's still alive and he wasn't shot in the back like Anthony McClain was," said Councilmember Tyron Hampton during last week's council meeting. He also called for accountability and answers to what happened in the case — in addition to the officer's current job status.
Hampton went on to say, "Our officers, our management needs to do the job that we hired them to do," Hampton concluded, "If we had an employee that was a trash truck driver or in any other department with a DUI — and ran from police – they'd be fired. Accountability is key."
The Star-News article also noted that "in the months following the incident (DUI Investigation), then Pasadena City Police Chief Perez and other city leaders repeatedly said publicly that they would "fire an officer if deemed appropriate."
Mothers Against Drunk Driving Are M.A.D.D
"So don't drive drunk… No, No, No. Cause, mothers against drunk driving are MADD." That's the hook from Stevie Wonder's 1984 chart-topping catchy cautionary song warning about drinking and driving.
The song was commissioned by a then, relatively new organization, Mothers Against Drunk Driving (M.A.D.D).
When asked about Pasadena PD Sgt Gligorijevic's DUI investigation and video release, MADD California State Executive Director, Patricia Rillera said in a statement via email,
"MADD supports appropriate punishment for all drunk driving offenses. However, Judges play an important role in the fight against drunk driving, ensuring that the punishments for drunk or drugged driving offenders are consistent and effective. MADD believes everyone has the right to a fair trial, and if found guilty, should be convicted and sentenced to the full extent of the law. We encourage judges to use the full power provided by law in each state to determine appropriate sanctions for those convicted of drunk or drugged driving."
Should the public expect Law Enforcement Officers to be held to a higher standard when they choose to drive intoxicated?
Rillera explained "While we value the work of our partners in law enforcement, we know that just like everyone else, they are capable of making poor decisions. No one is immune, and that's why it is so important to plan for a safe way home if your plans involve alcohol and/or drugs, regardless of your position in life." She added, unfortunately, "MADD cannot comment on the alleged punishment involving Sgt. Michael Gligorijevic."
I asked Rillera if MADD works with law enforcement agencies and officers to educate and raise awareness of them not driving under the influence? Is there a specific awareness program you can share?
She responded, "MADD has an awareness program, the Campaign to Eliminate Drunk Driving, that is offered free, via presentation and handout materials. This program is presented to the community, including law enforcement agencies. The Campaign emphasizes equal parts high visibility law enforcement, ignition interlock devices, autonomous vehicle technology, and advanced drunk driving prevention technology."
Pasadena PD is doing their part
Pasadena PD continues to warn drivers about driving impaired. Last month, the department continued its public safety awareness campaign. In a press release, Commander Mark Goodman said "the safety of our community is and always will be our mission." Speaking about DUI checkpoints, Commander Goodman clarified the agency's intentions of the checkpoints. "We are looking for impaired drivers because driving under the influence is dangerous and puts others on the road at risk" the press release stated.
Police advise if you plan on drinking or taking medications that may impact your ability to drive safely, plan on staying at home. Drivers charged with DUI face an average of $13,500 in fines and penalties, as well as a suspended license.
The moral of this cautionary tale is Don't Drive Drunk.