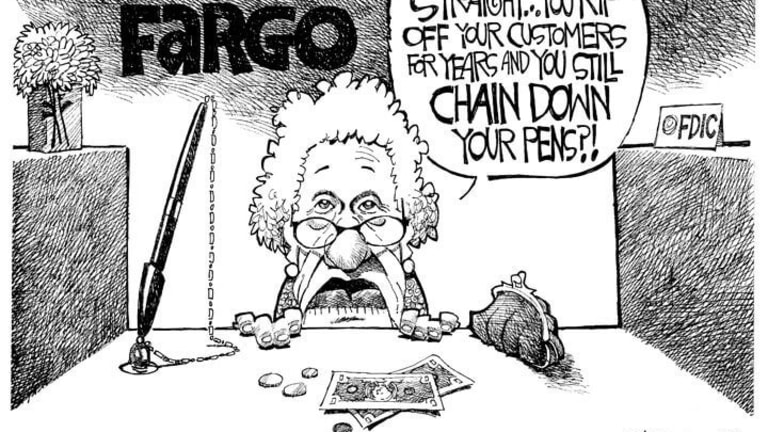 White Collar Crime at Wells Fargo
Steve Hochstadt: Wells Fargo employees created 3.5 million fraudulent accounts in customers' names without their knowledge. The bank signed up 500,000 customers for online bill payment services without their knowledge, some of which carried fees.
Wells Fargo was the world's most valuable bank until 2016, when it slipped into second place behind JPMorgan Chase. It may also be one of the biggest criminal enterprises in American history.
I'm not the only one who thinks so. Harold Meyerson, executive editor of the American Prospect, began an op-ed in the Los Angeles Times last month: "What's the biggest criminal enterprise in California? MS-13? The remnants or successors to the Crips and the Bloods? The Mexican Mafia? If we're talking about the sheer volume of offenses, the answer is clear: Wells Fargo."
Not just journalists. New York Congressman Gregory Meeks told CEO John Stumpf at a Congressional hearing a year ago that Wells Fargo "basically has been a criminal enterprise". Meeks said, "I've got individuals right now on the street, they're not back in their homes," because of fraudulent mortgages. Would Wells Fargo put his homeless constituents back in their homes? Stumpf had no answer.
Wells Fargo employees created 3.5 million fraudulent accounts in customers' names without their knowledge. The bank signed up 500,000 customers for online bill payment services without their knowledge, some of which carried fees.
Wells Fargo employees created 3.5 million fraudulent accounts in customers' names without their knowledge. The bank signed up 500,000 customers for online bill payment services without their knowledge, some of which carried fees. It charged military personnel illegally high interest on loans and then seized vehicles from soldiers who fell behind on their payments. It charged half a million auto loan customers for insurance that they did not need. About 20,000 people could not pay these extra fees, went into default, and had their cars repossessed.
The bank didn't only cheat its customers. Wells Fargo paid $100,000 to settle a class action suit in 2009 by its employees in Nevada, who were mislabeled "managers" so they would not have to be paid overtime and then forced to work unpaid "call nights" to drum up more business. A branch manager was fired in 2010 when he reported these criminal actions to his supervisors. The bank was ordered this year to pay him $5.4 million in back pay and compensatory damages. One manager notified the bank's confidential ethics hotline about fraudulent activity in September 2011 and was fired later that month. A banker in Pennsylvania also called the hotline and sent an email to human resources about the unethical practices he was told to perform in September 2013. Eight days later he was fired.
Wells Fargo has committed these crimes for at least 15 years. And company leaders knew it. Internal complaints were made as early as 2005. In 2009, six fired employees sued, alleging unethical practices. Employees wrote directly to CEO John Stumpf as early as 2011. In 2013, the New York Times reported that Wells Fargo employees were under intense pressure, including threats of getting fired, if they did not meet ambitious goals by opening accounts and starting credit cards without permission. Complaints were made to managers and nothing was done.
If somebody uses someone else's personal information to open a credit card account, the penalties are severe. Ordinary crime. Our customary language puts Wells Fargo's actions in a different light: white-collar crime, which the FBI defines as "characterized by deceit, concealment, or violation of trust and are not dependent on the application or threat of physical force or violence." The escape from any jail time or criminal record of every participant except one banker after the bank collapse and financial crisis of 2008 shows how our society excuses big crimes when they are committed by rich, usually white men in fine suits.
But some other definitions might be more appropriate for Wells Fargo's actions. The crimes of so-called "organized crime" are defined clearly. Extortion, a time-tested endeavor of organized crime, is the acquisition of property through the use of threats or force. Didn't Wells Fargo threaten homeowners and car owners with seizure of their property if they didn't pay illegally created charges? And then make good on those threats?
Loan-sharking is the provision of loans at illegally high interest rates accompanied by the illegal use of force to collect on past due payments. Didn't Wells Fargo charge illegal interest rates to soldiers and then forcibly take their property?
Wouldn't Wells Fargo fit the FBI's definition perfectly? "The FBI defines a criminal enterprise as a group of individuals with an identified hierarchy, or comparable structure, engaged in significant criminal activity."
What price has Wells Fargo paid for their millions of individual crimes? Virtually none. The few hundred million dollars that Wells Fargo has paid in fines or has promised to pay customers who were cheated are a tiny fraction of the $11 billion in profits for just the first six months of 2017. Wells Fargo says it will refund nearly a million dollars to customers who had been signed up for online bill payment – that's less than $2 per fraudulent transaction.
Wells Fargo's chief executive after 2007, John Stumpf, was publicly rebuked in a congressional hearing in 2016, had to resign, and forfeited $41 million in stock options. That left him with Wells Fargo stock worth almost $250 million. Carrie Tolstedt, leader of the community banking division, where these criminal actions occurred, had to "retire" at age 56, and lost $19 million. She had made $27 million in her last three years, and took with her a mere $125 million in stocks. Earlier this year, four second-level executives were fired. Nobody has done a day of jail time.
After years of intense pressure on employees to get new accounts any way they could, Wells Fargo fired 5300 employees for unethical behavior. The company leaders walked away with millions of dollars.
That criminal enterprise was too big to jail. Our political and judicial systems seem inadequate to protect ordinary Americans from corporate crime or to punish criminals when they are caught.
Can we, the people, do something? Wells Fargo customers could simply switch banks. There is no big advantage in using a giant global bank. My local Jacksonville bank performs all the services I need, whether I'm at home or across the world.
A survey in October 2016, just after the scandal made headlines, showed that only 14% of Wells Fargo customers had decided to leave. It's not so easy. Most people get multiple services from their bank, including loans, automatic bill pay, and credit cards. Switching takes time and money, and many customers don't have either. One third of Americans with savings accounts have a zero balance. Although the number of new credit card and checking accounts fell by half earlier this year, that still means that thousands of people were opening new accounts with Wells Fargo.
Other corporations are happy to take tainted money from Wells Fargo. The bank will now be a sponsor of the annual football rivalry between Oregon and Oregon State. Wells Fargo signed an extension of its deal as official retail bank of Major League Soccer, and became an official partner of the NFL Los Angeles Rams.
Since the beginning of 2017, Wells Fargo stock has fallen about 10%. Don't buy their shares. TV viewers could tune out the Wells Fargo golf championship, broadcast every May, forcing the tournament organizers to find another sponsor, and avoid other sporting events and programs sponsored by Wells Fargo.
Not very satisfying. But if we don't say no to white-collar criminals, who will?
Steve Hochstadt
Taking Back Our Lives