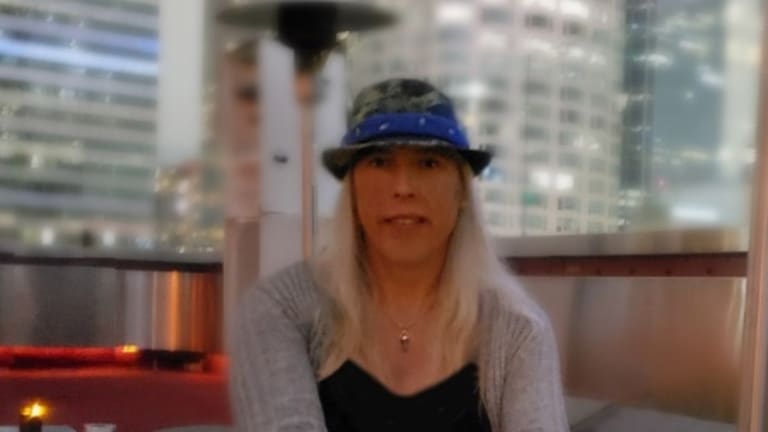 Progressive Trans Activist Rachael Rose Luckey Running for LA City Council
Hollis Evans: The City of Los Angeles has had no real strategic plan for urban design, except to allow predatory developers to have free reign to build housing units hard working Angelenos making $25K a year cannot afford.
Provides Counter Narrative to Caitlyn Jenner's Run For Governor
Caitlyn Jenner isn't the only trans woman grabbing attention running for political office in California. Rachael Rose Luckey, Transgender Activist and President Emeritus of the Rampart Village Neighborhood Council, filed papers with L.A. City Hall earlier this year, declaring her run for City Council District 13 in the upcoming municipal elections against incumbent Mitch O'Farrell.
She proudly points out that not all transgender politicians are alike: "While Caitlyn is basking in her self-indulgent limelight, she seems to have no problem throwing trans people under the bus, while supporting Trump and the Big Lie. The counterpoint to this, is my message that allpeople be able to live their lives with dignity, by removing the institutional and societal barriers that confine them, so we can go beyond just surviving, to a place where we are all thriving.
"Her politics are the same as the GOP she supports," she continues. "They are inherently anti-trans and anti-LGBTQ. Only a person living in a cave would not know the GOP is trying to make it difficult for LGBTQ people to survive. Their policies clearly show they want us marginalized, at best. Dead, at worst. She is a traitor to the Transgender Movement, and the LGBTQ Movement, in general. This is why she will not get my, or the LGBTQ Community's support."
A progressive, Rachael Rose is the first openly transgender person to run for a City Council seat at L.A. City Hall. If elected, she would be the first transgender elected official to sit on the Cty Council. However, she must first beat incumbent Mitch O'Farrell inside CD13, an area that includes parts of Hollywood, Echo Park, Silverlake, L.A. River's Frogtown, Rampart Village, Historic Filipinotown, Elysian Valley and Atwater Village—areas significantly impacted by gentrification with large populations of unhoused Angelenos.
The City of Los Angeles has had no real strategic plan for urban design, except to allow predatory developers to have free reign to build housing units hard working Angelenos making $25K a year cannot afford.
"I ask voters to support me, not because I am trans, but because I am the most qualified person in the race who can oust Miitch O'Farrell." As a former President and Board member of the Rampart Village Neighborhood Council inside CD13, Rachael Rose says she has devoted thousands of hours over the last few years engaging with stakeholders, city officials, advocacy groups, and the homeless themselves.
"The recent tent camp evictions of the unhoused at Echo Park Lake (EPL) were nothing short of political theater," she concludes. "The alleged 'clean up' at Echo Park was Mitch O'Farrell announcing his run for re-election.
"I object to the way things were done. It is abominable to me that the Constitutional rights of Los Angeles citizens were abridged by a militarized police force, instigated by Councilman O'Farrell. The refuse being reported being cleaned from the area is a direct indictment of Mitch's lack of compassion and leadership. The reason there was human excrement to clean up is because he did not provide sufficient facilities. "
Last year, a large encampment of unhoused people found refuge at Echo Park Lake, as homeless people in the city sought a stable, safe place to pitch their tents during the global pandemic. Homeless advocacy groups from the neighborhood stepped up with electricity, food, and sanitation for over 200 people who called the Park home. After repeated complaints from homeowners, O'Farrell ordered the park closed on March 24, citing $500,000 in needed repairs. Subsequent claims by Mitch O'Farrell of housing these people, she asserts, are just untrue: "Only a dozen or so of the EPL campers actually got into housing. The rest were relegated to project Room Key, which will be ending soon, or were placed into shelters that have their own problematic histories, some as far away as Palmdale. A shelter is not housing.
"No matter how one feels about whether or not a public park should be used as a place for the unhoused to put up their tents, no matter how you feel about whether or not that should be allowed, the one thing I do know is that without a sufficient quantity of low-income housing that people making $25,000-a-year can afford, we will continue to have houseless folks."
Rachael Rose insists a paradigm shift in thinking needs to take place inside City Hall to solve the long-term crisis: "The City of Los Angeles has had no real strategic plan for urban design, except to allow predatory developers to have free reign to build housing units hard working Angelenos making $25K a year cannot afford. Then they turn around and say, 'Wow, where did all the homeless people come from?' No matter how you slice it, trickle down housing does not work and never will."
Rachael Rose's platform introduces a plan to utilize public funds to purchase and repurpose existing buildings in neighborhoods around the City. If robust enough, the plan will outperform free market housing and current City Hall policies to create the low-income housing needed, while costing less than current Measure HHH housing costs taxpayers.
Rachael Rose also pledges to donate 50% of her $200K City Council salary, after taxes, to community projects within CD13, and to fund any re-election effort in order to relieve the burden on stakeholders. "Having lived on far less, the money I keep for myself will be more than enough."
"I don't look like your typical politician, I don't sound like your typical politician," she confesses. "You need to ask yourself, do we really need more typical politicians? In my mind, it's the career politicians who have gotten us into these messes. It's time for progressive, atypical leadership. The status quo has got to go."
You can find out more about Rachael Rose and her campaign for L.A. City Council at RachaelRoseForLA.com. (If you like what you see, hit the donate and/or join buttons!) You can also check out her podcast/vlog at Conversations With LA.
Hollis Evans