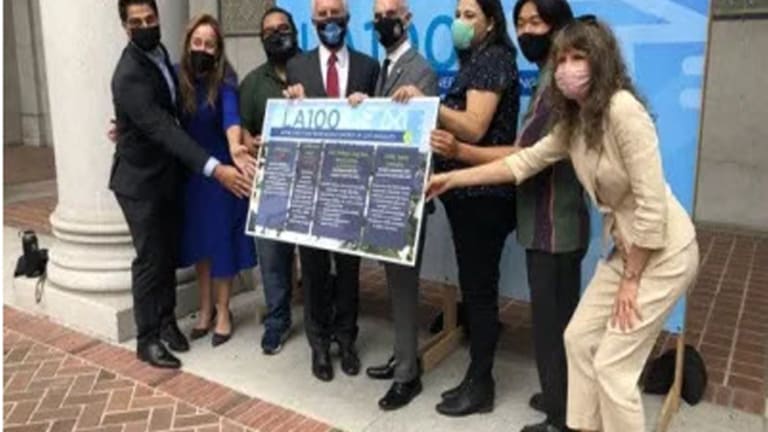 Los Angeles City Council Kick-Starts Path to Clean Energy
Dan Bacher: "Los Angeles is leading California on the road to renewable energy," said Food & Water Watch Senior Organizer Jasmin Vargas.
In a unanimous vote, the Los Angeles City Council yesterday (September 1) approved a motion introduced by Councilmembers Paul Krekorian and Mitch O'Farrelll requiring that 100 percent of the city's electricity come from clean, zero carbon energy by 2035.
"Through this motion, the Los Angeles Department of Water and Power — the largest municipally-owned utility in the country — will lead the nation in this ambitious and game-changing commitment to sustainable energy," according to a statement from Krekorian, O'Farrell and the LADP.
The official motion is available here: https://lacity.primegov.com/Portal/viewer?id=387001&type=2
The resolution would put the City of Los Angeles on a path to reach carbon-free energy 10 years faster than the process set up by the State of California.
The Council also approved a related motion from O'Farrell and Krekorian that will create a strategic plan for equitable workforce hiring, ensuring that thousands of high-paying green jobs are prioritized in the transition to clean energy.
"Los Angeles is leading California on the road to renewable energy," said Food & Water Watch Senior Organizer Jasmin Vargas.
Both motions came as the outgrowth of a planning process, LA1000, initiated by Krekorian five years ago, through a motion he co-introduced with his colleague Mike Bonin.
That process involved "unprecedented research and modeling" in partnership with the National Renewable Energy Laboratory, according to Councilmember Krevorkian. The study proved that 100 percent clean energy is not only feasible, it is highly beneficial to the economy and jobs as well as the environment.
"As the recent 'code red' report from the UN Intergovernmental Panel on Climate Change indicates, we are in the midst of an environmental crisis with no parallel in recorded history," said Krekorian. "Governments and individuals around the world must act urgently to combat climate change. By its vote today, the Council has shown the world that Los Angeles is ready to lead this effort."
"This is not a crisis for the next generation; this is a crisis happening at this very moment – and Los Angeles is firmly committed to leading the way," said Councilmember O'Farrell, chair of the Council's Energy, Climate Change, Environmental Justice, & Los Angeles River committee. "The terrifying, destructive scale of recent disasters – wildfires, drought, and hurricanes – accelerated by our climate crisis underscores the necessity of today's actions."
"This is truly a great day for Los Angeles that puts our city firmly in a leadership position among world cities working to decarbonize the planet," said Martin Adams, Chief Engineer and General Manager, Los Angeles Department of Water and Power. "Our City has set a goal of 100% carbon-free energy by 2035 and we're here to tackle the challenge and say, LADWP is all in."
"Getting to 100% clean energy as soon as possible is not a goal; it is an imperative," said Councilmember Mike Bonin. "We need aggressive action today to force an urgent and just transition to a fossil-free tomorrow. It is how we safeguard our children's future. It is how we preserve a livable Los Angeles. It is how we protect our neighborhoods and ensure equity."
"Los Angeles is leading California on the road to renewable energy," said Food & Water Watch Senior Organizer Jasmin Vargas. "The vote by the City Council requiring LADWP to create a plan to power L.A. with 100 percent clean energy by 2035 is nothing short of groundbreaking. The next step for our city is clear. LADWP must follow the demands of the community and abandon its reliance on fossil fuels and false solutions like methane gas from factory farms or hydrogen. As the largest public owned utility in the country, LADWP works for us and it's about time they take our lead."
"Today marks a landmark achievement for our fight for climate justice and a better Los Angeles," said Francis Yang, Senior Organizer for Sierra Club's My Generation Campaign. "Through years of advocacy and collaboration from communities to our city leaders, Los Angeles has officially kick-started our path to 100% clean energy. Although the ambitious goal of 2035 orearlier is now solidified, our path forward is only beginning. Angelenos must stay engaged to determine how we get to 100% through strategic and inclusive planning that prioritizes frontline communities and creates good, clean jobs."
Krekorian noted that clean energy is not only about climate change.
"By committing to a clean energy future, the Council is also saving LA lives with improved air quality, protecting LA neighborhoods from power plants burning fossil fuel, and creating over ten thousand new, good-paying jobs in the sustainable economy of the 21st Century," Krekorian concluded.
Dan Bacher