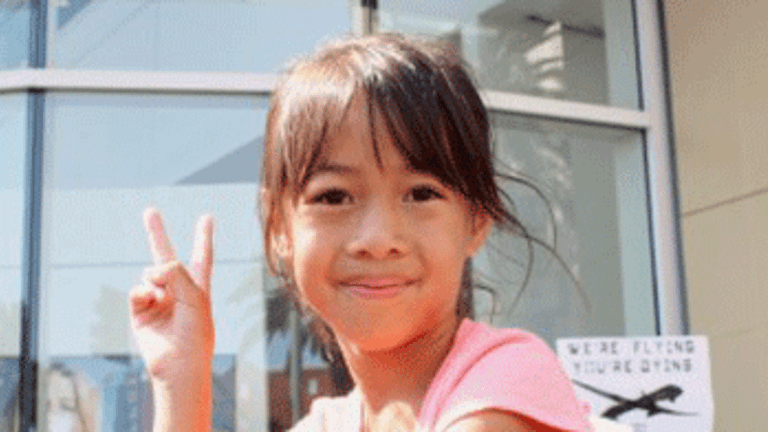 Anti-War Marchers Rally in Hollywood, Two Arrested
Dan Bluemel: Similar to last week's demonstration, the energy of protesters was high with impromptu marches and vociferous chants.
Monday was the scene of another cat-and-mouse game between anti-war marchers and police.
Demonstrating against a possible U.S. attack on Syria, protesters attempted several times to occupy streets and intersections. Each time their efforts were thwarted either by police.
The majority of protesters, about 300, began assembling at the intersection of Hollywood Boulevard and Highland Avenue at 2 p.m. Police, however, were around much earlier with cops on bicycles, motorcycles and horses.
It was assumed by many protesters that the early police presence was in response to a lively anti-war demonstration in downtown last week, which ended with protesters trapped inside a parking lot by police and cited for jaywalking.
Similar to last week's demonstration, the energy of protesters was high with impromptu marches and vociferous chants.
Speaking to demonstrators through a megaphone, Alisa Kokkins took issue with the federal government's condemnation over the use of chemical weapons by pointing out its past ignoble acts.
"This is the only country to ever drop a nuclear bomb," said Alisa Kokkins to protesters. "How dare America scream about chemical warfare. How dare they. We remember white phosphorus in Iraq, Agent Orange in Vietnam and nobody punished America.
"If America gave a shit, we would have been in the Congo, Myanmar or North Korea. This is not a humanitarian mission."
Just six days before Secretary of State John Kerry called Syria's alleged use of chemical weapons a "moral obscenity," Foreign Policy magazine reported that declassified CIA documents revealed the U.S. was complicit in Saddam Hussein's use of chemical warfare against Iran in the 1980s.
Jessica Garcia, who attended the demonstration, sees that in light of such information, the Obama administration is not telling the American public the truth over its intentions in Syria.
"What rational mind would be like, 'Oh, let me see, Syrians bombed Syrians, so let's go bomb some more Syrians,'" she said. "To me, that doesn't make any sense at all."
During yesterday's demonstration, it was feared for a time that police were attempting to trap demonstrators again when protesters left their rallying point and headed south on Highland Avenue. Police in riot gear blocked their route at Sunset Boulevard and declared the demonstration an unlawful assembly.
Then, without explanation, police began dictating the route protesters could take.
"If you do not go westbound on Sunset [Boulevard] you will be subject to arrest," said the police over a megaphone.
"Do we know why, officer?" shouted a demonstrator. "How is it unlawful?"
At the same time, however, cops blocked the protesters' westbound passage, adding confusion to the situation. Orders eventually made it through the police ranks and Sunset Boulevard was cleared for westward passage.
But by then many were fearing a trap and ignored the police order and headed north, back to their starting point. Riot police then began hemming the protesters in by blocking Highland Avenue to the north and south. It was not clear what the police wanted from the demonstrators.
Eventually the protesters turned east on Selma Avenue, cut through an alley and returned to Hollywood and Highland. No more attempts to occupy the streets were made after that.
According to the LAPD, four arrests were made during the demonstration, but only two were related to the protest.
Dan Bluemel
LA Activist
Photos: Dan Bluemel

Tuesday, 10 September 2013