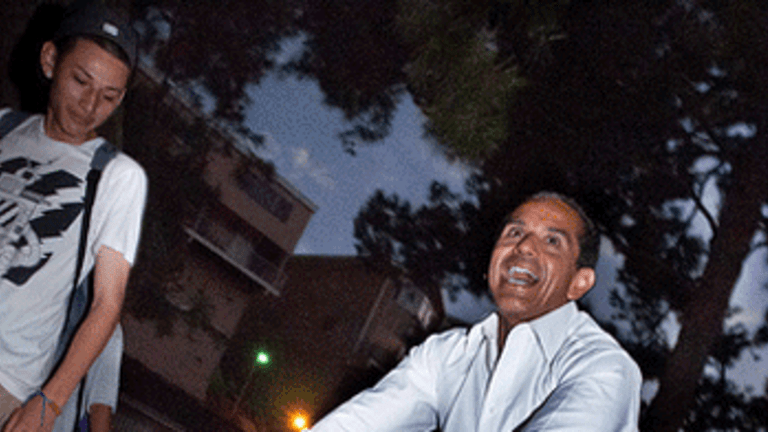 Bike Share King: LA's Antonio 4,000 … Chicago's Rahm 3,000
Stephen Box: Los Angeles is in an enviable position where it can select from the best yet it acted rashly and without public participation from the advocates who have been involved all along.
When Chicago's Mayor Rahm Emanuel announced a citywide bike-share program that included 3,000 bikes in 300 docking stations, it must have stirred significant municipal envy in LA's Mayor Antonio Villaraigosa because a few weeks later, he responded by announcing a citywide bike-share program of 4,000 bikes in 400 docking stations.
Los Angeles is a late entry into the bike-share business, approximately 300th on the list of cities around the world that have some form of citywide bike-share in place, a list that includes Mexico City, Paris, Lyon, Munich, San Francisco, Washington DC, London and Melbourne.
Villaraigosa finds himself in an enviable position, able to learn from the successes and failures of bike-share programs around the world, tailoring a program to the unique geography and social environment of the LA area, ensuring success.
But he passed up that opportunity, instead jumping in feet first with a media company that has no experience with bike-share, announcing the program with no participation from the local community, setting in motion a relationship that is vague on details, and acting with complete indifference to the impact on surrounding communities.
Villaraigosa has in his hands an opportunity to demonstrate true leadership by reaching out to Santa Monica, home of America's largest Bike Center, and to develop a bike-share system with regional impact and connectivity.
But instead, he charged ahead, leaving Santa Monica scratching its municipal head and wondering what they should do with the efforts they have initiated, only to find the largest city in the most populated state in the most powerful country in the world acting as if it is an island.
Is this the transportation skill set that belongs in Washington DC?
Villaraigosa is reported to have his eye on a federal Transportation position, one that has him working overtime to demonstrate his ability to move his transportation agenda forward.
But the devil is in the details and the City of LA is completely at a loss when it comes to installing bike racks, locating bus benches, painting bike lanes, and pursuing funds for Safe Routes to School.
Is this the time for the City of LA to be engaging in a 10 year contract with an unknown quantity while the City of Santa Monica is laying down innovation after innovation?
Villaraigosa's bike-share deal with Bike Nation promises a $16 million investment in a 10-year contract that would see 4,000 bikes spread through several communities in 400 solar powered portable kiosks.
A conversation with Bike Nation's founders, Navin Narang and Brad Barlowe, reveals that the relationship is somewhat informal, not really a contract and not really an exclusive relationship.
It's simply a private investment in a business that will be operated on public property, requiring the City of LA to facilitate the process and to provide permitting assistance, all in return for a bike-share program that gives Villaraigosa the opportunity to thumb his nose at Emanuel.
If only Emanuel's performance with sidewalks, potholes, and green space would prompt Villaraigosa to higher levels of performance but that is fodder for another day.
Meanwhile in the bike-share vs. bike-share world, Chicago ran a test program and then opened the process up to bids from companies, then obtained federal funding and finally selected an operating partner with a fairly significant track record.
Los Angeles, on the other hand, took a pitch from a private party and threw caution to the wind, resulting in Villaraigosa's press conference where "What could go wrong?" was the theme and bike-share was the snake oil.
The City of Los Angeles has a track record for poor oversight of contracts and partnerships. It is reasonable for the people of LA to expect the City of LA to demonstrate that its relationship with media company Bike Nation will be different, a partnership that will come with successful oversight and public benefit, not just more hollow promises.
The City of Los Angeles has a tremendous impact on the region and it is cavalier to move forward on issues of connectivity and mobility without consulting neighbors and synchronizing efforts.
The City of Los Angeles is in an enviable position where it can select from the best yet it acted rashly and without public participation from the advocates who have been involved all along.
Is this the behavior of a Great City? More importantly, is this the behavior of a potential Cabinet member, one who would be responsible for transportation at a national level?
Stephen Box
CityWatch
Posted: Tuesday, 23 April 2012