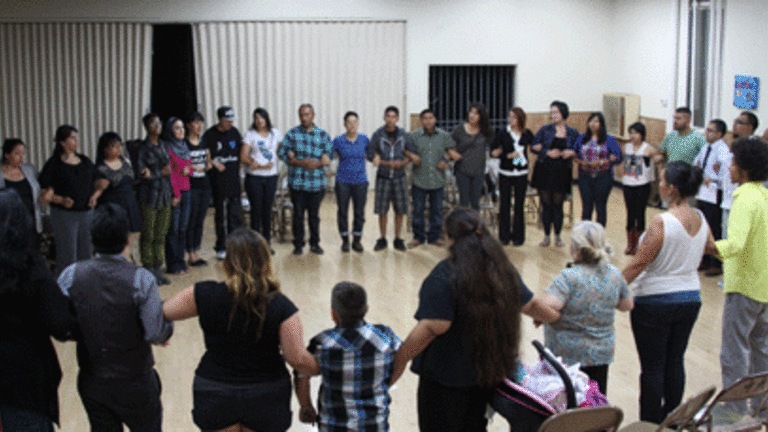 East LA Agitates for Sheriff's Department Oversight
Patrisse Marie Cullors: Residents of East LA and Boyle Heights gathered to discuss how civilian oversight of the Sheriff's Department was necessary to create lasting deterrents to deputy abuse of their loved ones in the jails.
Diana Flores, organizer with the Coalition to End Sheriff Violence in LA Jails, took the podium with a firm call to action, saying, "We have an opportunity because the county is taking this situation more seriously than it has before."
Speaking to a room of over 60 LA residents, most from East LA and Boyle Heights, Diana painted a picture of disparity in the jail system: "Black and Brown folks from South LA and East LA are overrepresented in the jails system." Residents, many of whom would share their own stories throughout the night, gathered to discuss how civilian oversight of the Sheriff's Department was necessary to create lasting deterrents to deputy abuse of their loved ones in the jails.
The Coalition has been working with community members throughout LA County and meeting with the County Board of Supervisors, which has the power to empanel a board of civilians as a means of oversight. The town hall, intentionally held in East LA's District One, was held to encourage Supervisor Gloria Molina's interest in the idea of civilian oversight. Four staffers from her office attended the Town Hall as well as a representative from Congressman Xavier Becerra's 34th Congressional District office.
Samuel Paz, a civil rights attorney with 30 plus years of experience in litigation against law enforcement for excessive force, shared his frustrations with the pattern of concentrated exposure and waning attention to issues of abuse. "If we don't want to be back here in 10 years, we need to go to the Board of Supervisors," Paz said, explaining that LA County pays $700,000 a month in litigation settlements for excessive forces cases. "Half of that money could be used to hire the civilians we need to do this job."
Students from Youthbuild Boyle Heights have been building for the town hall. Four students active in the Coalition's Dandelion Rising Leadership Academy, offered their own take on why working with the Coalition has been important for them. Julio Sandoval spoke about the connection between local jails and prison industrial complex. Both Linda Leyva and Cesar Carillo shared their experience with the student-led march from their campus to Mariachi Plaza held early this year . "We are here to fight and we're not going anywhere" said Cesar Carillo. Amber Duron closed the student testimony with conviction, asking the audience to see jail abuse as a civil rights struggle. "No matter what they've done, no one deserves to be abused," Duron said.
Perhaps the most moving moment of the night took place after Sandra Neal, lifelong East LA resident and mother, detailed how her son was brutally beaten by the Sheriffs while in custody. Members of the community listened attentively as Sandra recounted navigating every possible avenue to get information regarding her son's well being while he was in custody. Audience members nodded, some moaning in agreement, as she elucidated the need for a effective oversight. "Had there been an outside agency, independent of the Sheriff's department, with the ability to really investigate, I feel like I might have gotten some real answers," Neal concluded.
Mark-Anthony Johnson
The Coalition to End Sheriff Violence in L.A. Jails
Wednesday, 26 June 2013