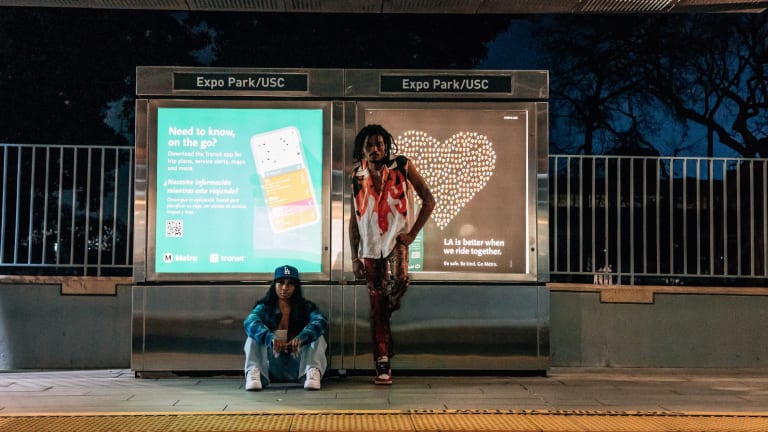 Black Wealth and L.A.'s Mayor Race
None of the candidates cite policies that specifically deal with racialized gender inequities and gender violence experienced by Black women and other women of color.
For the past few months, billionaire Rick Caruso has been hijacking L.A.'s mayoral race, ramping up his law and order fearmongering message with a mega boost from the Police Protective League. Through an Independent Expenditure designation, the League has raised millions for attack ads smearing Congresswoman Karen Bass as corrupt, while questioning her commitment to fighting crime. The divisive race has already been sullied by Caruso's multi-million dollar investment in wall-to-wall Youtube, TV and social media ads that have now been seen by every person with a pulse in L.A. County. 
Caruso's oligarchic wealth, white patriarch arrogance, and checkbook politics have already been blasted by many community and civic leaders of color. His power grab is not unprecedented. L.A. has suffered through one rich white entrepreneur with the election of Richard Riordan's in the 90s and the legacy election of former City Attorney James Hahn (whose dead father's name propelled him to victory) in the 2000s.
The Police Protective League's smear campaign is yet another assault in a race that has been tarnished by finger pointing and distraction from the bread and butter issues that directly impact L.A.'s predominantly BIPOC and impoverished communities. While folks commemorated the thirtieth anniversary of the 1992 L.A. Uprising (set off by the acquittal of the four white police officers accused of beating Rodney King) last month, the question of the continuing decline of Black wealth was barely broached. Nationwide, Black homeownership has fallen off a cliff. Black homeownership rates are now lower than during the Brown vs. Board era in the 1950s. 
According to a recent L.A. Times report, Black employment and income rates have stagnated. Black folks in historically Black South L.A. (now a figment of the past due to the influx of Latinx, white, and Asian residents) are unable to buy even the most "modest" 1600 square feet single-family homes (which have skyrocketed to one million plus) in neighborhoods they grew up in. There is a nearly $50,000 gap between Black and white incomes in South L.A. and an approximately $55,000 gap between Black South L.A. residents and white residents countywide. The unemployment rate for African Americans in South L.A. is 12%, while it is 9% for Blacks overall and 6% overall.
These bleak figures are buttressed by the continued exclusion of African American workers from higher paying professional and managerial jobs. While white and non-Black workers have experienced marked gains in private and public sector management, Black workers, and Black women especially, are grossly underrepresented. Indeed, a 2020 report by the L.A. City Controller identified an egregious pay gap between white male and Black female workers, one which only widened as Black women grew older. According to a 2017 L.A. Black Worker Center report, Black workers with a high school diploma or less education experience unemployment at almost double the rate as white workers at the same educational level. As the report notes, "over half of Black workers are employed in frontline, entry-level jobs such as floor positions and non-supervisory positions, and office work, administrative or clerical positions, which is a higher rate than white workers." Black workers continue to experience a last hired first fired scenario, being "in senior positions at lower rates than white workers."
At the same time, one in ten Black workers with college degrees are unemployed, while Black youth continue to have the highest rate of youth unemployment, as well as gun homicides. This perfect storm of Black wage stagnation and violence has gutted Black intergenerational wealth. As fewer Black folks can afford homes they are being pushed into homelessness, forced to double and triple up in rentals or move outside of L.A. County.
To confront these disparities, the next mayor will need to move beyond empty "we see you" platitudes and provide concrete remedies for redress. These remedies must include permanent supportive housing AND targeted mortgage assistance for Black homebuyers who have been priced out of traditionally Black neighborhoods, as well as investment in community land trusts, creation of youth centers for recreation, enrichment, professional development, mental health, and social-emotional learning are mandatory for Black neighborhood revitalization. 
For example, the Hyde Park neighborhood of South L.A. has no accessible youth centers near its feeder Horace Mann Middle School and embattled Crenshaw High School campus (Mann is adjacent to the blighted Florence Avenue corridor which has more cannabis dispensaries, storefront churches and boarded up buildings than recreational spaces for youth). Community frustration with the lack of development and accountability was reflected in a recent L.A. County town hall budget discussion meeting with Second District Supervisor Holly Mitchell's office. Stakeholders pushed for dedicated community services facilities, reentry services, and mental health resources — all catch as catch can in some areas of vacant-lot-rich and park poor South L.A. where the Great Migration-era Black California dream has become a nightmare, aided and abetted by complicit politicians of all ethnicities.
Congresswoman Bass has pledged to expand opportunities for small and minority-owned businesses, create green jobs, and develop more robust job/professional partnerships between the LAUSD and community colleges and universities. Mayoral candidate and community organizer Gina Viola has proposed defunding the LAPD and diverting more funding to health care, jobs, and housing, while pushing for a $39 minimum wage. Mayoral candidate and L.A. City Councilperson Kevin de Leon has proposed adding 25,000 housing units by the year 2025, expanding mental health services, and enlisting reserve officers.
None of the candidates cite policies that specifically deal with racialized gender inequities and gender violence experienced by Black women and other women of color (Bass does reference expanding access to child care). And it's important to emphasize that the epidemic of gun violence is also an epidemic of toxic masculinity and patriarchy, which has insidious implications for racial, gender, and economic justice. Yet, these issues are not explicitly addressed in the candidates' platforms. Nationwide, despite the rise of #MeToo and the heightened assault on reproductive rights, there is seemingly little political will to disrupt deeply entrenched regimes of sexist power, authority, and control.
The next mayor of L.A. must be prepared to step up, work with Black social justice and gender justice coalitions, push L.A. County's workforce and economic development behemoth (which is flush with American Rescue Plan dollars), and provide concrete remedies to the continued economic disenfranchisement of Black folks. Congresswoman Bass' long track record with building social justice coalitions in South L.A, and fighting for civil rights and women's rights nationwide, makes her uniquely positioned to do this job.