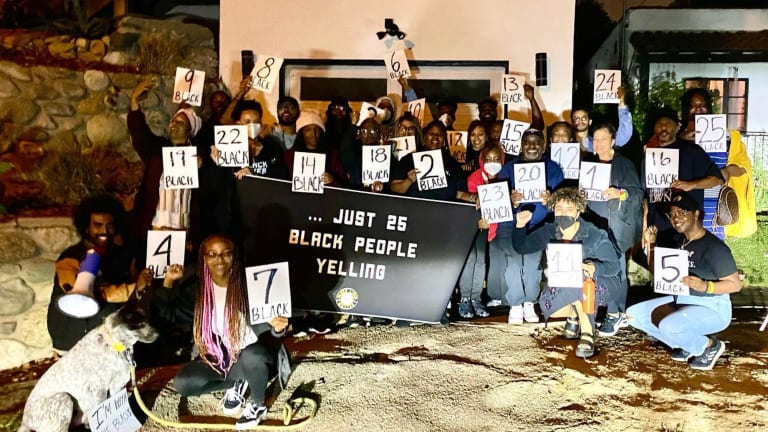 Kevin De León: Don't Hate the Player, Change the Game
We need to stop looking to Kevin to do anything other than hide and collect his paycheck.
Last week disgraced Los Angeles councilmember Kevin De León emerged from hiding to go on a curated media tour to double down on his position that he will not resign from office after his involvement in a recorded conversation in which Latino officials made crude, racist remarks, and conspired to expand their political power.
"If I were to step down, then they'd have no voice in City Hall," he told ABC7's Marc Brown.
Really? Because just a few short months ago, Kevin was living out his dream and running for mayor of the city of Los Angeles until it was cut short by reality. During that time, I don't ever recall hearing him say that he was concerned about his constituents not having a voice at City Hall as he crisscrossed the city to campaign for an office that he was never going to occupy.
It was clear from the time Kevin was sworn into office to represent Council District 14 that his seat on the council was always meant to be a stepping stone into the mayoral race. Remember, he didn't sign the pledge to say he'll serve all four years if elected and played coy with the media whenever the subject was brought up.
But let's go back to the "voice in City Hall" part of Kevin's narcissistic reasoning.
"No, because—this is ultimately—it's not about me," De León responded. "It, ultimately, it's about the voice of my constituents for (Council District) 14—a district that for decades, if not for generations, has been historically marginalized for a variety of reasons. If I were to step down, then they'd have no voice in City Hall."
We already heard Kevin's voice on that recording—when he was speaking and when he wasn't. That's not the voice we need or want in City Hall. Again, he was not at all concerned about leaving his constituents without a voice when he thought he had a chance at being mayor.
"I'm not the only one who can represent them, and I know that," De León said speaking to ABC7. "But if a caretaker were to replace me, if I were to step down, then they would have no vote in City Hall."
Chew on this. He's already running for Lieutenant Governor.
Theoretically, had he not been exposed as an anti-Black racist, he probably would have been on autopilot for re-election to the City Council in 2024. Then he would have pivoted that same year into running for statewide office again. Kevin has always been one to look to the future—his future—and he's already amassed $3 million for his next venture.
Kevin de León is the epitome of a career politician.
Kevin fancies himself a leader, but a leader stands up and speaks out even when it's not popular or comfortable. He was right about one thing, he failed.
"At that moment, you couldn't see it, but I had a very disparaging look on my face. But I should have verbalized my opposition to what was being said."
Shoulda, woulda, coulda. As the elders say, "chile, please!" What does a disparaging look on Kevin's face even mean or do? Obviously, nothing because it didn't stop or shift the conversation.
De León, like Martinez and Cedillo, is only sorry because he got caught. No one should be kidding themselves that Kevin would have stepped forward to apologize had that audio not been publicized. He would have kept on with business as usual, as he did for the entire year since that conversation.
We see these Canva template apologies for exactly what they are.
"Ultimately, my constituents elected me," he said. "It's the choice of my constituents to do—if it is their decision that I move forward and step down, then I'll accept it."
We must look like Boo-Boo The Fool to Kevin.
Voters in the 14th Council District indeed elected Kevin, but as he knows, he doesn't just represent the business of his district on the council. He votes on everything and gets paid from a pot that includes money from some of the people he disparaged in that audio.
As we say, don't bite the hand that feeds you.
"I'm so sorry. I am extremely sorry, and that is why I apologize to all my people, to my entire community, for the damage caused by the painful words that were carried out that day last year," De León said in the interview with Noticiero Univision anchor León Krauze.
Nowhere in the theory or practice of restorative justice (or common sense) does it say that the offender dictates how they will make amends to those who were harmed.
Kevin doesn't get to dictate the terms. That's not taking responsibility. That's being a narcissist, and while his narcissism may endear him to those who feel like he does about Black people, for some of us, his behavior is eerily reminiscent of our former president Donald Trump who, in many ways, set the stage for Kevin to do what he is doing.
Kevin isn't going to leave on his own. Everyone but the Pope has called for his resignation and he hasn't moved an inch. That paycheck is going to have to be pried from his cold, racist hands. That much is clear.
If folks really want Kevin out of office, they'll need to organize and get his buddies in the Democratic Party and Labor along with the community organizations he leans on for boots on the ground to renounce him and swear no future endorsements, money, or resources will go to him for any of his future political campaigns.
Don't hate the player, hate the game—and change it.
The game is what is keeping Kevin in play.
As long as he has his infrastructure of support, he's in play. This is chess and not checkers.
The Democratic Party, Labor, and community groups need to do more than issue statements calling on Kevin to resign. They need to cut him off now and in the future and open their playbook and work with Council District 14 constituents to recall him if they are serious about him leaving. Kevin is not frightened at the prospect of being recalled because it's been tried twice to no avail by folks with no political savviness for campaigns.
We need to stop looking to Kevin to do anything other than hide and collect his paycheck. It's time to look at the groups and organizations whose money and resources put him in office to help take him out.
Checkmate.