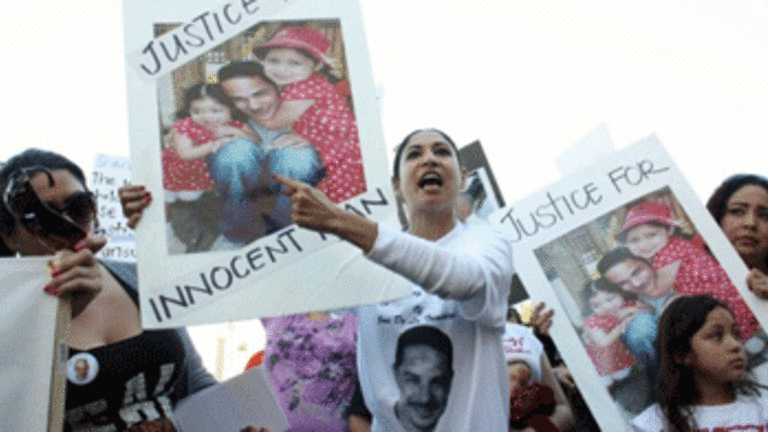 Demanding Justice for Unarmed Man Shot by LA Sheriff's Deputies
Dan Bluemel: More than 100 demonstrators marched through Compton Saturday to protest the killing of Jose de la Trinidad by Sheriff's deputies.
More than 100 demonstrators marched through Compton Saturday to protest the killing of Jose de la Trinidad by Sheriff's deputies.
Converging on the Los Angeles County Sheriff's Department's Compton station, protesters demanded justice, not only for the Trinidad family, but for other victims of police shootings.
De la Trinidad, 36, was killed by deputies on November 10, 2012 after attending his niece's quinceañera. Deputies attempted to pull over the car that was carrying De la Trinidad for speeding. However, his brother, 39-year-old Francisco de la Trinidad, did not stop and attempted to evade the sheriffs.
Francisco de la Trinidad, who was later taken into custody, only stopped briefly to drop his brother off, who exited the car to comply with the sheriffs.
According to the Sheriff's Department, deputies assumed De la Trinidad was armed, and seeing his hands pass his waistband, further assumed he was drawing a weapon.
De la Trinidad was shot seven times in the back and died at the scene. He was unarmed.
Speaking to demonstrators, Gigi Fahmi, a friend of De la Trinidad and his wife, described the victim as devoted to his spouse, Rosanna de la Trinidad, and his two daughters, ages three and six.
Fahmi demanded the deputies responsible for De la Trinidad's death face criminal charges.
"[Sheriff] Lee Baca has no control over his department and should be ashamed of himself, as well as the department, for the way they handled, what sheriffs called a 'routine traffic stop,'" she said. "You tell me, what's so routine about two sheriffs instructing an unarmed man to 'stop, turn around, put your hands on your head,' so sheriffs can then proceed to shoot him execution style, riddling his body with seven bullets?"
De la Trinidad's death further drew attention after the Los Angeles Times interviewed Estefani, a witness to the shooting who countered the Sheriff's Department's official account. Estefani, who requested her surname be withheld, reported that De la Trinidad was complying with the deputies' orders to turn around and raise his hands before being shot to death.
"I know what I saw," she told the Times. "His hands were on his head when they started shooting."
The Sheriff's Department originally denied having interviewed Estafani or any other witnesses, but later acknowledged talking to her after being questioned by the Times. Officials blamed the discrepancy on poor inter-departmental communication.
Deputies blocked the entrance of their station with only a few feet between them and the demonstrators. This intimacy led many protesters to directly address the watchful deputies.
Damian Ramirez delivered a personal message to the sheriffs. He was a close friend of Michael Nida II, who was killed by Downey Police in October of 2011. Like De la Trinidad, Nida was unarmed and gunned down in the back.
"No more murders of innocent men because you don't know how to do your job, because you are afraid of the community you serve," said Ramirez to the sheriffs. "The time has come to change the way you do business, the way you are trained to police these communities. These are human beings that you are stealing from their families, human beings who deserve to live the rest of their lives in peace and freedom."
The Teen Intervention Program, a local nonprofit that attempts to counter youth violence and homicide rates through various programs, reports there have been 239 officer-involved shootings in LA County between 2007 and 2012. Nearly half of the victims were unarmed.
Jubilee Shine, an organizer for the LA Coalition for Community Control Over the Police, referred to the officer-involved shootings as a "long pattern and practice of abuse of poor, black and brown and working-class people."
Since 1983, he said, only one California police officer has been jailed for killing a civilian while on duty. That was Johannes Mehserle, a former transit cop who killed Oscar Grant while Grant was lying face down and pinned by another officer. Grant was unarmed. Mehserle said he had mistaken his sidearm for his Taser when he shot Grant in the back.
Shine, who called attention to the diverse racial makeup of the crowd, told the demonstrators they had a "common enemy and a common purpose."
"These police and these sheriffs, they do not come from these neighborhoods," he said. "They do not come from Compton, Watts or Inglewood. They bring these cops and sheriffs in from out of town — from Anaheim, Pasadena and the Westside. They give them good salaries to come and act like armies in our streets.
[dc]"W[/dc]e need police that live and grow up in our neighborhoods so that when they mess up we can go to their doorsteps. … We need residency laws; we need control over these police."
The Sheriff's Department is currently investigating De la Trinidad's death. Their findings are expected to be released early next month.
Dan Bluemel
LA Activist
Sunday, 27 January 2013