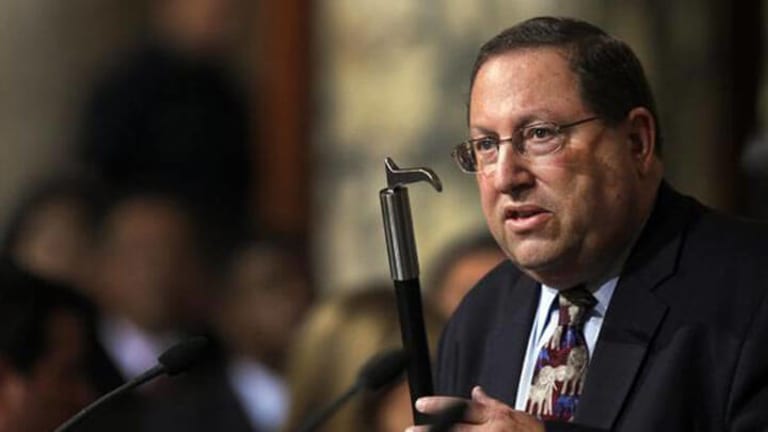 Local Progressive Leader We Can't Afford to Lose
Hans Johnson: In the cynical world of big-city politics, Paul Koretz is as close as we come to Bernie Sanders. But Koretz's re-election is not as secure as Bernie Sanders' in Vermont.
One of LA's most trusted progressive leaders in public service is under attack. At a time in American politics when bullies masquerade as benefactors, selling backwards policies as a step forward, we must pay close attention to our local races so California stays the engine of progress our nation needs. On the priorities progressive Angelenos care about, L.A. City Councilmember Paul Koretz has a record of fighting and winning results that we all need him to continue. 
Paul Koretz has led the charge on workers' rights and holding predatory banks like Wells Fargo accountable, stopping catastrophic climate change and protecting the environment, advancing equal rights for lesbian, gay, bisexual, and transgender people and families, and protecting the wellbeing of animals. 
In the cynical world of big-city politics, Paul Koretz is as close as we come to Bernie Sanders. But Koretz's re-election is not as secure as Bernie Sanders' in Vermont.
Koretz has fought courageously against mansionization in our neighborhoods and routinely stands up against the fossil-fuel industry and corporate overlords like Monsanto, whose ring most politicians kiss while taking their money. He is the foremost city leader we have to thank for stopping sale and distribution of billions of throwaway polluting plastic bags in Los Angeles, which for years have choked our communities with blight and coated the banks and bed of the L.A. River that cost taxpayers dearly to clean up. His leadership inspired others and opened the door for Californians to become the first in the nation to ban throwaway plastic bags statewide, leading the shift to reusable bags that create jobs making and marketing them here in L.A. 
In the cynical world of big-city politics, Paul Koretz is as close as we come to Bernie Sanders. ButKoretz's re-election is not as secure as Bernie Sanders' in Vermont.
He is under attack bya young man with no experience whatsoever in public service. Jesse Creed is an attorney from a big corporate law firm that represents such luminaries as Philip Morris and Shell Oil. Most any question about who will pull Creed's strings as a politician leads to the client list for Munger, Tolles & Olson, where he works. They defended Shell Oil in the Hurricane Katrina class-action lawsuits and Transocean in the 2010 Gulf of Mexico oil-spill trials. They represent Verizon in suits over placement of cell-phone towers,as well as Dow Chemical, Wells Fargo, Bank of America, Iraq-War contractors, and "clients at some of the nation's largest Superfund sites."
Under "Enforcement Matters," the Web site for Munger, Tolles & Olson says, "As state and federal programs mature, government agencies have shifted their focus away from promulgating regulations toward enforcement. This change has resulted in an increasing number of judicial and administrative enforcement actions, particularly concerning hazardous waste, seeking criminal or civil penalties for non-compliance and injunctive relief. MungerTolles has defended clients in a number of these cases, including those involving the California Environmental Quality Act (CEQA), the Clean Air Act (CAA), the Clean Water Act (CWA)...." Creed's donor list reflects some of these loyalties to polluters.
Even more disquieting, in a local election year where charter-school cheerleaders such as former Mayor Richard Riordan and Eli Broad are directly attacking the LAUSD school-board President Steve Zimmer, who has fought the hardest for public education against corporate takeover, Jesse Creed sits on the board of the Equitas Academy, a charter-school network. Creed reportedly sat fourth chair on a U.S. Department of Veterans Affairs lawsuit against the VA campus in West L.A. and has used that to declare himself a veteran's advocate. It takes more than thatto be worthy of representing Angelenos in one of California's most progressive cities. He has nothing else on his resume or record. There is no way to know how he will vote on any issues that come before the City Council. Lip service doesn't count.
What does matter is a track record of progressive action. Paul Koretz shows results we can trust and rely on. We know how he will vote for working people because he's been a steadfast fighter for living wages and the middle class. We know how he will vote on healthcare, including for people with disabilities who need transportation or who are sick and aged and need access to in-home care. We know he will stand up boldly to stop gun violence, a life-and-death issue where his record is stellar and crystal clear.
Paul Koretz has pushed for a fracking moratorium in Los Angeles. He has fought wage theft. He has punished Wells Fargofor its exploitative practices. He has championed equal marriagefor committed same-sex couples. He has heavily regulated tobacco use by minors. He has authored bans on assault weapons. He has fought for immigrant rights. He has fought for farm worker rights. He stood up to extreme water wasters in his own district, putting the public interest ahead of self-interest. And amidst this month of rain, let's not forget he was a leader on drought issues facing Angelenos and Californians. He legalized backyard beekeeping and established wildlife corridors to protect P-22, the mountain lion that may be our most famous furry resident. 
Paul Koretz fought bravely--and due to Monsanto lobbying efforts among other City Councilmembers, without success--to ban GMOs from being grown in Los Angeles. Koretz has been the most vocal voice on City Council for climate action, authoring the City's climate-reduction goals and a number of other important measures.
Koretz's citywebsiteand his campaign website both detail more of his impressive results. Showing political leadership as well as on policy, Koretzimmediately went after Donald Trump, introducing and getting approved by the full City Council resolutions opposing Trump's horrible nominee to the Environmental Protection Agency, and then opposing nearly all of Trump's entire slate of horrible Cabinet appointees. Koretz spoke eloquently at the Women's March on January 21st, telling the crowd how his father had to flee Nazi Germany because no one took Hitler seriously at first.
None of these points were pivotal to Paul Koretz's re-election in Council District 5. What is crucial is listening to his constituents, caring about his district, filling potholes, trimming trees, commitments that the L.A. Times says in its recent endorsement of him Koretz dependably keeps. 
Endorsed by the Sierra Club and the League of Conservation Voters and our county Democratic Party, Koretz welcomes volunteers to walk or make calls, donate funds, and support him online and in social media forums. Local residents who care about continued, courageous public service like his can make a commitment to help via his campaign website: www.paulkoretz2017.com.
[dc][/dc]tanding up for proven progressive leaders is one important way to end Trumpism, reset the agenda, and gain power in our country. Paul Koretz regularly stands up to bullies to assert dignity and equity. He has earned re-election and needs support of the progressive community in L.A. to win it March 7.
Hans Johnson