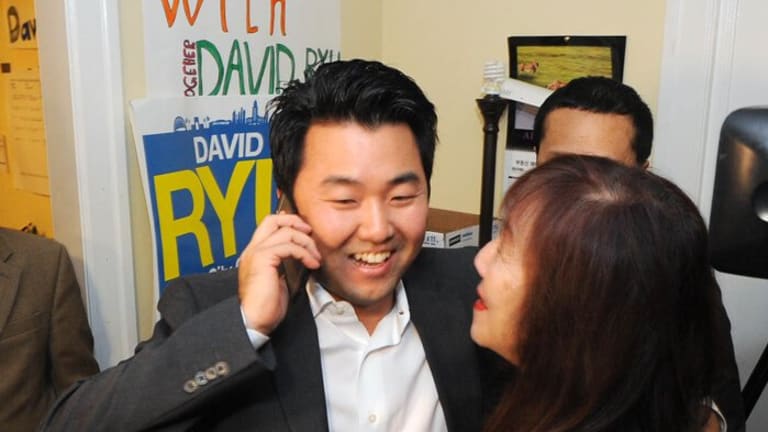 The Most Important LA City Election in the 21st Century
Michael Haas: Ryu refused contributions from developers, and promised never to accept any money from developers while in office.
David Ryu, elected to the Los Angeles City Council on May 19, has broken more than one record. He is not only the first Korean American chosen by LA voters but he has won what appears to be the most important LA city election in the 21st century.
Democracy is what Ryu brings to City Hall.
For the first time, a candidate pledged to spend the $2 million discretionary funds allocated annually to every City Councilmember by first consulting constituents on their priorities in every neighborhood in the district.
Ryu campaigned as the outsider to city government, while his opponent Carolyn Ramsay touted her knowledge of how the city works while chief of staff for outgoing City Councilmember Tom LaBonge, who was termed out.
Infrastructure, especially roads, is crumbling and overdevelopment, such as mansionization, has gone amuck in Los Angeles, according to questions posed in several hot debates during the election campaign in the various neighborhoods. Yet Ramsay signed off on spending $100,000 for lights for the zoo and $20,000 for an Elvis Presley birthday party celebration, using the largesse as "slush funds."
Since 2006, when Ramsay was chief of staff, LaBonge transferred nearly $1.6 million from funds allocated for street, public transit, and sidewalk repairs as well as for redevelopment and community services to his office. Some 80% was spent on salaries. At least $100,000 went outside the district.
Ryu refused contributions from developers, and promised never to accept any money from developers while in office.
Ryu refused contributions from developers, and promised never to accept any money from developers while in office. Ramsay, however, received more contributions than all thirteen other candidates in the primary combined. Coincidentally, the U.S. Appeals Court in San Francisco agreed on the day of the election that the Hawaii law of 2010 banning campaign contributions from developers was constitutional.
Speculation about why Ryu beat Ramsay, with a 4% margin of victory, has focused on several factors. High marks have gone to the flyers mailed to prospective voters in the weeks before May 19 that hammered the point that Ramsay favored politics as usual while Ryu wanted to shine the light of transparency on how taxpayer money is spent.
Another fact is that a portion of the district never elected LaBonge because of redistricting after the 2010 census. Those suddenly thrust into his district experienced a marked decline in constituency interest compared to their former representative, Paul Koretz, in such matters as phone calls returned and letters answered.
Voting statistics reveal that overwhelming support for Ryu came from precincts in or near Koreatown. What may have energized Koreans to back Ryu was another reapportionment problem: Koreatown was split between two districts, and Koreans were unhappy that they might be deprived of a City Council district representing Asian Americans. Now their desire has been fulfilled.
Los Feliz precincts, at the southern edge of Griffith Park, also helped to put him over the top. Investigative reporting by the Los Feliz Ledger, which endorsed Ryu, provided considerable help. But every neighborhood was dotted with at least one precinct supporting Ryu over Ramsay.
Council District 4, which resembles the salamander-shaped district in Massachusetts that was called a Gerrymander in 1812, covers Sherman Oaks, Toluca Lake, Hollywood Hills, Los Feliz, Hancock Park, Miracle Mile and adjacent precincts. Unquestionably, the district has the most expensive housing real estate in the city. Mobilizing that district, which displayed more Ramsay signs in front of upscale homes, required Ryu to do a lot of door-to-door campaigning. And he did.
Key endorsements went mostly to Ramsay, who was supported by Mayor Eric Garcetti, City Council President Herb Wesson, most labor unions, and the Los Angeles Times. Ryu had the support of City Councilmember Bernard Parks, one labor union, and the Los Angeles County Demoratic Party. But what was extraordinary is that two members of Labonge's staff supported Ryu, not their coworker Ramsay. And Ryu gained the support of three candidates who ran and lost in the primary election.
The main subliminal message throughout the entire campaign was that Los Angeles has been governed undemocratically. A Korean American personifying the American Dream was promising to fundamentally change how city government operates.
Caucasian officeholders may not realize that their long control over key positions in City Hall is out of sync with the fact that they are now outnumbered by minorities. Those who lack the connections and the wealth to get their way politically share one perspective: Their only trump card is to rely on the principles of American democracy. While those in power act often as if they are above the law, minorities are the most fervent believers in democracy. Now 39-year-old David Ryu's election has restored that belief.
Michael Haas