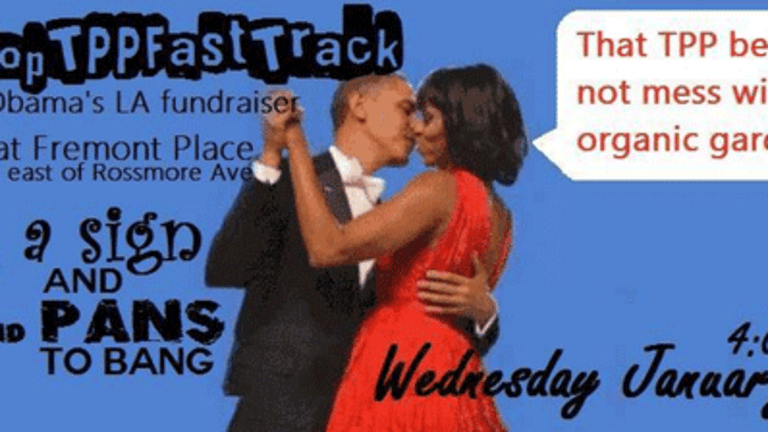 5 Things to Do This Week to Derail the TPP Fast Track
Derail the TPP Fast Track -- We can agree that decisions that affect all of us should not be made in secret without input from the public.
Congress is pushing legislation right now that would "Fast Track" the Trans-Pacific Partnership (TPP) -- a secretive agreement negotiated behind closed doors by government bureaucrats and more than 600 corporate lobbyists. It threatens everything you care about:
democracy,
jobs,
the environment,
food safety,
availability of low cost drugs and
the Internet.
No matter what your top issue is, we can all agree that decisions that affect all of us should not be made in secret without input from the public. The Camp-Baucus Fast Track bill would limit the ability of Congress to meaningfully debate and amend trade agreements.
On Monday, over 550 labor, environmental, family farm and other organizations traditionally associated with President Barack Obama's political base sent a letter to Congress opposing Fast Track. The letter came just a day before the President's annual State of the Union address. Corporate interests that fought the president's re-election are lobbying for him to use the speech to call on Congress to enact Fast Track authority for the TPP. The President's political base and many congressional Democrats stand in united opposition, emphasizing that the TPP threatens to exacerbate American income inequality.
"Income inequality and long-term unemployment are serious problems that the job-killing TPP would only worsen," said Arthur Stamoulis, executive director of Citizens Trade Campaign, which organized the letter. "Calling for Fast Track in the State of the Union would undercut positive proposals to battle growing income inequality and create middle class jobs which are expected to be the central focus of the President's speech. As short-sighted as such a call would be, even more short-sighted would be for Congress members on either side of the aisle to answer it, as they're the ones who would be dealing with the political repercussions this November."
The 564-organization letter urges Congress to oppose "The Bipartisan Congressional Trade Priorities Act" (HR 3830/S 1900), legislation which would revive the 2002 Fast Track "trade promotion authority" mechanism that expired in 2007. The bill was introduced on January 9 without a Democratic sponsor in the House by Ways & Means Committee Chair David Camp (R-MI), and by outgoing Finance Committee Chair Max Baucus (D-MT) and Ranking Member Orrin Hatch (R-UT) in the Senate.
"After decades of devastating job loss, attacks on environmental and health laws and floods of unsafe imported food under our past trade agreements, America must chart a new course on trade policy," the letter reads. "To accomplish this, a new form of trade authority is needed that ensures Congress and the public play a much more meaningful role in determining the contents of U.S. trade agreements... [The Camp-Baucus bill] ( Click here.) is an abrogation of not only Congress' constitutional authority, but of its responsibility to the American people. We oppose this bill, and urge you to do so as well."
Among the signers are labor unions like the AFL-CIO, American Federation of State, County and Municipal Employees (AFSCME), American Federation of Teachers, Communications Workers of America, International Brotherhood of Teamsters, United Autoworkers (UAW), United Brotherhood of Carpenters, United Steelworkers (USW) and Service Employees International Union (SEIU); environmental organizations like 350.org, Friends of the Earth, Greenpeace, League of Conservation Voters, Natural Resources Defense Council (NRDC), Rainforest Action Network and the Sierra Club; family farm organizations like the National Family Farm Coalition, National Farmers Union and the Western Organization of Resource Councils; consumer groups like Food & Water Watch, Organic Consumers Association, National Consumers League and Public Citizen; and hundreds of others.
Here are five things YOU can do this week to stop TPP Fast Track:
Write a letter to the LA Times which on Sunday editorialized in favor of fast track. Email it to letters@latimes.com. Make sure it is 150 words or less and includes your full name, address and phone number.
On Tuesday, January 28, join the Twitter Storm during the President's State of the Union address. Go to the Progressive Democrats of America siteat 5 pm PST to get the special SOTU hashtag and pre-written tweets.
On Wednesday, January 29, join the rally in front of Michelle Obama's LA fundraiser in Hancock Park to tell her to #StopTPPFastTrack. Go here for more info and to RSVP.
On Thursday, participate in the National Call-in Day. Go to Stop Fast Track and enter your zip code and the site will automatically call your Congress person. Let them know you oppose TPP fast track, and they should to.
On Friday, participate in the Intercontinental Day of Action. Go hereto find if one is planned near you. Remember Los Angeles, our action is on the 29th to take advantage of the press that the Michelle Obama fundraiser is likely to get.
We must defeat the Trans-Pacific Partnership and the TTIP, the Trans-Atlantic Trade and Investment Partnership that will follow. Our protests are working. The President cannot get any Congressperson in his party to co-sponsor the Fast Track bill and just last week, the European Union put the investment part of the TTIP on hold due to widespread public opposition. We stopped SOPA and CISPA. We stopped a war with Syria. And if we keep up the pressure, we can stop these global corporate power grabs sold under the label of free trade.
Lauren Steiner