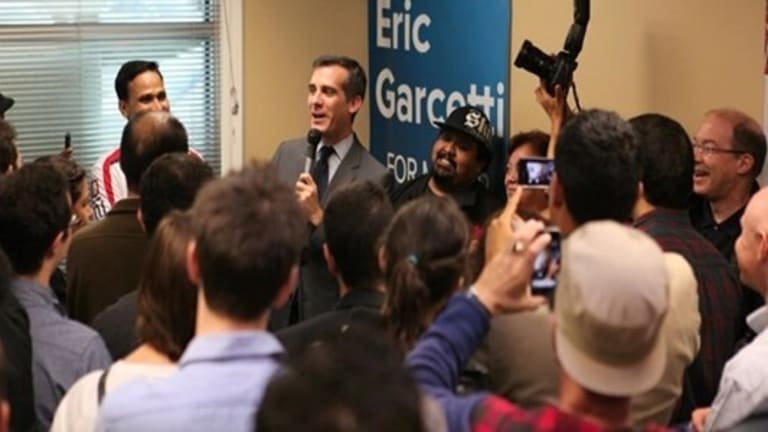 Eric Garcetti Endorsed by California NOW
The California chapter of the National Organization for Women announced its PAC endorsement of Eric Garcetti for Mayor of Los Angeles.
FOR IMMEDIATE RELEASE
Press Inquiries:
Lori Vandermeir
Communications Director
communications@canow.org
CALIFORNIA NATIONAL ORGANIZATION FOR WOMEN PAC ENDORSES ERIC GARCETTI FOR LOS ANGELES MAYOR
Sacramento, CA: The California chapter of the National Organization for Women today announced its PAC endorsement of Eric Garcetti for Mayor of Los Angeles.
California NOW President Patty Bellasalma issued the following statement regarding the endorsement:
"In 2013, women and girls in Los Angeles need a mayor with a consistent record of working for substantive equality and empowerment. Sometimes the strongest feminist isn't a woman.
We fight every single day for women's equality – in the classrooms, the courtrooms and the boardrooms. We point out the fact that women are often denied positions of power simply because of their gender – even when they are the more qualified candidate. It would be hypocritical for California NOW to deny an endorsement for the exact same reason.
Eric Garcetti is the strongest candidate running for mayor who is a long-standing NOW member and has personally worked on numerous advocacy campaigns, alongside local Los Angeles, state and national NOW leaders. He is the only candidate running for mayor who authored the legislation for local implementation of CEDAW (Committee on the Elimination of Discrimination Against Women), the candidate who sponsored city council sessions to educate the public about myths surrounding sexual assault, the candidate who led the fight to secure the funding necessary to eliminate the backlog of DNA rape kits and fought to ensure that the LAPD have the resources necessary to process new kits on an on-going basis and then followed up with the Prison Rape Elimination Act. Those are issues California NOW cares deeply about.
California NOW fights for reproductive justice, which includes economic, environmental and social justice. Eric Garcetti authored the nation's toughest anti-sweatshop legislation, the nation's largest green building ordinance, the nation's largest clean water initiative, the nation's largest solar initiative and the nation's largest housing trust fund legislation for tenants' rights (for those in affordable housing projects).
When considering our endorsement, the question was which candidate running for mayor has the most consistent track record of not just talking about women's equality and empowerment but has used their previous positions to create real change within the city. We also asked which candidate has the strongest vision to move Los Angeles forward and who would be most willing to create a more equal playing field for the city's almost two million women and girls. The answer to both questions – without hesitation - is Eric Garcetti."
##