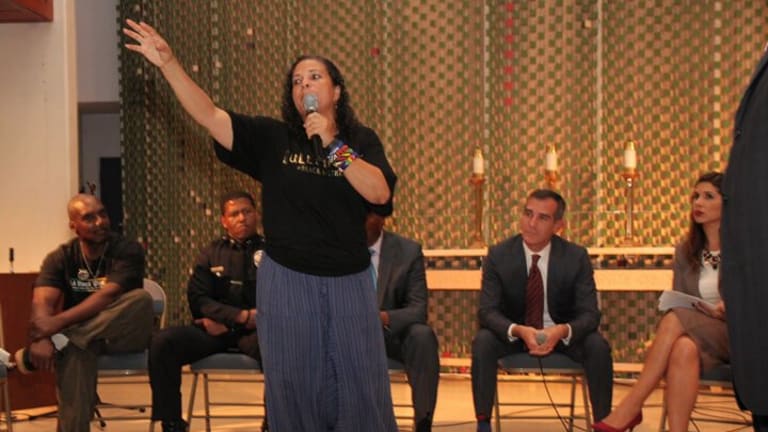 Black Lives Matter Vents Rage at Mayor Eric Garcetti
Dick Price & Sharon Kyle: Last night, a crowd of more than 300 community members packed the cavernous sanctuary of Holman United Methodist Church, a major black church in the heart of black South Los Angeles, to hear—or to confront—LA's Mayor Eric Garcetti.
Monday night, a crowd of more than 300 community members packed the cavernous sanctuary of Holman United Methodist Church, a major black church in the heart of black South Los Angeles, some to hear—and some to confront—LA's Mayor Eric Garcetti.
With Garcetti on stage were a half dozen of his top staff members and appointees, including the newly seated chairman of the city's civilian police commission, Matthew M. Johnson, and LA Metro's recently appointed Metro CEO Phillip Washington.
Prominent in the audience were three or four dozen black-clad members of LA's Black Lives Matter, led by Melina Abdullah, the professor of Pan African Studies at Cal State L.A. who has emerged as one of the movement's leading voices here in Los Angeles and across the country.
Surrounding them in the overwhelmingly black audience were many dozens of other community members from all walks of life—up front a cadre of ministers from local black churches, on one side a contingent of Skid Row's homeless, right here a phalanx from the Nation of Islam, lining the walls a flock of reporters and photographers, and all around them row upon row of middle-aged and older South LA community members.
Following an introduction by moderator and radio host Starlett Quarles, the Mayor clearly wanted to trumpet the work his administration has been doing to make life better for people in this community and to resolve tensions that have arisen with its more radical members.
The Black Lives Matter cadre was bent on venting their deeply held disappointment, even rage, that the Mayor's office has not moved quickly enough to deal with police violence against members of LA's black and brown communities and has disrespected their group's legitimacy by avoiding meeting with them.
And hundreds of others on all sides wanted to hear what was being done to bring more jobs into the community, to stem the tide of violence wracking their neighborhoods, and to complete much-needed transit projects without decimating traditional cultural centers, among other concerns.
A heated hour later, a few marched out of the truncated session in triumph, some others in frustration, and many in confusion and disappointment.
Who's Town Hall Is It?
Things went sideways quickly.
Right after the evening's host, Holman's Senior Minister Rev. Kelvin Sauls, pleaded for an open dialog, with mutual respect, the Black Lives Matter contingent rose, turned their backs, and raised their fists in protest.
Later in the program, Melina Abdullah explained that her group and its allies were upset with the evening's format. They had demanded a meeting with the Mayor at their town hall, not one arranged by the Mayor's office with his people prominently placed onstage, following his agenda with the microphones in their hands. And the Black Lives Matter activists and their allies in the audience weren't having it.
"The mayor has neglected, disrespected, and abused the black community for far too long," Abdullah said. "This is not a political game. This is not about your re-election. This is about our lives."
The Mayor's plan seemed to have been to invite community leaders forward individually and in pairs to ask single questions in their areas of expertise and activism, starting first with two members of the Black Workers Coalition, followed by Damien Goodman of the Crenshaw Subway Coalition, followed by, well, the carefully orchestrated approach didn't get that far.
To the first labor-related questions, Garcetti managed to highlight work his administration has done in passing the $15/hour wage for city workers, providing employment opportunities for local residents in infrastructure projects going on in South LA—notably the Crenshaw Metro Line—and developing programs for hiring veterans, recreating the first Office of Re-Entry since Tom Bradley was mayor, instituting a $6 million grant for the toughest out-of-work residents, and planning an $8.5-million reconstruction of the airport, with many of the jobs going to South LA residents.
"We've been talking about fixing the airport for thirty years," Garcetti said. "Isn't it about time we actually do it?
In time, the Mayor managed to flash the spotlight on Matthew Johnson and Phillip Washington, who each rather stiffly pledged to do their level best to reign in police violence in one case and to make sure infrastructure projects serve local communities and their businesses, not destroy them, in the other.
But then, before posing his transit-related question, Damien Goodman made the event into more of a community town hall by inviting community leaders Abdullah, LA CAN's Pete White, and activist minister Lewis Logan, among others, onto the stage, seating them in the semicircle of chairs with the Mayor's team.
Righteous Indignation Prevailed
From there, whatever semblance of order had been managed so far quickly fell apart in a turmoil of interrupted answers and rants and questions shouted from the floor. At one point, audience members crowded onto the stage, grabbing at open microphones and pressing in toward the Mayor and his people, before being pressed back.
Quietly, the dozen Nation of Islam attendees marched to the exits, with many other community members trailing out as well.
When it was clear no further dialog would ensue, Rev. Sauls thanked the crowd for coming and the Mayor's contingent headed outside where Black Lives Matter activists blocked his car's exit for a time, seemingly confident that they had scored important points.
Later, Rev. Sauls expressed disappointment that the activists had disrupted the event. "We certainly understand the rage because of the challenges in South L.A., but amidst that, we do not want to violate our own integrity."
No arrests were made, nor was there any real violence.
"I am disappointed that our conversation was cut short when there is so much work for us to do together to make our neighborhoods stronger and safer," Garcetti said in a statement released late Monday, reported the LA Times. "I believe in our city and my commitment to our shared concerns continues, stronger than ever."
Afterwards, two Mayor's Office staff members who deal with homelessness and prisoner re-entry expressed regret that the discussion didn't get around to solutions.
Walking to her car, Anya Slaughter—whose unarmed son, Kendrec McDade, was shot and killed several years ago by Pasadena Police—shook her head.
"I lost someone to the police, so I know how much that can hurt. But I've got a long drive home to the Inland Empire now," she said in the gathering darkness on the way to her car two blocks away. "I'm sorry, but this was a waste of time."
Dick Price & Sharon Kyle