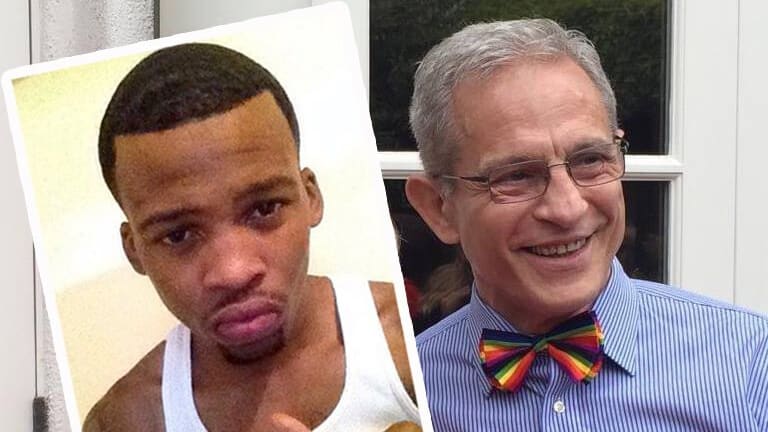 The Cost of Silence: How A Wealthy LA Democratic Donor Muted The Political Party of "Allies" and "Coalition Building"
Jasmyne Cannick: Very few from the political party of allies, coalition building and we're stronger together have joined the public call for justice in the death of this young Black gay man.
It's been 3 weeks since 26-year-old Gemmel Moore's body was removed from the West Hollywood apartment of 63-year-old prominent Democratic political donor Ed Buck. Moore was homeless and worked as an escort.
Because Ed Buck is a white gay man in West Hollywood the police didn't bother to investigate Moore's death which was immediately classified as an accidental meth overdose by the Los Angeles County Coroner.
Shortly after Moore's death the WeHo Times published a story that quoted Moore's mother LaTisha Nixon as saying that she didn't believe it was as cut and dry as the coroner's office was making it. She had learned that her son had been doing escort work and that her son's friend was also engaged in similar activity—and that they had a client in common.
Speaking to the WeHo Times, Nixon said, "I called one of my son's friends and was like, 'who the hell is Edward Buck?' And my son's friend was like, 'oh my God, that's that white guy, that wealthy white politician guy… he was like 'oh my God…' When he calmed down, he told me that Ed Buck was one of my son's clients and that Ed Buck was one of his clients as well. [Buck] would have my son to go out to… Santa Monica Boulevard looking for young gay black guys so he could inject them with drugs, see their reaction and how [they] would react and take pictures of them."
Moore's own personal journal seemed to corroborate those statements.
Among Moore's personal belongings collected by his family from the coroner's was a journal in which he documents his feelings about the direction of his life and the role of Ed Buck in it.
In his journal, Moore wrote, "I honestly don't know what to do. I've become addicted to drugs and the worst one at that," a December entry reads. "Ed Buck is the one to thank. He gave me my first injection of crystal meth it was very painful, but after all the troubles, I became addicted to the pain and fetish/fantasy."
His last entry, dated Dec. 3, 2016 reads: "If it didn't hurt so bad, I'd kill myself but I'll let Ed Buck do it for now.
In the aftermath of the WeHo Times article and the publishing of Moore's journal, more victims of Ed Buck have privately come forward recounting similar stories about a man who has a Tuskegee Experiment like fetish and who likes to shoot drugs into young Black men that he picks up off the street or via dating hookup websites like Adam4Adam. The drugs are often times injected into the young men without their permission and while they're unconscious after having been given GHB (also known as the "date rape" drug).
Local news showed video surveillance of Moore's body being removed from Buck's house as another young man was just arriving. Almost implying that Buck planned to keep on "partying" even after the death of Moore in his house.
Buck has since hired a criminal defense attorney who has been selling the idea that his client and Moore were "good friends" and that he's a kindhearted man.
Seymour Amster said that while his client was in the apartment when Moore died, he had absolutely nothing to do with his overdose.
"It is unfortunate that the sheriff's department is reacting to unsubstantiated allegations," Amster said. "This is a tragedy, not a crime. He had no involvement in Gemmel Moore's death. Unfortunately he opened his home to an individual who was troubled."
"Whatever Moore did, Mr. Buck was not around when he did it. He was in the apartment in the time of his death. We're not sure where Mr. Moore took whatever he took to cause the overdose."
Buck has given hundreds of thousands of dollars of Democratic causes and candidates over the years. His Facebook page boasts dozens photos of him with everyone from presidential candidate Hillary Clinton to Governor Jerry Brown and even Los Angeles Mayor Eric Garcetti.
One look at the list of political contributions from Buck to Democrats and it's easy to see that while he may have a penchant for young Black men–that liking doesn't extend to Black politicians of whom only one handful have received donations.
In online ads soliciting young Black gay men, Buck has referred to them as being a "6 foot nigger." On his Facebook page he jokes with friends using the n-word.
Normally in politics we try to distance ourselves from white people who call Black people niggers or use the word nigger–not protect them with our silence.
With the exception of a very tailored and politically correct statement made by the local chapter of the Stonewall Democratic Club most of Los Angeles' Democratic and LGBT community–which are often one in same–has had nothing to say publicly about Moore's death. Politicians who have received thousands of dollars from Buck over the years–and even this year for their reelection campaigns–have been curiously silent.
Jeffrey Prang, Los Angeles County Assessor who is running for reelection and a longtime West Hollywood resident who served for a time as the city's mayor and is a regular recipient of donations from Buck, told the L.A. Times that Buck has long been known as a "leader in the West Hollywood community and civil affairs for L.A. County."
"Some of the things that I've read on online news sources seem difficult to believe, but I think the bottom line is a young life has been lost to drug addiction," Prang said. "We should all mourn that."
Depending on what homicide investigators conclude–Moore's life might have been lost due to a form of murder or manslaughter–not drug addiction.
Eric Bauman, chair of the Los Angeles County Democratic Party and California Democratic Party was reported to have been sobbing after being accused of "engaging in inappropriate behavior with 14- and 16-year-old boys."
"I'm a pretty tough guy and I can take the attacks, lies, distortions, and mud that has been slung at me pretty well," Bauman's said in an email. "But to accuse me of child abuse, especially of this nature, is beyond the pale and 100% unacceptable."
Perhaps that's why Bauman, who is gay himself, hasn't said one word publicly about one of his party's top donors taking advantage of vulnerable young Black gay men.
Very few from the political party of allies, coalition building and we're stronger together have joined the public call for justice in the death of this young Black gay man.
But still–very few from the political party of allies, coalition building and we're stronger together have joined the public call for justice in the death of this young Black gay man. Not even a politically correct statement asking for a thorough investigation into Gemmel's death–or questioning why the police would just take the word of Ed Buck in the first place on the cause and manner of his death. If that isn't the epitome of white privilege.
And while there was no shortage of politicians in Los Angeles falling over themselves to issue statements and be seen in the media condemning the events of Charlottesville and President Trump's response to them–locally they have seemingly looked the way and conveniently ignored that one of their top donors might be a serial predator who gets his kicks by drugging vulnerable young Black gay men.
Let me put it this way. Using Ed Buck's connection to former presidential candidate Hillary Clinton, conservative news websites and blogs have exploited (and amplified) the story of the death of Gemmel Moore more than Democrats have–albeit for different reasons, but still.
There has only been two elected official who have received money from Ed Buck that I know of who has actually reached out and offered to make a contribution towards Gemmel Moore's funeral experiences. Funeral expenses that were paid for by donations to a GoFund Me account–not by the man who according to his attorney was a "good friend" of Gemmel Moore's and who has donated hundreds of thousands of dollars to various candidates and causes around town. I guess the poor homeless Black gay man who died in Buck's house wasn't cause enough to even care.
All that talk from Democrats about being allies and at edge of each other's battles goes out the door and loses all credibility when in 2017, a Black gay man can die under more than suspicious circumstances and rather than acknowledge his death–everyone looks the other because they don't want to alienate a consistent and top-giving political donor.
The silence from L.A.'s Democratic community on the death of Gemmel Moore and Ed Buck is no better than Black cis folk looking the other way because he was a gay sex worker and the white gays doing the same because he was Black.
The lives of Black queer folks can't only matter when it's February, pride season, convenient or popular.
The Ed Bucks of the world win when their money can literally mute an entire political party and it sends a message to victims that their lives are expendable and aren't worth the bother.
This is why we lose and will continue to lose in 2018. We don't practice what we preach.
Jasmyne Cannick