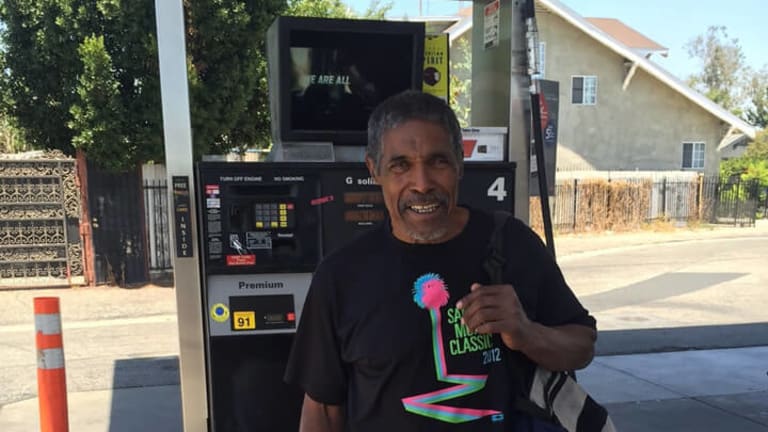 The Hijacker at Pump #4
Michael Krikorian: Oh, boy, Here we go. I got a real nut on my hands. By now, I'm at about 10 in the tank. Still, I'm enjoying the tale and so I encourage him.
Three weeks back I turned into the 76 gas station on Arlington just north of the 10, pulled up to pump #4, killed the engine, grabbed my phone and replied to a text.
While I did, I heard some man talking to a lady refueling at the pump on the other side of mine. He was that gas station guy eager to wipe your windows for some change. Though I didn't look up, the man sounded quite pleasant as he complemented the woman and what I assumed was her child on their good looks.
By the time I finished texting, the lady was gone and the guy focused on me.
"Wash your windows, young man?"
I was still fresh off the inspiration of Muhammad Ali's funeral, which had so many wonderful tales of The Greatest's kindness to strangers, that I felt the "Ali in me" and didn't brush this fella off.
"Young man?" I said to the guy who looked a little like Dr. J, though not as tall. "I'm probably older than you.".
"I'm 71."
"You look good. Where you from?" I asked. You know - probably, maybe - that here in Los Angeles, those are the three most dangerous words in the English language.
But, the man simply said he was from a lot of places, including L.A. "I lived here in 1971 and didn't come back for 35 years. Part the time, I was in prison."
"Oh. yeah? Where?" I asked, informing him – kind of proudly - that not even an hour ago I had sent two letters to two friends of mine in prison.
"I was at Soledad and Chino."
All of this I have no reason to doubt. But, then he shifted gears.
"I broke out of Chino and went to LAX and I hijacked a plane to Cuba." He said it like he was describing going on a Sunday drive to Ojai.
Oh, boy, Here we go. I got a real nut on my hands. By now, I'm at about 10 in the tank. Still, I'm enjoying the tale and so I encourage him.
Oh, boy, Here we go. I got a real nut on my hands. By now, I'm at about 10 in the tank. Still, I'm enjoying the tale and so I encourage him.
"Yeah, I got to Cuba and met up with Eldridge Cleaver and he helped me out."
"Good," I said, thinking I hadn't heard mention of the Black Panther leader for eons.
He goes on. "Then I went to the Middle East and met Yasser Arafat. You remember him?"
"'Course, I do."
"I was with the PLO and, after awhile, I got shot. In the ass. Those Israelis don't play. But, I got away. Made it to Algeria. Then I went to Nigeria. But, the FBI finally caught up with me and brought me back and send me to Lompoc [Federal prison].
By then, I was screwing the gas cap back on. I gave him three dollars, shook his hand and asked his name.
"Around here? I'm Joe Joe."
"I'll see you around."
I drove off to West L.A. and after a few errands, went home. An hour later, I thought about Joe Joe. What the hell? I looked up 1971 LAX hijackings
I forgot - or probably never knew - there were so many airplane hijackings back then. About 15 for that year. But, alas, none from LAX. This guy was a good story teller, but a better liar.
Still, I gave it one more at bat, adding a couple more words to the search, hoping, against the odds, for a hit.
Crack! "High fly ball into right field. She is........gone!"
May 17, 2001 by Josh Meyer, Times Staff Writer.
"A Los Angeles man who escaped from a California prison and hijacked a jet to Cuba more than three decades ago agreed to plead guilty Wednesday in exchange for 12 years in federal prison.
Byron Vaughn Booth, 56, signed an agreement to plead guilty today to federal charges of interference with a flight crew. He initially faced more serious charges of air piracy and kidnapping, for which he would have faced at least 20 years in prison if convicted.
Booth was deported from Nigeria earlier this year, after being arrested by local police with behind-the-scenes help from the FBI."
My gas station guy said he was 71. The story is about a guy 56. It was written 15 years ago.
Further down in the story.
In January 1969, Booth and fellow inmate Clinton Robert Smith Jr. scaled a fence and escaped from the California Institution for Men in Chino….Both were considered model prisoners.
A day later, Booth and Smith boarded National Airlines Flight 64, bound for Miami with a stopover in New Orleans. After the DC-8 left New Orleans and headed over the Gulf of Mexico, Booth, armed with a .38-caliber handgun, and Smith, holding four sticks of dynamite, ordered the captain to fly to Cuba, authorities said.
Once there, Booth and Smith were taken into custody but were quickly released with the help of Black Panther Party leader Eldridge Cleaver, despite demands by U.S. authorities for their return.
Joe Joe, or rather Byron was telling the truth. though i guess with the year off. I went back. He wasn't there.
I told my girlfriend this and she thought it was great story. But, she had an interesting question. A good editor's question. How did I know he just wasn't assuming this hijacker's identify? I was temporarily taken aback. But, why would anyone take this particular guy's identify? I had a plan. I'd go back again and when I saw him, I'd simply say "How you doing, Byron?"
I did. The look on his face, well, it was like his eyes were reviewing his life in a handful of seconds. It was him. We talked for just a few minutes. I told him he reminded me of Dr. J.
"Who's that?"
"Julius Irving? The basketball player?" He shook his head. "I guess you weren't around when he was playing."
Last week, in the mail, I got a $40 check from my old friend Saji Mathai, a highly-respected copy editor at the L.A. Times. He knows I sometimes send some money to inmates in prison - or ex-cons trying to stay straight and in need of a break - and he wanted to play a role. He said it was my call who to give it to.
Last Monday, around 2 p.m., temp about 87, humidity about 50, I went by the gas station on Arlington. Byron Booth was there, looking clean in a bright orange T-shirt. As I walked to him, a woman handed him some change, most of which spilled onto the concrete. I bent down and helped the former skyjacker pick up about 14 pennies. He smiled and said "You tell Hollywood about me yet?"
No. Instead, I told him about Saji and pulled out that $40. He looked at it for a long time - several seconds - before he took it. "Tell this Saji he made my day." We exchanged numbers and talked for a few. A few minutes later, he was walking southbound on Arlington over the 10.
I've been thinking of Muhammad Ali almost as much lately as I did back in his glory days, those thrilling nights of title fights. I wish everyone in the world could see his funeral and get - or realize – the "Ali in me." Even if it's only to talk a stranger at a gas station. They might not be an old airplane hijacker, but odds are they'll have a story they'd love to tell. All you gotta do is supply the ears while you are pumping gas.
Saturday I went by the 76. Byron Booth wasn't there. But, as I debated If I should actually buy some gas, my cell light up. I had inputted him as "Hijacker".
He told me he wasn't as "the office" yet, but was on his way. We made a quick plan to rendezvous close by, on Washington and 3rd Ave. Two minutes later, I rolled the window down, shook his strong hand and gave him my novel. Inside I had stashed a few bucks. He appreciated. I told him I wouldn't see him for awhile as I was going out of town.
He asked if it was a road trip. No, I said, I'll be flying.
He smiled mischievously and said "Don't get hijacked, man."
What could I say to that? I nodded with a smile and took off.
Michael Krikorian
Krikorian Writes