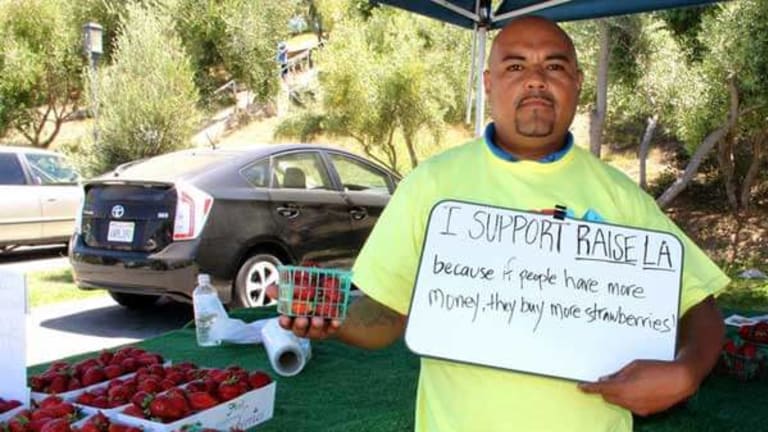 Organic Strawberries, Handmade Tamales, and a Homegrown Living Wage Ordinance
Julia Gould: Raise LA is taking its grassroots organizing to a new level by reaching out to community members in every neighborhood at Angelenos' favorite weekend pastime, farmer's markets.
In Los Angeles, city council proposals are too often created, deliberated, and negotiated behind closed doors in Spring Street offices. However, Raise LA—a proposal to raise the minimum wage at LA's largest hotels to $15.37 per hour—is shaking things up. Thought up and executed by community stakeholders from all around the city, Raise LA is taking its grassroots organizing to a new level by reaching out to community members in every neighborhood at Angelenos' favorite weekend pastime, farmer's markets.
Although the ordinance will be voted on by City Council members, not through the ballot, Raise LA is making sure this base-driven ordinance comes from the people who matter the most—the community itself. With that, Raise LA's organizers have set out on an ambitious plan to speak with residents from all around the city at the ever-growing farmer's markets of Los Angeles. In July alone, they have hit three farmers markets in Council District 13, with two more planned before summer's end—totaling five farmer's markets in Echo Park, Barnsdall Art Park, Hollywood and East Hollywood.
The results have been astounding. Curious onlookers throng to the Raise LA booth where they talk with volunteers about the ordinance and its effect on their community. Raise LA has successfully collected hundreds of signatures at their booths, but this is much more than a petition drive. To bring some fun into the market, Raise LA organizers have created a photo booth where people can express their reasons for supporting the ordinance with a hand-written sign—and even some fun costume props. One look at Raise LA's Facebook page or a quick search for #RaiseLA on Twitter and you will find it scattered with images of families, bicyclists, college students, and even the farmer's market vendors themselves all showing their support for Raise LA. Through this outreach, members of the community can now take ownership of the ordinance by reflectively thinking and affirming why it is important to them. The most exciting part? Of all the people taking pictures with the signs, we have not seen any repetition of reasons for support—showing us the variety of ways in which this ordinance touches peoples' lives. This is grassroots organizing at its finest.
Perhaps more striking is the outreach to LA's working class communities through the Women Infants and Children (WIC) program that has been in place at the farmer's markets as well. This public assistance program, which matches your WIC dollars to then spend at the market, has been tremendously popular—a real success story in the battle for access to healthy foods in low-income communities. The unintended outcome is that Raise LA volunteers have had the opportunity to discuss the proposal with many of the working families participating in the program and hear the stories of so many workers who will be directly affected by the wage increase. As one woman wrote on her board "I support Raise LA because I got injured as a hotel housekeeper." Considering the astonishing statistic that over half (55%) of LA hotel workers qualify for some form of public assistance, it comes as no surprise that many in the WIC line are employed through this pervasive low-wage industry.
Perhaps a hotel living wage ordinance seems out of place at a farmer's market. However, if you look a little further beneath the surface, you find that the two have surprisingly much in common. Participating in the farmer's market has moved beyond a community outreach tactic. Instead it has proven itself to be an interrelated endeavor. SEE-LA—which stands for Sustainable Economic Enterprises—is a leading producer of farmer's markets in LA County and the facilitator of almost all the markets that Raise LA has participated in. Their mission is to "bring fresh food access that will benefit low-to-moderate income residents of Los Angeles County while supporting small and mid-size farms." The goal is to bring a healthier and overall better quality of life to the residents of Los Angeles.
It only makes sense that Raise LA would be tabling here. Patronizing small farmers, bringing healthier food to residents, and creating a sustainable food system all fall in line with giving hotel workers a living wage—bringing thousands of people out of poverty, allowing more money to be spent at local businesses and creating a sustainable tourism industry here in Los Angeles. When asked why they supported Raise LA, three of the market managers wrote "Because SEE-LA supports sustainability in all its forms." And, indeed, Raise LA supports a sustainable city for us all.
Julia Gould
RaiseLA
Articles in the Raise LA series: