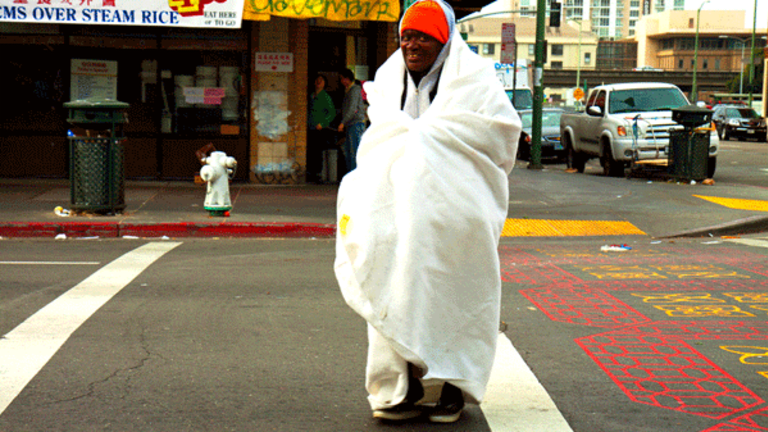 Sleeping Out for Homeless Bill of Rights
Homeless Rights -- Organizers demand that we stop criminalizing the poor and homeless.
Homeless advocates are planning actions across California to promote a bill of rights for the un-housed this coming Friday and weekend. Activists from at least 10 cities will be participating through community forums, speak-outs and marches.
In Los Angeles, advocates are planning a "sleep-out" in Venice, where participants will pitch tents and sleep overnight in a public space.
Organizers and participants are demanding California adopt a Homeless Bill of Rights and end, what they call, the criminalization of the poor and homeless by canceling ordinances and policing strategies that target them.
In Los Angeles alone, several city ordinances, sometimes called "Quality of Life" laws, have been written specifically targeting the poor, such as dictating when people can sleep, sit or lie down on sidewalks, as well as restricting overnight parking to rid neighborhoods of anyone who lives in their cars. Food lines are also under threat, as business interests are seeking to end public feeding, saying it is a hazard to public health and safety.
Organizers for the Western Regional Advocacy Project, or WRAP, which is spearheading the campaign, likens these laws to previous discriminatory practices, such as the ugly laws of the 1870s, the anti-Oakie laws of the 1930s, the sunset laws of the 1950s and Jim Crow.
"These so-called 'Quality of Life' laws are to disappear homeless people, to keep homeless people out of public spaces. It's basically criminalizing their existence," said Bilal Ali, a statewide organizer for WRAP.
The Homeless Bill of Rights is currently being reviewed by WRAP's legislative committee for slight revisions, said Ali. State Assemblyman Tom Ammiano (D-San Francisco) had introduced a version of the Homeless Bill of Rights to the Assembly in 2012. It was thought he would sponsor the bill this year, but as of now organizers are not sure how much support, if any, they will be able to expect from Ammiano.
The Homeless Bill of Rights is based on six principles, which, if passed, will protect the right to:
Move freely, rest, sleep, pray and be protected in public spaces without discrimination.
Occupy a legally parked vehicle.
Serve food to the homeless and eat in public.
Legal counsel if being prosecuted for infractions.
Twenty-four-hour access to existing hygiene facilities.
Be considered for necessity defense by judges when hearing homeless related cases.
The Green Party's gubernatorial candidate, Luis Rodriguez, said last month that he supports the Homeless Bill of Rights. He said LA's solution to homelessness has been to drive them away to areas outside the city.
"We have the largest homeless population in the country," he said of California. "It is ridiculous in a state so rich and powerful that instead of providing people decent homes we're just pushing them out."
Part of the strategy of advocates is to tie in Marin Luther King Jr. Day, which falls on the Monday following the weekend's actions. Advocates hope to use King's position on economic justice to assist in their messaging.
Although government-corporate parades that honor King every year focus on his anti-segregation campaign, King's plans for revolutionizing America were much broader. In 1968, he initiated a Poor People's campaign, which linked capitalism's inability to provide economic security for all Americans, as well as the country's militarism, to race and poverty within its borders.
King's stance on poverty, however, was about as popular today as it was in 1968, said Kwazi Nkrumah, a coordinator and co-chair for the Martin Luther King Coalition in Los Angeles. Many, he said, abandoned King for his support of the poor and speaking out against the war on Vietnam.
"It's an important message for people to get, because they are not getting that message," he said "It is important people recognize and acknowledge that King's own orientation, while it was certainly very significant in terms of addressing the race issues in America, wasn't solely about race. It was about race and economics and many other things."
The actions in Venice will begin at 11 a.m. on Jan. 18 and will end by 11 a.m. the following day. Participants will be meeting at the Ocean Front Walk and Rose Avenue. Food lines are scheduled to provide breakfast and dinner. At 2:00 p.m., activists will be holding a parade on Ocean Front Walk. The sleep-out will begin around five or six p.m. at Windward circle at Windward Avenue and Main Street.
Dan Bluemel
L.A. Activist
Photo: Linh Dinh