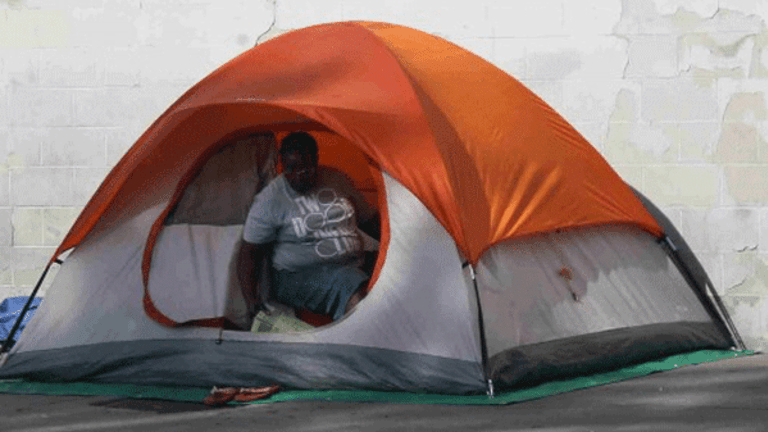 Homeless Woman Arrested 87 Times for Resting on Sidewalk
Homeless Woman Arrested: Between the LAPD and city attorney's office, hundreds of thousands of dollars in taxpayer money has been spent.
A special task force of LAPD officers has been targeting Annie Moody, a homeless woman in Skid Row for little more than sleeping, sitting or lying down on a sidewalk, according to police emails obtained by a public records request. Called "Operation Bad Moody," the campaign has led to Moody being arrested scores of times and spending months in jail.
"They just constantly harass this poor woman to the point where it is just ridiculous," said Aaron Jansen, an attorney with the public defender's office who is representing Moody.
Jansen has filed a motion in LA County's Superior Court to have the current round of charges against Moody dropped. He is arguing the police campaign against her violates the equal protection clauses provided for in the federal and California constitutions.
Moody's violations mostly concern a municipal code that bars sitting, sleeping or lying down on a sidewalk. In 2006, the Ninth Circuit Court of Appeals ruled the code violated the Eighth Amendment's protection from cruel and unusual punishment. The city appealed and an informal agreement was reached that the code would only be enforced between 6 a.m. and 9 p.m.
But Moody is far from the only violator of this code, said Jansen, as any brief walk through Skid Row would reveal.
"It is some sort of vendetta or grudge that the LAPD and city attorneys have against her," he said. "Out of all the homeless people they have sleeping, sitting or lying on the sidewalk, they keep bringing in Ms. Moody."
The emails were requested by the public defender's office in April 2013 after it was discovered that Moody's name appeared in another set of LAPD emails from a separate public records request. Those emails are concerning a Skid Row nonprofit.
Beginning in at least 2010, Operation Bad Moody involved numerous staff from the LAPD's Safer Cities Initiative Task Force, the city attorney's office and the Central City East Association (CCEA), a business and property-owner advocacy group in Skid Row. The emails reveal a dogged pursuit of Moody that often borders on obsession.
"Any chance of an Anne Moody arrest Thursday or Friday?" wrote Steven Keyser in a February 2011 email. Keyser was the CCEA's then director of operations, himself a 23-year veteran of the LAPD.
"We'll take her in the early afternoon," wrote back Lt. Shannon Paulson, who heads the task force and oversaw Operation Bad Moody.
Lieutenant Paulson would sometimes appear at Moody's court hearings to report on their progress to the CCEA. At other times, she would personally confront Moody herself in Skid Row. When Moody was ordered by the court to stay 200 yards away from Sixth Street and Towne Avenue, the site of her repeated arrests, Lt. Paulson ordered two officers to measure the distance and provide her landmarks, presumably so they could quickly determine if Moody was violating the order and arrest her again.
In numerous emails, LAPD officers and CCEA staff show a malignant pleasure and jubilation over Moody's repeated arrests and jail time.
"Judge Randolph Moore sentenced Ann Moody to 180 days with no early release," wrote Sgt. Ronnie Crump in a June 2010 email. "He also ordered her to pay $1,000 dollars in County Public Defender fee's [sic]. He actually held her after the jury found her guilty on Wednesday, and sentenced her on Friday. [Deputy City Attorney] Felton Newell said the Judge also took the $200 she had on her personal property and applied it towards the public defender fee's [sic]."
"That's great. Thanks to you all," wrote back Vicky McCormick, then director of the CCEA, herself also a 23-year veteran of the LAPD.
In one email from July 2011, Lt. Paulson wrote to her superior, Capt. Todd Chamberlain: "It just dawned on me that we got a greater jail sentence for Anne Moody. … Don't that beat all!"
In another email, officer David Marroquin promises to send Moody "the message" that violating the city ordinance about not relaxing on a sidewalk will not be tolerated. "Outstanding! Take care of her for me!" wrote back Lt. Paulson.
The campaign against Moody even extended to the city's Risk Management team, which processes insurance claims over property damaged by the LAPD. In a November 2012 email, Richard Morrett told Lt. Paulson that he would "deny all of [Moody's] Claims" of property damage.
"When you see the emails, they are really unprofessional," said Jansen. "It's like they just have to win, like they want to break her. They already locked her up; they've taken years out of her life, her property, her money. What do they want out of her?"
The LAPD declined to comment on Operation Bad Moody given the current court case over it. Within the emails, however, is a statement from Lt. Paulson, which she asked to be attached to every arrest report written on Moody. It reveals some possible answers as to the LAPD's interest in her.
According to Lt. Paulson, Moody had been the subject of numerous complaints from "citizens, business owners and staff and parents at nearby elementary schools" for blocking the sidewalk with her belongings and "because she engages in as well as attracts other illicit, illegal and hazardous activities and behaviors." She criticizes Moody for not taking offered shelter assistance and for using a five-gallon bucket as a toilet.
Though Lt. Paulson alleges that Moody, who declined to be interviewed by LA Activist, is involved in drug sales, the most police ever got after years of targeting her are a few arrests for allegedly selling cigarettes and beer. The remainder of Moody's arrests have been related to sitting, sleeping or lying down on a sidewalk or illegal lodging.
But there is another reason, judging from the tone of the emails, that Moody may be angering police and staff at the CCEA: she insists on invoking her constitutional right to a jury trial. It is a strategy that has worked for Moody and irritates her antagonists. Since 2007, Moody has been arrested 87 times for misdemeanors, but only 14 have led to convictions.
"Ms. Moody insists on taking her cases all the way to trial, even if it means she has to spend time in jail or they take away her stuff or she has to pay fines," said Jansen. "She feels that they are harassing her, that she is not doing anything wrong."
Jansen figures that, between the LAPD and city attorney's office, hundreds of thousands of dollars in taxpayer money has been spent on targeting and prosecuting Moody.
The city attorney's office, as well as the CCEA, did not respond to LA Activist's request for comment.
General Dogon, an organizer for the Los Angeles Community Action Network, a group that works to defend the rights of the homeless and low-income renters, called Moody the "poster child of SCI." The Safer Cities Initiative began in 2006 and focused solely on Skid Row. Though the initiative was marketed to Angelenos as a policing program that was going to target criminals, such as thieves, rapists or murderers, most of SCI's focus ended up being on people like Moody, who are caught relaxing on a Skid Row sidewalk.
"You can't stand up all day," said Dogon. "Your body at one point in time is going to have to sit or lie down and get some rest. That's just how the body is. It is wrong for them to criminalize people for that."
Dan Bluemel
LA Activist
Subscribe to LA Progressive's daily newsletter
* indicates required
Email Address *


First Name

Last Name

Email Format
Powered by MailChimp