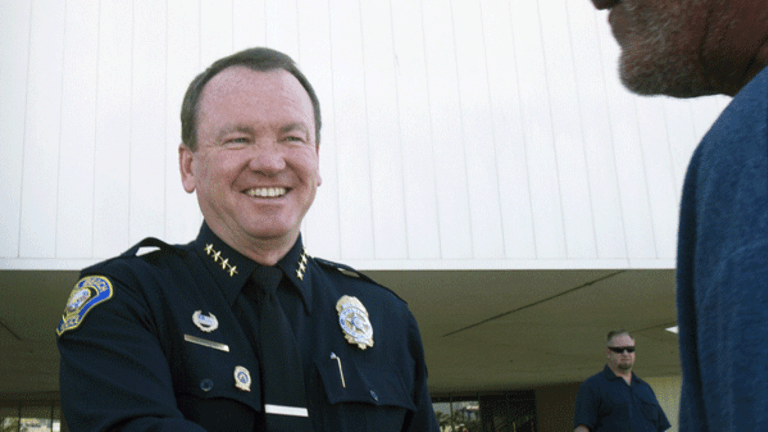 Could Huizar Harassment Mess Taint McDonnell's Run for Sheriff?
Christine Zardeneta and Mary A. Fischer: Why is a candidate for sheriff bragging about his support from someone under a cloud for mistreating women?
Our ballots arrived in the mail this week right after an event that made our jaws drop. For the wrong reason.
It was a fund-raiser on Mondayin our Northeast L.A. neighborhood for a county sheriff candidate, Jim McDonnell. It featured Los Angeles Council Member Jose Huizar. Unless you live under a rock, you probably have heard that Huizar is the subject of a sexual harassment investigation and lawsuit by a longtime female staff member, which will go to trial this fall. Huizar was also accused of groping a woman in Pasadena in 2005 while running for the council seat.
Why is a candidate for sheriff bragging about his support from someone under a cloud for allegedly mistreating women? Why is he holding an event and raising money with him?
We decided to ask McDonnell exactly that on Monday. We told him we are concerned about women's rights and integrity in local government. We told him we learned about Huizar hosting the event for him, at the home of a man named Michael Nogueira. We told him we didn't like the message it sent that he would align himself with someone accused of mistreating women.
And do you know how Jim McDonnell responded? Not a word. As women who have been active in defending women's rights and in fighting for basic dignity for all people, we know these are values that deserve more than silence. We are appalled that McDonnell would associate himself and seek the financial and political support from a serial sexual harasser like Councilmember Jose Huizar.
McDonnell is running for county sheriff. Does he not realize that the law enforcement job he wants helps determine responsiveness to mistreatment of women in our communities? It's also a job that will be responsible for restoring integrity to our sheriff's department, following scandals involving cronyism and prisoner abuse.
We called on him to publicly disassociate himself and his campaign from Mr. Huizar, remove him as co-host from the event, and renounce his campaign support. He didn't, and he never replied.
We believe McDonnell's actions on this matter are a signal to women across Los Angeles County about the behavior against women that he will tolerate in our sheriff's department. And we think women need more accountability and better leadership from a candidate for sheriff.
Christine Zardeneta and Mary A. Fischer
Mary A. Fischer is an independent journalist, and Christine Zardeneta is a retired public school educator. Both live in Northeast Los Angeles.