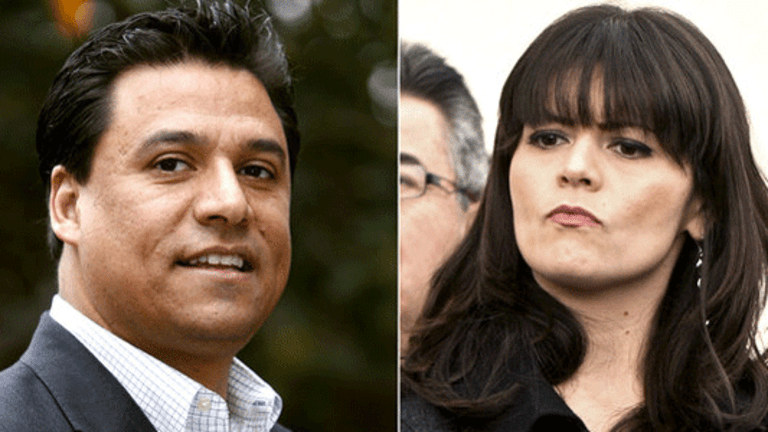 Huizar Harassment Case Shows Need for Change
Christine Zardeneta and Mary A. Fischer: The fact that a member of the council conducted a running sexual affair, which he admits, with a female aide who served at his pleasure is a sign of rot at the top of District 14.
It's fitting that the sexual harassment lawsuit filed against Los Angeles Councilmember Jose Huizar hit just before Halloween. How this highly paid representative for the people of Los Angeles appears to have manipulated a woman on his staff is a scary example of abuse of public office. It makes one's skin crawl.
L.A. city council members are the highest paid in the nation, at more than $179,000 a year. The fact that a member of the council conducted a running sexual affair, which he admits, with a female aide who served at his pleasure is a sign of rot at the top of District 14.
The allegation that Huizar used coercion to get sex and conditioned his support for the staffer's own campaign for another office to keep getting sex signals a bigger problem. Women are not equal partners in Los Angeles government. Sexual harassment is one reason why.
We have tons of staff roles, yet women now hold only one seat out of 15 around that council table. Sexual harassment is a systematic barrier to women's moving forward in public service, just like any other profession. And women will not gain parity as long as sexual harassment remains business as usual, drawing weak penalties or none at all.
Making the mistreatment even more disturbing is how some power-brokers in city politics reacted to the Huizar scandal. At his first campaign fund-raiser this Wednesday, the head of the city council, Herb Wesson, and head of the local labor federation, Maria Elena Durazo, stood up for Huizar and pledged their whole-hearted support for his 2015 reelection.
By trying to sweep the sexual harassment case under the rug, Huizar and an old boy's club of insiders send a hideous message to women, men, and children who believe in strong ethical standards for city officials: Don't even try. Leave the authority over who makes decisions to us. Let business as usual continue.
They don't get it. City residents are not ready to let Huizar off the hook. Women are not pawns. And voters are not pushovers. We know we deserve better. Did he really have no case work to get done? Is there not one hungry kid or jobless or homeless person in his district who could benefit from honest attention?
There's a connection between the kind of tit for tat that Huizar played with his female aide and disrespect for women as peers in leading our city. There's a link between powerful interests that stand behind a man who used his public role to exploit a city worker and sabotaging the ladder into leadership of women or men who might change business as usual.
Equal access to executive power will not come as long as sexual harassment gets the brush-off from city fathers (yes, fathers). Any gushing pledge of support for a likely perpetrator sounds like a rush to excuse him. It's a slap at people with courage to speak out about wrongdoing.
Many city residents would like women to be equals in leadership. That does not guarantee good government, of course. But making it a priority might make local politics more engaging. And it would end the fraternity environment in City Hall.
In defending Huizar this week, the supposedly impartial council president Wesson called him a "brother" and "best friend," then went on to say he hadn't made up his mind on the case. He must think we're idiots or not paying attention. It's arrogance like this that breeds cronyism, conflicts of interest, abuse of power, and, yes, costly settlements at taxpayers' expense. Just business as usual.
Enough. Sexual harassment is a serious problem. It harms city government. It holds back women's progress. We believe the handsome salary council members receive should not pay for ugly sex-capades by a husband and father on city time. We want instead the best, most ethical leadership our neighborhoods can produce.
Christine Zardeneta and Mary A. Fischer 
Eagle Rock Patch
Thursday, 31 October 2013