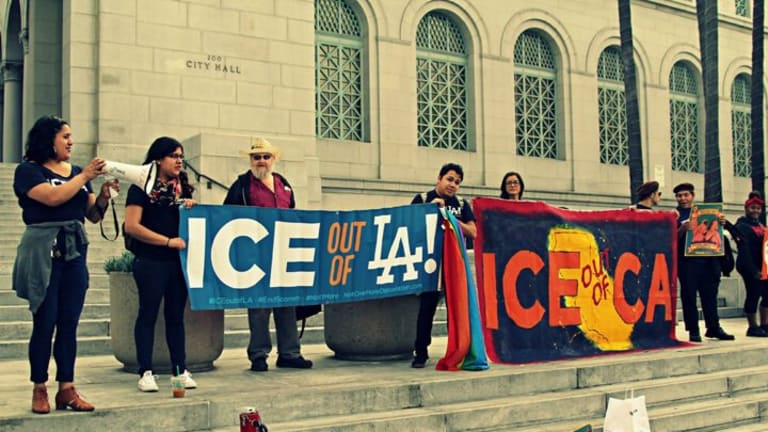 Should LA County's Sheriff Stop Helping Deport Undocumented Angelenos?
Victor Narro: The entanglement of law enforcement with ICE has bred serious human rights violations that should concern us all.
That question is at the heart of the debate over the Priority Enforcement Program (PEP) which is currently rattling the County Supervisors and the Sheriff. Immigrant rights groups have urged a total separation between local law enforcement and a deportation system that lacks even rudimentary due process. Meanwhile, nativists, though a small minority in the county, have increased hateful rhetoric urging mass deportation.
This debate isn't happening in a vacuum. We need to analyze the recent history in Southern California of the connection between local law enforcement and immigration enforcement. This will enable us to place the debate over "PEP" from the perspective of a broader struggle to remove any kind of local law enforcement collaboration with ICE.
While these efforts to connect local law enforcement and immigration enforcement may have delivered short-term political gains, they have resulted in long-term ruin of immigrant lives. Over the years, a clear pattern emerged: this entanglement in the Southland and in California as a whole has led to serious civil rights violations, many of which has led to litigation in the courts, and it has resulted in serious erosion of trust by immigrant residents of their local police departments.
Proposition 187 (1994)
Behind the polls by 20 points during his re-election campaign, Republican Governor Pete Wilson in 1994 used undocumented immigrants as a scapegoat to feed off the popular discontent of California voters with the California economy, which was feeling the impact of the national recession.
Proposition 187 became his vehicle to demonstrate his tough position on immigration. In November 1994, California voters re-elected Pete Wilson and approved Proposition 187 by a 59%-41% margin.
Wilson would later lose in the courts – and in the long run, in the court of public opinion. His strategy, while it got him re-elected for a second term, came back to discredit the Republican brand in California with a vengeance. With today's an increasingly diverse and solidly pro-immigrant electorate, such a result would be unthinkable. Nevertheless, while greatly weakened in California, the ideology behind Prop 187 continues to haunt us.
In an uncanny echo of some of the positions dominating this year's presidential debate, this initiative would have broadly denied undocumented immigrants and the U.S. born children of undocumented immigrants state-funded services, including public education and non-emergency health care. It also required state authorities to facilitate the identification and removal proceedings of undocumented immigrants by the then U.S. Immigration and Naturalization Service (INS, now ICE). Police, social workers, educators, health professionals and other aid providers were to report "suspected" undocumented immigrants for deportation.
In addition, the measure tried to mandate that all law enforcement agencies cooperate with the INS, and it voided any laws and regulations specifically limiting such cooperation.
But in 1995, a federal district court judge in California blocked implementation of Proposition 187.The judge's injunction was based on the finding that Proposition 187 was an unlawful state "scheme" to regulate immigration.
And in the coming years, the harsh measure inspired a new wave of community organizers and activists who completely changed California's political make-up and have built up a strong pro-immigrant climate at the state level.
Unfortunately, while litigation on Prop 187 was pending, President Clinton championed and signed an anti-immigrant legislation that forever changed the relationship between local police and ICE.
The Illegal Immigration Reform and Immigrant Responsibility Act of 1996 (IRRIRA) – Its Impact on Southern California
IRRIRA vastly changed the immigration laws of this country. IRIRA addressed the relationship between the federal government and local governments. The infamous Section 287g was a program of the act that permitted the U.S. Attorney General (today it would be the Department of Homeland Security) to enter into agreements with state and local law enforcement agencies, permitting designated officers to perform immigration law enforcement functions, pursuant to a Memorandum of Agreement. By 2006, a handful of California jurisdictions had implemented 287g deportation agreements.
Immediately thereafter, Governor Pete Wilson sought to move forward with the provision of Proposition 187 that focused on INS collaboration with local law enforcement. The same federal district court judge who had blocked Proposition 187 also ruled in 1997 that IRRIRA did not permit California to implement the provisions of Proposition 187 that bolster cooperation between the INS and local government agencies. In light of the legal fight to prevent Governor Wilson from moving forward with his local initiatives, this political climate set off a wave of efforts in Southern California where local municipalities and local law enforcement agencies took the issue into their own hands.
INS at City of Anaheim Jail (1996)
The interaction between local police and federal immigration officers has a long history in Southern California. This is more so with the City of Anaheim, where since 1996 the City Council has enacted a policy local police and immigration officials can work together by allowing immigration enforcement agents to be stationed at the City jail.
Their reasoning was to identify and track undocumented immigrants who were accused of committing crimes through the criminal justice system – yet advocates have long warned that mixing a criminal justice system that disproportionately targets people of color with a deportation system famous for a lack of due process is a recipe for disaster.
Anaheim became the first city in California that allowed INS to staff an agent at its jail. Other cities like Costa Mesa and Fullerton immediately followed the Anaheim model. Ventura County followed thereafter with a similar pilot program to allow INS agents to be staffed at its jail. What brought this issue of local INS-police collaboration to a head to a head was Anaheim police's arrest of an 18-year-old Colombian woman who was pulled over with her baby for expired license plate tags. She was taken to jail when she couldn't produce identification. A federal agent at the jail started deportation proceedings after determining she was here without legal status. This was the first of a series of high profile cases that began to raise justifiable concern about harsh deportations. It was these types of cases that became a precursor for what was to become a routine process of massive deportations in L.A. County under the Secure Communities program.
LAPD Rampart Scandal (1999)
During the now famous LAPD Rampart Scandal of the late 1990's, Immigration and Naturalization Service (INS) agents working with Los Angeles Police Department detectives explicitly recommended deporting alleged gang members against whom criminal cases could not be made, a massive violation of due process. Moreover, LAPD Rampart officers worked with INS to deport the witnesses to crimes committed by these officers that led to the scandal.
During the federal Justice Department's investigation, dissident INS agents testified that the heavy reliance by LAPD Rampart officers on deportations led to numerous abuses of immigrants' civil rights, as well as to violations of a 21-year-old city policy – Special Order 40 -- that bars LAPD officers from initiating a police action to determine whether people are legally in the United States. The Rampart Scandal is a dramatic reminder that mixing the criminal justice system and ICE exacerbates the painful flaws found with both systems.
LAPD under Secure Communities (2009-2014)
Under the "Secure Communities" (S-Comm) fingerprint program implemented in August 2009 in L.A., the LAPD became automatically linked with the federal government's immigration agents. This involved the city and county criminal justice systems in the federal responsibility for civil immigration enforcement. Immigrant rights advocated argued strongly that the decision to participate in S-Comm undermined the 1979 Special Order 40, which states that LAPD officers cannot stop, detain or arrest someone solely on the basis of immigration status. After a long process of meetings and presenting evidence on how persons who are booked, fingerprinted or arrested for minor crimes and infractions were detained by ICE and placed in deportation proceedings, as well as the deterioration of community trust in LAPD to report crimes, the LAPD leadership made the decision to stop complying with S-Comm.
Los Angeles County under 287g Agreement and Secure Communities (2009-2014)
Under S-Comm, Los Angeles County became the trendsetter of the intended outcome of maximizing the number of deportations under this program. While Joe Arpaio and Maricopa County became the poster child of what can go wrong with 287g agreement, the historic tragedy was that Los Angeles County led the nations in deportations under S-Comm. In terms of sheer numbers, no county cooperated more fully than Los Angeles, where undocumented immigrants, authorized residents, and even U.S.-born citizens were turned over for deportation. In fact, nearly 11 percent of all immigration detainers under S-Comm originated in Los Angeles County.
According to ICE figures, in 2013, L.A. County turned over 30,093 people to the agency for deportation through S-Comm. That topped the 22,000 people that Maricopa County's Joe Arpaio relinquished to ICE.
The Trust Act (2013) and Moving Forward
The Trust Act signed by California Governor Jerry Brown in October 2013, created a floor for which to address the high level of violations being committed by local law enforcement and ICE agents under S-Comm and similar programs. Under the Act, undocumented immigrants would have to be charged with or convicted of a serious offense to be eligible for a 48-hour hold and transfer to U.S. immigration authorities for possible deportation. At the very least, this was a restoration of due process rights that have been eliminated under President Obama's immigration enforcement policies. There is more work to be done to make sure that we avoid historic tragedies of the past with S-Comm and 287g Agreements in Los Angeles County.
Over the last year, following a watershed judicial decision, hundreds of local jurisdictions have refused to participate in federal immigration enforcement. In April 2014, a federal judge in Oregon rejected a county's authority to detain an immigrant based solely on an ICE detainer. This case –Miranda-Olivares v. Clackamas County – had transformative effects on immigration enforcement practices nationwide. In Miranda-Olivares, a judge held that local authorities violated Ms. Miranda-Olivares' Fourth Amendment right when the county detained Ms. Miranda-Olivares based only on a notice from ICE that it had "initiated an investigation" into whether she was deportable.
Before that point, it had been standard practice in localities across the country to detain people based on such so-called "ICE holds" for days after the person's detention on other charges had ended. During that time period, ICE traditionally verified the individual's status, arranged a transfer into federal immigration custody, and moved to deport the person. Tens of thousands of people were deported from the United States following such prolonged detentions.
After the Miranda-Olivares case, a growing number of local authorities refused to play this role of immigration jailer. They risked liability for detaining suspected undocumented immigrants absent any judicial order, and solely on suspicion, an asserted ongoing investigation, or an unsubstantiated statement by ICE concerning the person's deportability. More than 300 jurisdictions have refused to participate any longer.
ICE Out of L.A.
During the past two years, the ICE Out of L.A. coalition has emerged to move forward with policies in Los Angeles County that would prohibit any collaboration between the Sheriff's Department and ICE. The coalition is made up of major immigrant rights and civil rights organizations and it is led mainly by youth immigrant leaders whose parents and family members have suffered the consequences of S-Comm and other similar immigration enforcement policies. Today, ICE Out of L.A. is the coalition leading the effort to ensure that the Los Angeles County Board of Supervisors does not accept the PEP Program or any other program that would allow for collaboration between the Sheriff's Department and ICE.
This historical chronology demonstrates how we must look at Los Angeles County moving forward with this issue with a critical focus. The entanglement of law enforcement with ICE has bred serious human rights violations that should concern us all. The next steps that the Los Angeles County Board of Supervisors will have major, national implications with how other states and cities handle this issue.
Victor Narro