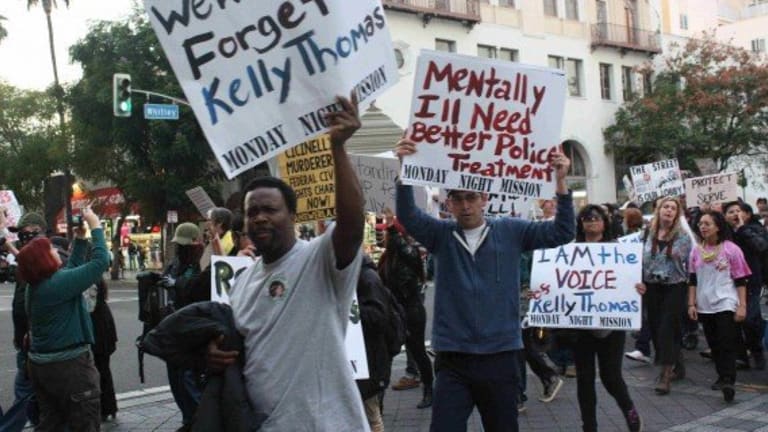 Police Behavior Focus of Demonstration Supporting Justice for Kelly Thomas
Justice for Kelly Thomas -- Homeless and anti-police brutality advocates demanded justice for the police killing of Kelly Thomas.
Homeless and anti-police brutality advocates demonstrated in Hollywood on February 8, demanding justice for the police killing of Kelly Thomas, a mentally-ill homeless man. Demonstrators, whose protest was held in front of the Hollywood and Vine Metro station across from the Pantages Theater, are also seeking greater police accountability.
"My biggest fight, where I'm headed right now with you, the people, is to change the Peace Officer Bill of Rights," said Kelly Thomas' father, Ron Thomas, while speaking to demonstrators. "We are going to take away the security that they have of our not being able to use their personnel files against them in a court of law."
Kelly Thomas was brutally beaten by several officers of the Fullerton Police Department in July 2011, after employees of a local restaurant called police over Thomas allegedly trying to break into vehicles. Thomas died five days later. Last month, the officers involved in the beating were acquitted of all charges against them.
"What I want changed is if an officer is reprimanded, if there is a citizen complaint, if he's gotten himself in trouble somewhere in the department, we need to know about it," said Ron Thomas, himself a former Orange County sheriff. "This is the only way police oversight committees can gauge their effectiveness and what is really happening. Because, right now, the Peace Officer Bill of Rights prevents all that, we can't even know if they were reprimanded or disciplined. We have a right to know the result of that discipline. I don't want a police officer on my streets who is violating the law, that is harassing citizens or beating them to death."
California's Peace Officer Bill of Rights was originally established to protect good cops from being used as scapegoats by corrupt supervisors. But over time, say critics, these rights have expanded to a point that they now protect a corrupt rank-and-file. In the past, police unions have argued that any reduction in the bill of rights could have a negative impact on officer safety.
Demonstrators chanted "Justice for Kelly; no killer cops" and "Mental illness is not a crime" as they marched down Hollywood Boulevard before returning to their staging point. At times the chants would morph into "Justice for Kelly; kill killer cops."
The demonstration was organized by the Monday Night Mission food line, which feeds the hungry on Skid Row five nights a week. Called "5,000 Angelenos for Kelly Thomas," the event only managed to pull in a few hundred attendees.
"The police killed a person, and it was on video, and no one was held accountable for it," said Nate Foster, a Los Angeles resident. "There should be better regulations and accountability for all of it."
This was Foster's first appearance at a demonstration in support of Kelly Thomas or protest against police brutality. It was watching the video of Thomas being beaten by cops and homeless man's pleading for mercy that spurred him to make an appearance at the action.
"I just saw the video on Facebook and I watched a little bit of it and that was about all I could take," he said. "It seems pretty cut-and-dry to me. I don't really see a flip side to it or another side to the argument."
Though the demonstration was planned to end at 7:00 p.m., a group of protesters expressing much more anger at police continued the demonstration for an hour longer. With a mobile sound system cranking out punk rock, they marched through Hollywood, at times attempting to take control of Hollywood Boulevard by blocking traffic.
An organizer for the Monday Night Mission, Mel Tillekeratne, said the demonstration was put together in part to raise awareness of Thomas' death, arguing that most people are not fully aware of what happened to the homeless man and that his killers were acquitted. He also stressed the need for reforms in how police interact with the mentally ill.
"This is a good basis for us to call for better, specialized training in helping our police officers deal with human beings that are just suffering from a mental illness," said Tillekeratne. "I think more training would help them recognize [they are] human beings suffering from an illness, not a target."
The Los Angeles Police Department gets assistance from the county's Dept. of Mental Health when dealing with an individual they suspect is mentally ill. Called SMART teams, which stands for System-wide Mental Assessment Response Team, they are comprised of health professionals, not law enforcement, who can provide assistance, such as interventions or placement in a mental health facility.
According to LAPD Capt. Cory Palka, Hollywood Division's commanding officer, police stations in Hollywood, Venice and downtown all have SMART teams at their disposal.
"That's the best procedure we have in place," he said. "Most importantly, we are training our officers consistently on what is the best way to work and have a collaborative partnership with the mental health services agencies."
In practice, however, the needs of LA's mentally ill are far from being met, says Tillekeratne. Instead of health care, the mentally ill, who are often homeless, are more likely to become incarcerated.
"They get put in an eight-by-six jail cell and they spend most of their lives in there," he said. "There are hundreds of Kelly Thomases in jail."
Dan Bluemel
L.A. Activist
Photographs: Dan Bluemel