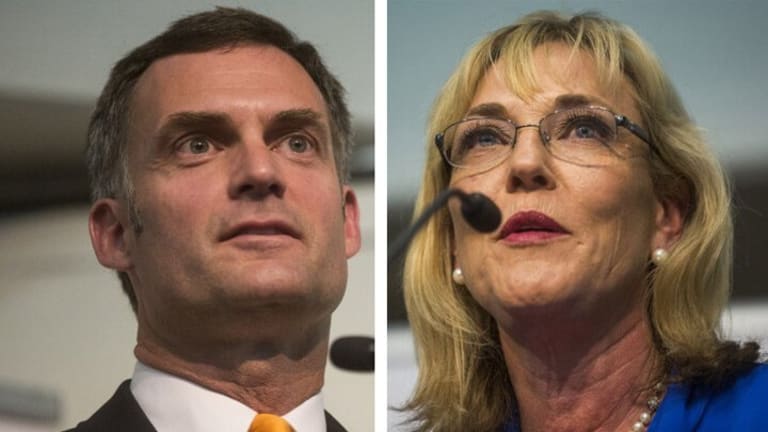 Park Will End Antonovich Reign of Error, Not Barger
Anthony Weiss and Debi Evans: For 36 years, our own version of Trump, Mike Antonovich, has been test-driving Trump's methods from the perch of the 5th County Supervisorial seat. Now that term limits are driving out Antonovich, he's working to get his apprentice, Kathryn Barger, elected as his successor.
While Donald Trump's racist, bigoted and hateful rhetoric has shocked the nation, his toxic brew is nothing new here in Southern California politics. For 36 years, our own version of Trump, Mike Antonovich, has been test-driving Trump's methods from the perch of the 5th County Supervisorial seat. Now that term limits are driving out Antonovich, he's working to get his apprentice, Kathryn Barger, elected as his successor.
Barger—who, like Antonovich and Trump, is a Republican—has worked for Antonovich for the past 28 years, serving as his Chief Deputy Supervisor for the past 15. During the course of her campaign against Democrat Darrell Park to replace her boss, Barger has argued that this was on-the-job training, readying her to seize the reins on day one. However, if Barger wants to carry the mantle of experience, then she must also assume the mantle of responsibility for policies and actions she has helped implement these many years.
It's disturbing that the greatest stain on the Barger-Antonovich record is racial repression in the 5th District, particularly in the Antelope Valley, at the northern end of L.A. County. Once largely white, working-class, and Republican, the Antelope Valley—especially its hubs of Palmdale and Lancaster—has become more racially diverse. In response, the Antelope Valley has become a poster child for institutionalized racism and racial intimidation.
In summer 2015, L.A. County settled two cases with the U.S. Department of Justice over a pattern of racially discriminatory abuse in the Antelope Valley by the L.A. County sheriff's deputies and county housing agency inspectors. Penalties in the cases totaled more than $2 million.
The behavior of county employees described in these cases is brutal and terrifying. Housing officials and sheriff's deputies burst into apartments—disproportionately belonging to non-white tenants—at all hours, without search warrants, and turned them upside down, supposedly searching for "evidence" of housing violations. Sheriff's deputies stopped and searched drivers—again, disproportionately black and Latino—and either ticketed or arrested them, sending them into a jail system racked by abuse scandals and staggering suicide rates.
Those accused of crimes were often sent to trial before judges that Antonovich helped appoint or elect to the bench, at the Michael D. Antonovich Courthouse, which local activists have dubbed "a slave ship on dry land."
Did Barger know about these problems? Her Web site proudly declares that her role leading Antonovich's office made her "the official liaison with community and local business groups" and that she "knows their problems." If she didn't know, how can she possibly claim to be prepared for the massive level of oversight that county supervisors provide over a countywide bureaucracy and a $28.7 billion budget? And if she did, then it was a unique and intimidating brand of constituent service she delivered.
But the Barger-Antonovich record extends beyond criminal justice. Antonovich was one of the leading proponents in the region for Proposition 8 in 2008, which sought to ban same-sex marriage, and he opposed the Board of Supervisors' move to join a lawsuit challenging the proposition. More recently, he opposed the Board of Supervisors vote this year to ban travel by county officials to North Carolina in response to that state's passage of HB2, which humiliates and legally bullies transgender individuals from using the restroom that matches their gender identity. What sort of response did Barger provide to LGBT community groups wondering why she was helping to formulate and carry out such bigoted policy?
It's worth noting that Barger's collaboration with Antonovich has extended beyond matters of bigotry to public health of all Southern Californians. This March, Antonovich and six fellow Republican members of the board of the South Coast Air Quality Management District—charged with protecting the health of 17 million people in one of the most polluted regions in the country—fired the organization's respected longtime executive director Barry Wallerstein and voted to implement weak, largely voluntary smog rules backed by oil refineries and other polluting industries.
These moves came in the wake of an Antonovich-backed scheme to engineer a narrow Republican, business-friendly majority on the district's board, all to subvert the organization's public-health mission in favor of fattening profits of businesses that foul the region's air. The danger of these tactics became clear over the summer as Southern California suffered its worst smog in years, and doctors and hospitals reported a dramatic upsurge in patients suffering from asthma and other respiratory diseases.
It is, of course, possible that Antonovich helped engineer this dramatic coup and policy U-turn entirely on his own, without aid from his top staffer Barger. But it seems more likely that Barger, as the self-described "official liaison…with local business groups," would have played an essential role in this business-backed assault on the health of Southern Californians.
Kathryn Barger has chosen to devote her working life to serving a throwback right-winger who once suggested that the cure to the AIDS crisis was that gays "go straight," dismissed a female colleague's suggestion as a "hot flash," compared an eminent law professor to "al-Qaida," and hosted a fundraising party to celebrate the release from prison of one of the officers jailed for the Rodney King beating. The Trump presidential campaign provides a stark reminder of the perils of letting such nasty characters go unchecked.
The long-term threat Antonovich poses lies not in his disgusting words, which may go quietly with the man, but in sinister policies he has carried out with Barger at his side. Should Barger succeed him in office, she may well continue these policies for years to come. We shouldn't doubt her ability to do so. After all, as she so often reminds us, she certainly has the experience.

Anthony Weiss and Debi Evans
Anthony Weiss is a writer in L.A. and chair of the Community Issues & Elections committee of the East Area Progressive Democrats (www.eapd.la). Debi Evans is a senior financial analyst, resident of Claremont, and voter in the 5th Supervisor District of L.A. County.