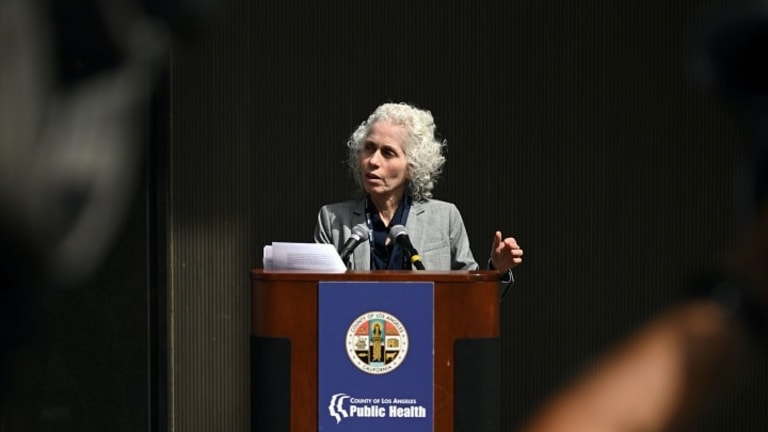 Doctors Slam Public Health Agency for High COVID Toll at L.A. County Nursing Homes
Danny Feingold: They have been following the old-fashioned way — go to where it is. In this pandemic you go to where it isn't because that is how you minimize the spread.
If L.A. County is the epicenter of the COVID-19 crisis in California, with well over half the state's 3,795 deaths occurring there, then the county's nursing homes are ground zero. More than 50 percent of those who have lost their lives to the novel coronavirus in the county were residents of congregate-living facilities, the vast majority of whom lived in skilled nursing facilities. This staggering proportion is coming under increasing scrutiny, as the County Board of Supervisors today voted to appoint an inspector general to oversee the hundreds of nursing homes that operate in L.A.
While the nursing home industry, whose long track record of violations has been extensively documented, will now face unwelcome attention, the spotlight will also fall on the Los Angeles County Department of Public Health. Led by Barbara Ferrer, LAC DPH is the only public health agency in California with direct authority over skilled nursing facilities, and in the view of some it has failed its responsibility to protect the region's most vulnerable residents from the ravages of COVID-19.
They have been following the old-fashioned way — go to where it is. In this pandemic you go to where it isn't because that is how you minimize the spread.
Among the most outspoken critics of LAC DPH are Dr. Michael Wasserman, president of the California Association of Long Term Care Medicine, and Dr. Noah Marco, chief medical officer at the Los Angeles Jewish Home. Wasserman's past positions include a stint as CEO of Rockport Healthcare Services, where he oversaw the largest nursing home chain in California. (That chain itself has come under fire from a state auditor for its poor record of patient care.) Since March, both physicians have been urging the agency to implement an aggressive plan to combat the outbreak of COVID in skilled nursing facilities, including the testing of all county nursing home residents and staff. Last week, Ferrer walked back LAC DPH's previous promise to conduct universal testing at nursing homes.
With the Board of Supervisors' inspector general vote looming, Capital & Main conducted separate interviews with Wasserman and Marco over the Memorial Day weekend. Their combined responses appear below as a single interview that has been edited for length and clarity.
Capital & Main: What has been the response of the L.A. County Department of Public Health to the COVID crisis in nursing homes?
Dr. Wasserman: On April 22, [LAC DPH Director Barbara Ferrer] announced that she had been wrong and they needed to test all the nursing home residents and staff. It's [now] a month later and they still haven't tested all the nursing homes. The crazy part is that the testing they are doing is misguided and scientifically unsound. They are testing facilities that had outbreaks — [where] the genie is out of the bottle. What you need to be doing is testing all the facilities that haven't had outbreaks and test all the staff and residents in those facilities.
We have been trying since the end of March to get L.A. County to do the right thing. We have literally been telling them what they need to do.
The worst part is that we have no idea what the full extent of this outbreak is in L.A. nursing homes and we have been at this for two and a half months. Everyone seems to understand the validity of testing the people who could bring this virus into the places where it could be most lethal. The county health department doesn't seem to understand this.
Dr. Marco: LAC DPH's response to this novel coronavirus has not always been based on good science, not often based on what is practical, and, using Dr. Ferrer's words, is just wrong.
If you look at the mission of LAC DPH, they are the agency that is mandated to reduce and eliminate the spread of infection in the county. That is their sole purpose. In no uncertain negative terms, we have asked the question, What has the county done to fulfill their mission in the last two months​? Have they provided PPE [personal protective equipment] to facilities that needed it? No. Have they provided training on infection control to nursing home staff? No. Have they supplied additional staff? No. Have they provided testing in areas where testing would reduce the spread of the virus? No.
I have seen very little evidence that the leadership of LAC DPH has done much to fulfill its mission.
Capital & Main: Whose responsibility is this?
Dr. Wasserman: I have a mantra to not blame people, but all we hear is blame and excuses. These folks have not been making any sense. Look at how many thousands of tests that young, healthy people are getting right now in Los Angeles. We need to prioritize these tests to the places where the vast majority of people are dying. Not just residents — there are frontline staff, the most incredible people in the world who take care of people in nursing homes, they are also dying.
There has been an utter lack of transparency by DPH. Because they have not been testing [all facilities], we don't have accurate numbers on how many people have the virus and have died from the virus. It's a matter of management and leadership, figuring out how to get these tests performed. And they have completely and utterly failed. They should have had everyone tested in two to three weeks [after Ferrer's April announcement], and they have tested a third of the facilities fully. Testing is testing — it's like being a little bit pregnant, if you are going to test nursing homes for COVID, you test all of the staff and all of the residents.
Dr. Marco: Barbara Ferrer is not a geriatrician. Her career has not prepared her well for this particular pandemic. But I can't answer why she has responded the way she has.
There are two events that concern me. When she made the public statement that they were wrong [about not testing all facilities], she said that we recently learned that asymptomatic cases were occurring. The world knew [about] asymptomatic [cases] since January. For her to make a statement in April makes no sense. Why would she not know about asymptomatic spread?
The second, more recent statement was last week when she came out with the policy of testing 10 percent of residents and staff at nursing homes that don't have the virus. Her quote in the media said it was a great decision, given limited resources, to test a smaller number of people in nursing homes. Why would LAC DPH say we have to go a policy of minimal screening and testing and be proud of that if the city is testing tens of thousands of people? All they have to do is work with the city, which has hundreds of thousands of test kits. Or they could have made a deal with commercial labs so that we can facilitate testing in places that have outbreaks and places that do not.
The 10 percent testing policy is not based on science, makes no sense medically, will miss hundreds of spreaders and will lead to hundreds more deaths in nursing homes.
Firefighters don't just put the hose on the hill that has the fire, they put the hose on the hill that is about to catch fire. They have been following the old-fashioned way — go to where it is. In this pandemic you go to where it isn't because that is how you minimize the spread.
Capital & Main: Is L.A. County worse than other parts of the country?
Dr. Wasserman: If I were to rate L.A. County compared to things I have heard around the country, they are still at the bottom. They are slow to respond, and what makes it worse is saying they are going to test everyone. They have had the capability of doing widespread testing since early April. If they had done their job, we could have made a bigger difference in fighting this virus in nursing homes and assisted living.
Capital & Main: You have been critical of the LAC DPH's decision to designate Country Villa South as a facility that can accept COVID-positive patients.
Dr. Wasserman: Country Villa South was the first facility designated as COVID-positive. It is also one of the first that had a significant outbreak with a significant number of deaths. As a geriatrician, I have been saying for two months that you don't take your worst facilities and make them COVID-positive facilities. Ever since they have been designated, they are no longer reported for how many cases of COVID they have. Facilities that haven't been tested don't have to report how many cases they have. The way they are doing this, they are artificially giving low numbers and then putting them on their website. What they should be doing is testing every nursing home resident, every staff and reporting the total number of cases and total number of deaths.
Capital & Main: Where should COVID-positive patients go when they are released from the hospital?
Dr. Marco: On April 17, Dr. Wasserman and other experts created a white paper that describes in detail what would be best practice: to create places where COVID-positive patients could leave the hospital and be transferred to with designated staff, PPE [and] policies to limit the spread of the virus to staff and communities.
Capital & Main: Would lives have been saved had the Department of Public Health acted more aggressively?
Dr. Wasserman: Absolutely. No question in my mind.
Danny Feingold
Capital & Main