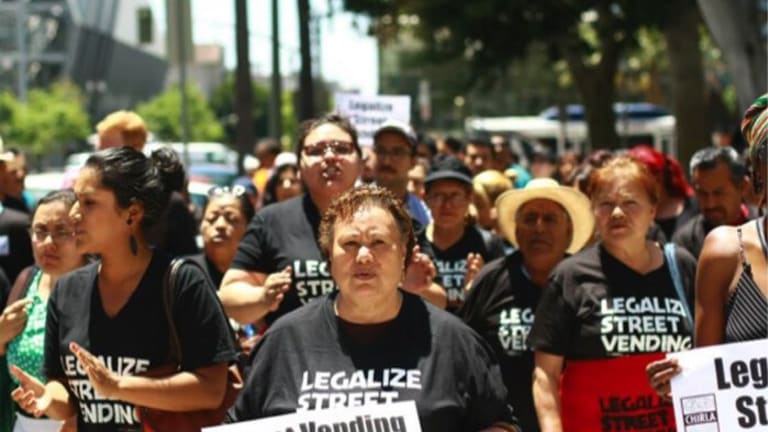 City of Angels Criminalizes Sidewalk Vendors
Pui-Yee Yu: Even as lawmakers explore the practical and technical issues surrounding regulation of their trade, 50,000 vendors continue working in fear of harsh prosecution.
Sidewalk vending is illegal in Los Angeles, though no visitor would guess from its bustling and dynamic commercial corridors. Astonishingly, sidewalk vending is a municipal code misdemeanor, punishable by up to six months in jail and $1,000 in fines.
Students in UCLA School of Law's Criminal Defense Clinic recently represented sidewalk vendors in the City's municipal "traffic" court. Even when charged as infractions, vending violations result in hefty fines and fees. As detailed in the "Criminalizing the Sidewalk" report we issued this week, a $50 municipal court fine balloons to $306 with penalty assessments and court fees.
True, community service can be granted to accommodate vendors unable to pay, but the required hours are determined by dividing the total fines and fees by the minimum wage. A single sidewalk vending infraction for $306 would therefore require approximately 38 hours of community labor to "pay." Those who do not comply suffer additional fines and fees, further deepening their criminal justice debt.
Such severe punishment is unmerited—especially since vendors respond as entrepreneurs to unmet needs in lower income South Los Angeles, San Fernando Valley and other "food desert" areas where residents are calamitously underserved by "big box" grocery and retail stores.
Such criminalization is also unmerited in light of decades-long efforts by generations of sidewalk vending Angelenos to gain status as law-abiding businesspeople.
In 1994, the City Council actually approved a framework to legalize vending in designated districts. The details languished until 1999, when the first and only district ever established was finally unveiled in MacArthur Park. Although MacArthur Park's vending district is still on the books, the framework was never wholly implemented, its efficacy arguably compromised by a lack of ingenuity, political will and leadership from our city's top policymakers.
Last year, our City Council again approved a legalization framework. As City Hall's process unfolds, nearly 50,000 Angelinos continue to subsist and care for their families on sidewalk vending income. They anxiously await—and in some cases, demand—reform. The urgency is palpable; even as lawmakers explore the practical and technical issues surrounding regulation of their trade, 50,000 vendors continue working in fear of harsh prosecution.
Criminalization of sidewalk vendors must end. Whether through an exercise of the City Attorney's prosecutorial discretion or a new legislative act of the City Council, a resolution is needed to stop the unjust treatment of some of the lowest-earning—yet hardest-working—Angelenos.
Like it or not, vendors are our neighbors, having shared the city's sidewalks for decades. While vending opponents rightfully clamor to be heard in the democratic process, it is hard not to see opponents' support of criminal prosecution as a silencing tactic, deployed against Angelenos whose voices have been marginalized by the political process for generations.
Sidewalk vendors eke out a living, accumulate assets, and—as we all do—hope to build that "better life." This is the essence of the American Dream, and I am ashamed that in the City of Angels, we prosecute that.
Pui-Yee Yu