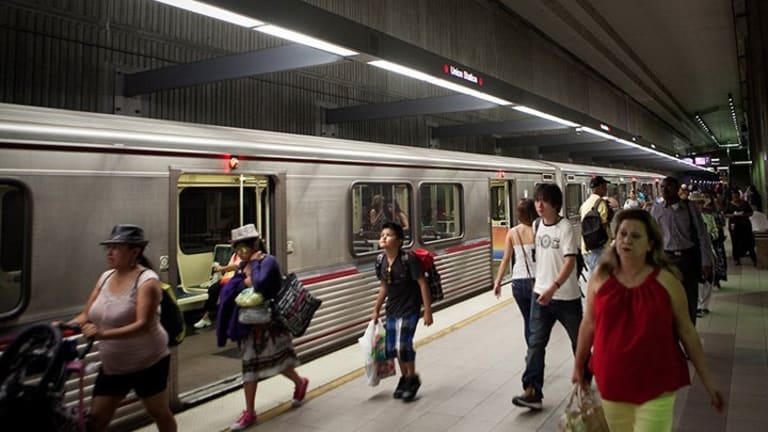 A Tale of Public Transportation in Los Angeles...
Afton Hefley: Needless to say, walking out of the house at 6:45 am, bright-eyed and bushy-tailed, jumping in my car to face the epic morning traffic of LA, only once a week, is a challenge.
It's taken me a full day to gather my words on my travel experience yesterday via Los Angeles' public transportation service. I'm idealistic when it comes to driving less. Surely it can be done gracefully...
You see, I have this new-ish job in the Culver City area that I do once a week from 8am to 2pm.
Culver City, for those of you not familiar with the LA area, is pretty much a fairy-tale far away land in relation to where we live (in Glendale).
It's one of those places we hear about every so often and chuckle at when we're invited there for a show or brunch. It's a really cool place but, may as well be Fiji.
Glendale is located in what is called "Northeast LA" or "NELA" or "The Verdugos".
Culver City sits west of mid-city and just barely east of the F05 freeway which, for this Eastsider, constitutes as "The West Side".
Normally, to drive from Glendale to Culver City, in morning rush hour traffic, takes me almost exactly an hour, THROUGH the heart of LA or sometimes even the heart of Hollywood.
Normally, my sleep schedule looks like this: bedtime by about, oh, most nights, 2/3am....and mornings don't start for me till about 9/10am, most typically. This is the schedule I've purposefully carved for myself over my entire adult life. Morning person, I am not. This is one of the main reasons I choose to lead the life of a freelancer.
So, needless to say, walking out of the house at 6:45 am, bright-eyed and bushy-tailed, jumping in my car to face the epic morning traffic of LA, only once a week, is a challenge. Oh, and did I mention that there really isn't a freeway that connects the two areas? I mean, I could take the 10 freeway, but that's basically just sitting in a giant parking lot at that time of day. And don't get me started on how to actually GET to the 10....
Needless to say, walking out of the house at 6:45 am, bright-eyed and bushy-tailed, jumping in my car to face the epic morning traffic of LA, only once a week, is a challenge.
So, I decided to look into the public transport. Recently, a new extension of railway was added to the Expo Line which connects DTLA (Union Station) to Santa Monica (the Westside beach). Also, you may remember that I recently bought a new, and adorable bike. Seems perfect!
Ok, hang with me here....yesterday, I learned quite a bit about this very confusing rail system.
To make things "easy", there are different names to differentiate the different lines. So different that they named them "The Metro" and "Metrolink". There's also the bus system which operates from a lot of stations, also called "The Metro". (Don't get me started on the bus)
The Metro Rail network consists of six light-rail lines and two subway lines, with five of them converging in Downtown.
There's the Gold Line, Green Line, Purple and Red lines (those are the subways), Blue Line, Expo Line, and the better-hope-you're-not-color-blind Orange Line.
Metrolink is the rail system that operates commuter trains in the six southern California counties of San Bernardino, Riverside, Ventura, Orange, Los Angeles and North San Diego to Oceanside. It has the OC Line, The Antelope Valley Line (or AV line), The San Bernardino Line, The 91/Perris Valley Line, The Riverside Line, The Inland Empire/OC Line, and the Ventura Line.
Still with me?
Ok, so my travel day was supposed to look like this:
Bike to Glendale Station at 6am - 1.3 miles, 7 minutes
Buy ticket for Metrolink (only line, besides Amtrak, that operates in Glendale)
Catch 6:23 or 6:38 train for Union Station (DTLA)
Arrive at Union Station and find Red/Purple Line
Take the Metro Red/Purple Line to the 7th Street station because the Union Station/Expoline connector is under construction (?)
Find Blue Line/ExpoLine (?) at 7th street station and ride till Palms station.
Bike from Palms station to school - 4 minutes
Arrive at 7:50 am.
Here's how it went down:
Rush out of house at 6:05am
Spill all of the coffee on front steps of house, on bike and shoes.
Curse profusely.
Run back inside for paper towels and clean up as much as you can.
Begin ride to Glendale station.
Arrive at 6:24am.
Train is leaving. No problem, you can still take the 6:38 train.
Buy ticket. $5, round-trip.
Train is early, Get on train.
Check to see that your recently curled hair is now completely straight from dewy morning bike ride and was a complete waste of time.
Suddenly realize you're going North.....towards Burbank....
Ask only fellow passenger in a panicked scream "ARE WE GOING NORTH?!?!?!"
Realize you're a frazzled idiot and got on the northbound train.
Frantically check phone for next trains leaving from Burbank to Union Station.
Arrive in downtown Burbank.
Wait another 10 minutes.
Obsessively check that you're on the SOUTH BOUND side.
Arrive at Union Station, 20 minutes late.
Take elevator down because you have a bike.
Finally find someone who works there to find out where in the world the Red/Purple lines are. They're nowhere near you.
Find the Metro Red/Purple Line as you reluctantly pass by a Starbucks in Union Station because you have absolutely no time to spare.
Kick yourself for spilling your coffee.
Realize the Metro and Metrolink are different entities altogether and the only thing they have in common is that they are rail lines that both meet in Union Station.
Buy another day pass ticket, this time for the Metro - $8.
Belabor over whether or not you're in the right place.
Frantically ask someone if this train is going to the 7th St. station.
Get on train.
Realize the Red/Purple Line is the subway.
Ride till 7th street station.
Get off and search for elevator.
Worry about making the Expo line connection.
Can't find elevator.
Look at two flights of stairs and grab bike by it's frame.
Climb first flight of stairs with bike.
Realize on landing that you may possibly die there as you dizzily teeter backwards, almost falling.
Power through second staircase and thank your lucky stars you didn't break your neck as you struggle to catch your breath.
Find Blue Line.
(Is this the expo line?)
(I'm so confused.)
Ask random people, most of whom don't speak English.
Find a man who is heading to Santa Monica and reassures you that a train will come soon with "Expo Line" written on it's digital screen.
Reluctantly trust said stranger.
Train comes.
Can't find train car with bike storage.
Get on regardless.
Sit in awkward position in handicapped seat, feeling opportunistically guilty, with bike blocking most everyone.
Catch your breath.
Text contact at school to let her know you'll be late.
Suddenly hear small child behind you (he was with a parent) start to cough. Cough.....cough....
Hear dad say "Buddy are you ok? Are you going to..."
The child vomits down the back of your seat.
Pumpkin.
Notice it trickling down the floor towards your feet.
Offer them some napkins from your lunch box.
Listen to a mendicant man guilt-trip the tightly-packed passengers on the train about "loving thy neighbor" and quoting inaccurate scripture.
Arrive at Palms station.
Bike to school in 4 minutes.
Arrive at 8:20am.
Proceed to teach 4 classes and 3 private lessons, corral unruly students, un-caffeinated and exhausted till 2pm.
The ride home was somewhat easier only because I didn't have to be anywhere on time, though by the time I got on my bike to ride from the Glendale station to the house, I could barely move. My whole body is sore today.
I slept from 4pm till 9pm.
I think I'll do it again. ha!
And Maybe next time, I'll skip the bike and just drive to Union Station/walk from the Palms station to the school.
Until then, I have some studying to do on these timetables.
Afton Hefley
Afteon Helfely is a vocalist and vocal instructor living in Glendale, California.