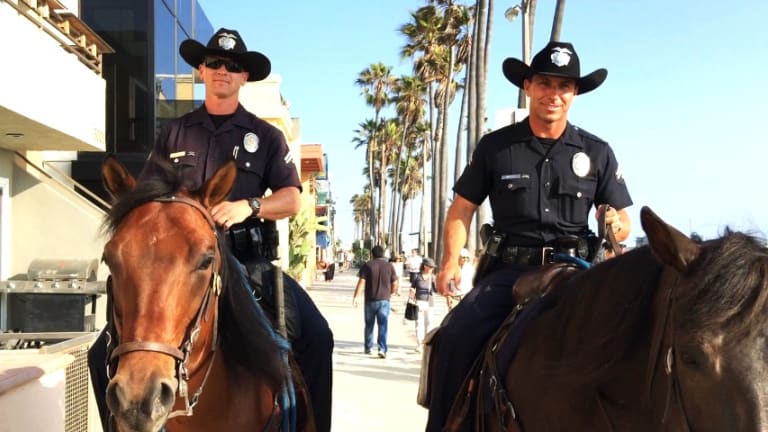 Despite Calls for More Cops, LAPD Won't Be Riding to the Rescue
Despite telling voters what candidates' focus groups and polls suggest they want to hear, there is little evidence that expanding police departments and increasing incarceration rates reduce crime – in LA or elsewhere.
Calls for more cops and mass incarceration are sure fire ways for candidates to obtain favorable press coverage and generous donations from wealthy donors.
It can also help win elections in Los Angeles, where low voter turnout skews results toward the preserve and protect preferences of older, wealthier Angelenos. This formula worked for former Mayors Richard Riordan, Antonio Villaraigosa, and Eric Garcetti, and it played an outsized role in LA's primary election and City Hall's recent budget negotiations.
But despite the 900,000 total police officer in the United States, $205 billion that local governments spend each year on policing, the world's highest incarceration rate - with 1.9 million people behind bars, and 17,000 SWAT teams in the country's 18,000 police departments, candidates still claim you should vote for them because they will hire more cops. LA's recent primary followed this successful script. Nearly every candidate called for expanding the LAPD, even though it already consumes 53 percent of the City's discretionary budget and solves few crimes. Furthermore, such a program would cause devastating staff and service cuts in the City's non-LAPD departments. In short, it is a sure-fire formula for undermining LA's already fragile infrastructure and public services.
Nevertheless, despite telling voters what candidates' focus groups and polls suggest they want to hear, there is little evidence that expanding police departments and increasing incarceration rates reduce crime – in LA or elsewhere. The police-to-population ratio has little bearing on crime rates, even when police statistics focus on street crimes, like robberies, and ignore most white collar crimes.
The situation is actually much worse. Because of their enormous share of municipal budgets and tight focus on street crime, police departments, including the LAPD, unintentionally allow festering urban problems to get worse. Why? It isn't just because elected officials have the power of the purse over them and use that power to protect "friends" and please constituents. It is also because police departments do not have the expertise and resources to tackle worsening urban problems – especially homelessness -- that elected officials dump on them. While the LAPD can and does use force to relocate homeless encampments to other neighborhoods, they, like the elected officials they report to, are unable to build and manage low-cost housing.
To illustrate this point, just ask yourself about the key issues Angelenos deal with every day and whether the LAPD can:
Build low-priced public housing to reduce homelessness, overcrowding, and rent gouging?
Install and maintain bathrooms and portable showers for the homeless?
Provide medical care and mental health outreach services to the homeless?
Enforce local building and zoning codes, all based on official City Council adopted laws?
Update, monitor, and revise legally-required General Plan elements?
Conduct contact tracing to stem the spread of new Covid-19 variants?
Plant and care for street trees?
Install rooftop solar and battery backup systems?
Resurface crumbling streets and sidewalks?
Build safe, reliable, and low-cost high-speed rail, mass transit, and buffered bike and scooter lanes?
Implement local programs for adapting to and mitigating climate change?
Reduce air pollution from cars and industrial operations?
Make arrests for such white-collar crimes as public corruption, wage theft, toxic waste dumping, and minimum wage violations?
To merely ask these questions -- for which the answer is always NO -- includes the basic urban problems plaguing Los Angeles residents, most of which were ignored in LA's recent primary election. Nevertheless, to ask about them reveals how peripheral policing is to nearly all quality-of-life issues in Los Angeles. Whether Angelenos' particular concerns are overpriced housing, traffic congestion, air pollution, drought tolerant yards, buckled streets and sidewalks, missing street trees, climate change, or other urban crises, the LAPD is not riding to the rescue.