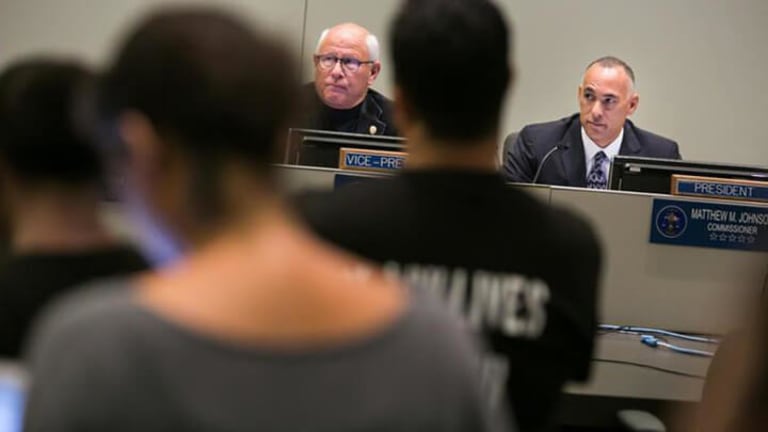 LA Police Commission — Power Concedes Nothing Without Disruption
Angela James and Melina Abdullah: What Johnson fails to recognize is that advancement for Black folks does not simply require "Black faces in high places," but in the words of legal scholar Lani Guinier "authentic representation," the kind that actually engages and advances the interests of those whom one represents. Power Concedes Nothing
A Response to the Los Angeles Police Commission President
When Los Angeles Police Commission President Matt Johnson contributed his opinion piece May 12, 2016 he was very careful not to call out any individual or organization by name. Instead, he made sweeping comments about how "we" (assuming he means Black people since he wrote it for the Sentinel) should seek "conversation not disruption."
Of course, anyone who has been paying attention can connect the dots. Johnson is referring most directly to Black Lives Matter activists and allies who attend weekly Commission meetings to push for police accountability. The weekly meetings, which take place at 9:30 Tuesday mornings in a heavily militarized Los Angeles Police Headquarters located in downtown Los Angeles, are difficult for most City residents to attend. Those who participate are making a commendable sacrifice and commitment to social justice.
Instead of recognizing attendees for their civic engagement, Johnson and his Commission treat the group with disdain and disrespect, diverting their eyes during public comment, text messaging, leaving the room, wagging their fingers, chastising, using abusive language (exampled by Vice-President Soboroff's ranting outburst of "shut up" at last Tuesday's meeting), and even ordering arrests.
This sort of treatment is levied against those who are raising their voices alongside the families whose loved ones have been killed by LAPD (which kills more of its residents than any other law enforcement unit in the nation). It is hugely problematic when the head of the civilian oversight body is not heralding the community it represents for being "engaged citizens," but publicly berating their participation.
Unlike the wealthy mayoral appointees to the Commission, the members of the public who show up every week, do so at significant personal cost, out of a deep commitment to the collective liberation of Black people who deserve to live in a world and City free from state-sanctioned violence.
With his dismissive proclamation, Johnson simultaneously disdains commitment to community uplift over individual advancement. Johnson condemns those who "routinely disrupt Police Commission proceedings" as an obstacle to "the serious work" conducted at the public Police Commission hearings.
This position is a dangerous one that comes with the criminalization of those who dare to exercise their First Amendment rights and honor the long tradition of Black protest that freed Black people from slavery, won Civil Rights, made Black Power more than a rallying cry, and, ironically, likely won Matt Johnson his current post, career, and academic pedigree.
It is sad that instead of honoring this legacy, the Commission President appears to be fooled by his own individual access, as he revels in his title, making self-aggrandizing comments like: "I'm not only at the table, I'm at the head of the table," while warning the rest of us Black folks to get in line.
What Johnson fails to recognize is that advancement for Black folks does not simply require "Black faces in high places," but in the words of legal scholar Lani Guinier "authentic representation," the kind that actually engages and advances the interests of those whom one represents.
What Johnson fails to recognize is that advancement for Black folks does not simply require "Black faces in high places," but in the words of legal scholar Lani Guinier "authentic representation," the kind that actually engages and advances the interests of those whom one represents.
Over the course of the eight months that Johnson has served as Commission President, five activists have been arrested. Arrests began with community organizer, Greg Akili, who was trained by Cesar Chavez and is widely respected in both activist and political circles.
Akili's arrest was followed by that of Jasmine Abdullah for speaking out of turn and Nia-Amina Minor for attempting to aid Jasmine by retrieving her belongings. The same incident swept up Tut Hayes who, at 81 years old, was arrested for simply stating "I don't like the way you're treating the young ladies."
Three weeks ago, one of us—Dr. Melina Abdullah, Professor and Chair of Pan-African Studies at a local university—was arrested for speaking beyond her allotted two-minute time.
The general charge for activists has been "resisting arrest." Clearly an arrest for resisting arrest amounts to an attempt at political intimidation and is an inappropriate use of police resources. It certainly does not indicate a willingness to "engage in meaningful discourse" with organizations and individuals concerned with public safety and policing in Los Angeles as Johnson portends.
Recognizing that it is difficult to hold a "conversation" in two minutes, a meeting request was issued months ago by Black Lives Matter, Los Angeles Community Action Network, and Stop LAPD Spying Coalition. Initially, Johnson agreed to meet; the groups pushed for the meeting to be an open dialogue in a community space.
Just the day before the meeting was set to take place, Johnson reneged, canceling the meeting, and stating that he would only agree to a closed meeting with no more than two representatives per organization. (Although in a few public grandstands he declared, "I'll meet with you anytime, anywhere.")
This sudden expression of interest in a "robust exchange of ideas" wreaks of insincerity and a public relations effort. Meaningful conversation can only occur when there is a commitment to engage with integrity. The Garcetti-appointed Police Commission seems to be moving out of a desire to change perceptions of policing, rather than actual institutional transformation.
It would also appear that Johnson's sudden expression of interest in community engagement is a part of his ongoing complicity in the attempt to subvert public accountability of police, and the Police Commission.
LAPD has a long and checkered history replete with racial disparities in policing that have left far too many Black men, women, and children dead and far too many mothers, children and other loved ones, grieving. Despite the public relations efforts to suggest institutional transformation, in 2015 Los Angeles led the nation in killings at the hands of the police, with twenty-one.
The improvements cited by Johnson, like the "roll-out of digital in-car video," do not include an honest admission that not long after the Department was freed from the consent decree and lauded for its systemic transformations in self monitoring, we learned that officers had tampered with about half of the cars patrolling communities in South Los Angeles. Notably, the Commission was not briefed about this problem until months afterward and no one was disciplined for the problem. Similarly, although Johnson and many others like to tout body-cameras as being useful in enhancing transparency and accountability, such equipment has no hope of being effective as long as the police control the footage.
In fact, there is actually no systemic evidence that body-cams or expensive surveillance equipment are an effective deterrent in preventing police abuse. In fact, given that the LAPD has a long history of both police misconduct and unlawful surveillance, the use of body cams with no safeguards for public privacy or accountability amounts to a massive con to increase the hyper-surveillance and policing of Black communities.
Let us not forget that Tamir Rice, Eric Garner, Walter Scott, Kajieme Powell, (in all likelihood) Wakiesha Wilson, and countless others were all killed on camera. Officer-controlled body-cams and Department-controlled footage are unlikely to stem the tide in police abuse. Simply put, the fox guarding the henhouse is rarely very successful in saving the hen's lives.
Reforms involving policies, and equipment may make those in the Mayor's office feel better and be useful to Garcetti's upcoming reelection bid, but if success is measured in terms of the numbers of Black lives lost in police encounters, modest reforms are unlikely to make a dent. There is no technological quick fix. Ultimately the best public protection against abuse is transparency and individual and institutional accountability, and the LAPD continues to fail in these two critical areas. Police officers have essentially been given impunity to ignore the basic human rights of City residents, and special license to abuse, brutalize and kill its Black residents.
The conditions that have given rise to the demonstrations of Black Lives Matter and others organizations at Police Commission meetings include the inaccessible and repressive conditions under which the meetings themselves are held. The Police Commission meetings seem to be intended to subvert, rather then promote, democratic values of civic participation. A long-standing demand of Black Lives Matter is that Commission meetings be held in accessible times and places in the community to ensure that the Commission itself is publically accountable in its independent role and does not merely "rubber-stamp" police findings. This demand has been endorsed by a host of labor and community groups, most recently by United Teachers of Los Angeles (UTLA) and the California Faculty Association (CFA). The provision of additional "community meetings" might serve to shift public perception, but does not substitute for making the process more democratic.
Most recently, Black Lives Matter has lifted up grave concerns over the in-custody death of Wakeisha Wilson, under circumstances disturbingly similar to that of Sandra Bland in Texas. BLM-LA has joined with Ms. Wilson's mother, Lisa Hines, to demand that copies of video footage be released along with all logs indicating who entered and exited Wakiesha's cell. A third demand has been a complete overview of in-custody death notification policies. It is simply unimaginable that family members and the community be denied details regarding the circumstances of their loved one's death.
Rather than recognizing the horrific trauma endured by Wakiesha's family and community and attempting to intervene, the Commission made the political choice to volley responsibility to the Coroner. It was following the "dog and pony show" that attempted to shield LAPD from responsibility that Melina Abdullah was arrested, just after she made the point that the entire process was a disgrace that dishonored the memory of Wakiesha Wilson.
Finally, Matt Johnson's use of his mayoral appointment to this Commission, and subsequent cynical ascension Commission President, to punish those seeking to advance the cause of public accountability is deplorable. Instead of working to ensure that the balance of power tilts in the direction of social justice, Johnson appears to have unhesitatingly taken on the role of apologist for a seemingly unrepentant Police Department and a mayor who is more concerned with his reelection campaign than the lives of Angelenos. As long as those who are appointed to represent the community choose to represent political interests instead, it remains the civic duty of the people to stand up.
Conversation is always sought, but almost always refused. When the system and those who are embedded within it refuse to hear the people, we must amplify our voices. The lives of our people are too precious for us to sit idly by. Power concedes nothing without disruption.
Angela James, Ph.D., and
Melina Abdullah, Ph.D.
Republished from LA Sentinel with the authors' permission.