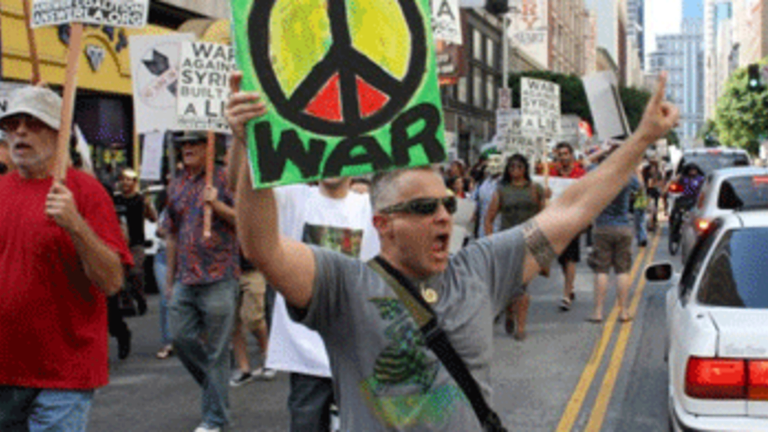 LAPD Traps Anti-War Marchers, Arrests Two
Dan Bluemel: "They locked us in like dogs," he said. "No restrooms, no hygiene facilities, no food, no cold water — it's probably 93 degrees out here today — and then they make us wait there for an hour."
In perhaps the most spirited anti-war demonstration Los Angeles has seen in a while, two protesters were arrested, and many others were cited for jaywalking, after being trapped and detained by police in a downtown parking lot Saturday.
After rallying in Pershing Square, demonstrators marched several miles through downtown LA for roughly two hours to protest President Obama's threat to bomb Syria for its alleged use of chemical weapons.
After heading south on Grand Avenue, just past Olympic Boulevard, about 40 protesters cut through a parking lot to avoid riot police. The lot's back entrance emptied into an alley and then another parking lot. The protesters were cut off by police in the other lot and ordered back to where they came.
Protesters complied with police orders, unknowingly sealing their fate.
"There was a line of police officers who told us to turn around and go back onto the street, so we listened," said Jeremy Kauffman, a demonstrator who led much of the march. "As soon as we go back in the parking lot, they slammed the gates and locked us in."
No order to disperse was given by police before they detained the protesters, which angered many of them.
Capt. Horace Frank of the LAPD's central division explained that he determined to ticket the demonstrators once protesters began marching through oncoming lanes of traffic. At that point, he said, it was a matter of finding the right moment to trap the protesters for citation.
"We were already telling people ahead of time that they had to get out of the street," said Frank, saying that once anyone enters a street— exempting those in crosswalks — is jaywalking.
Frank, who led the department's response during Occupy LA's "chalkwalk" protest where several people were arrested for writing on the sidewalk with chalk, said the day's demonstration was not permitted. Despite that, he said, there is no problem with protesters using the sidewalks.
"Since I've been at Central, I've been through over a hundred protests," he said. "We facilitated those efforts, even when people don't have a permit — it's a First Amendment right to protest."
For the duration of the nearly two-hour-long march, police assisted the protesters by blocking traffic so they could safely use the streets.
Demonstrators attempted to access the Hollywood Freeway at Grand Ave, just north of Temple Street, but were stopped by police. A member of the downtown business community's private security force, also known as the "purple patrol" for the color shirts they wear, momentarily assisted police.
By 4:42 p.m., riot police first appeared at intersections, attempting to block off certain streets. Some protesters believed police tactics changed once they announced they were heading south for LA Live, an entertainment complex next to the Staples Center that is a popular site for revelers and tourists.
"We were going against the flow of traffic all day and the police were moving traffic for us," said Jordan Niebuhr. "When they figured out where we were going that's when we got locked in the parking lot."
Tyler Allsop said he heard police tell protesters they would be able to leave if they went back into the parking lot.
"They locked us in like dogs," he said. "No restrooms, no hygiene facilities, no food, no cold water — it's probably 93 degrees out here today — and then they make us wait there for an hour."
Niebuhr and Allsop both served in the Navy. Niebuhr worked in ordinance and Allsop was a corpsman.Although he once loaded bombs onto aircraft, and believes in a strong national defense, Niebuhr said his time spent in the Pacific broadened his understanding of the world and the people in it. His changing, with a little help from people along the way, led him to the peace movement.
He feels his country is in political trouble, and the police crackdown on the protesters, which effectively killed the demonstration, only further confirmed his feelings.
"I think it is very sad that we live in a country that this is what happens at the end of the day when people try to protest," said Niebuhr. "They did everything in their power to end this and get rid of it."
Several protesters, once trapped, sat in a circle, sang "This Little Light of Mine" and talked. After a long wait, those with IDs were told to line up first. Minors were not cited and were allowed to leave. Protesters were informed that once they received their citation they were no longer allowed to assemble in the area.A group of protesters began to gather across the street. "Who do you protect? Who do you serve?" they shouted at police.
One demonstrator, Christina Funck, refused to receive her citation. She insisted on being shown evidence that she had jaywalked.
"Do you have proof to write that citation?" she said to a police officer.
"I'm going to ask you one last time," said the officer, "are you going to sign the citation? Yes or no?"
"I'm asking, do you have proof?" said Funck.
"That's not an answer," replied the officer.
Funck was arrested, along with another protester who asked that his name not be published.
The protesters had no idea why they were being detained for some time before being told by police they would be cited for jaywalking. Though only being charged with a minor infraction which will cost them roughly $200, many activists were disturbed by the police tactic. Kauffman feared that the caging of the protesters and ticketing them would dissuade some from exercising their rights in the future.
"An experience like this is chilling," he said. "Having a bunch people trapped in a parking lot for an hour really might affect some people's willingness to go out to another protest. And that is exactly what I think they want."
"I don't know what else to say," he added. "It's f**ked up."
Dan Bluemel
LA Activist
Monday, 2 September 2013