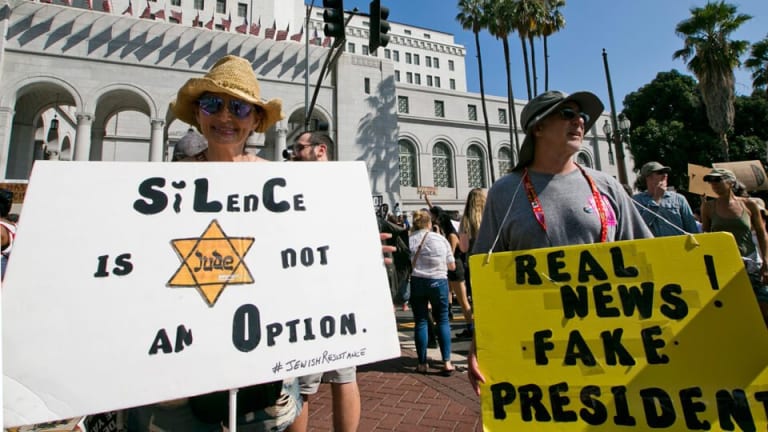 Charlottesville, Los Angeles: Faith and Political Leaders Speak Out for Justice
Eric A. Gordon: If Trump had delivered a stirring, inspirational address—even if he had not written it himself—that called upon America's better angels to right the country's wrongs, the reaction across the country might well have been very different.
[dc]"H[/dc]e forfeited his chance for greatness," said Wilma, a retired Los Angeles city attorney and congregant of Holman United Methodist Church, before the program began.
She was referring, of course, to the president's woefully inadequate response to the weekend's events in Charlottesville. The president would not mention terrorism, nor racism, nor white supremacy, nor the anti-Semitic Nazi groups that openly paraded in the city that is home to the University of Virginia and to nearby Monticello, Thomas Jefferson's historic estate. The president only placed the blame "on many sides."
The supremacists had hoped to halt the city of Charlottesville's planned removal of a statue honoring Confederate leader Robert E. Lee. Such monuments to secessionists who very nearly tore our country apart over the issue of slavery are falling in many states across the South. Such honorifics to the Confederacy and to its "gallant" defenders are now recognized as divisive provocations meant to remind black people and other groups to stay in their place.
If Trump had delivered a stirring, inspirational address—even if he had not written it himself—that called upon America's better angels to right the country's wrongs, the reaction across the country might well have been very different.
If Trump had delivered a stirring, inspirational address—even if he had not written it himself—that called upon America's better angels to right the country's wrongs, the reaction across the country might well have been very different.
Instead, in cities and towns large and small, demonstrations, protests, rallies, and convocations occurred Saturday and Sunday, some with militant shouts and slogans, others, convened by religious leaders, promoting messages of unity and healing.
Dozens of such gatherings took place in California. Saturday evening, demonstrators marched in solidarity with Charlottesville to the Los Angeles Police Department, and on Sunday afternoon, hundreds of protesters gathered in front of Los Angeles City Hall. Other demonstrations took place in Oakland, Santa Ana (Orange County), El Cajon (San Diego County), and elsewhere.
A hastily summoned consortium of religious and community organizations came together to co-sponsor the 6 o'clock gathering at Holman on West Adams Blvd., in the heart of a historically African-American part of Los Angeles. Several hundred people attended, and religious leaders from a number of denominations spoke. The preponderance were African-American Protestant pastors and rabbis from different synagogues.
The evening opened with a libation led by Pastor Thembekila Smart summoned in the spirit of great freedom leaders whose names audience members called out—Martin Luther King, Jr., Fanny Lou Hamer, Thurgood Marshall, Nelson Mandela, Rosa Parks, Emmett Till, and dozens more. Seeing Los Angeles Mayor Eric Garcetti sitting in the front row, Pastor Smart invited him to suggest a libation: "Everybody who has died for our freedom," he said.
To a pounding drum call, four women in colorful garb came down the central aisle to the front of the altar and performed a set of energetic African dances. Pastor Kelvin Sauls, an immigrant from South Africa, is Holman's lead minister.
Sauls greeted the audience with the theme of the evening, simple but moving: Love transcends hate. Tonight, he said, is an "opportunity to show America and the world what this country is all about." In reference to the famous song from the civil rights era, he said, "Ain't gonna let no Trumpocracy turn us round," and then led the audience, with the church musicians and chorus, zippering in nobody, segregation, any bigotry, and disagreement in each verse.
Mayor Garcetti sat next to Rabbi Sharon Brous of the IKAR congregation. Garcetti, who is a mix of Italian, Mexican, and Jewish, attends her synagogue, and they are close friends. Brous extended her welcome to this "hub of hope and healing," where we would "create a sanctuary of love and justice." She related a story from the Jewish Talmud, an ancient debate the rabbis held over a house that someone built using a beam that he had stolen. How to right the problem: Tear the house down, said one rabbi. Make the owner pay for the beam, said another. While the resolution of the issue was not reported, the main point is that no one merely accepted the injustice and let it pass.
Her parable illustrated the "stolen" foundations of the American nation: Wealth amassed from the labor of millions of slaves and indentured servants. In the current atmosphere of arrogant intolerance emanating from the White House, she said, the white supremacists who went to Charlottesville itching for a street rumble obviously believed they had "nothing to hide." Yeah, they stole the beam and they came daring anyone to make them pay for it.
Pastor William Monroe Campbell's answer to hate is not passive love, but "dynamic love—involved in action." That will make the difference "to change the destructive direction of this country." He was the first of several speakers to pray that God will turn Donald Trump around. This is "a pivotal moment for redemption…. We need something to lift us out of the disaster of this moment."
"If we're honest with ourselves," said Mayor Garcetti, "maybe we shouldn't be surprised" by the events in Charlottesville. He had just returned that day from a meeting of mayors in New Orleans that discussed ways that cities can offer "resistance and assistance." New Orleans took down its Confederate statue several months ago, "a perverse altar," in Garcetti's phrasing, "that has no place in a modern American city." He reminded his audience that New Orleans had once been the largest slave market in America, that just hours before he had been walking on those streets.
When it comes to certain events and eras in history, Garcetti continued, "there aren't always two sides to the story," citing the Holocaust and the civil rights struggle as examples. "If we don't stand up now…we're just bystanders." "Our faith leads us—all of us—to each other…. Tear down the statues, but build up what we want to see…as we create the nation we deserve." He sounded "presidential" (his name gets mentioned in this context). Garcetti was joined on stage by L.A. City Councilmember Marqueece Harris-Dawson, who called the evening at Holman "a love rally…a holy hot spot for justice."
Pastor Eddie Anderson of McCarthy Memorial Disciples Church issued "a clarion call" to his audience. "Three centuries ago America caught a cold called racism, and now we have walking pneumonia." "Did you not see the signs?" he asked, and the house exploded with affirmation. "I can't breathe," Anderson reminded us—"a symptom of pneumonia." He touched on many bases of "plantation capitalism," such as voter suppression, Islamophobia, "fear, deception and racism," and the false religion of those prosperity gospel charlatans surrounding the administration. "Silence will not save you. Silence is dangerous…. Be footsteps in the dark, take courage, I am here. Stay in the fight, stay woke."
Rev. Zach Hoover, executive director of L.A. Voice, brought the struggle back to L.A. The effects of racism are not just felt across the country in the South, he said. Right here, "Black people live 10 years less than people on the West Side."
Wendy Heisman, a founder of Rise Up in L.A., spoke movingly of growing up as the daughter of German Jewish immigrants who left their homeland just in time, in 1939, to come to America. The family settled in Skokie, Illinois, and were there when the American Nazis decided to hold a rally in 1977. It was a wrenching moment for the Skokie émigré community: To have to accept the First Amendment right of Nazis to demonstrate in public. Wendy's father swore he would buy a gun to keep any Nazi away from the people he loved, noting exactly what he had seen in his own life, "how easily God-fearing people could do the most horrible things." Heisman concluded, citing the research of Holocaust survivor and psychologist Victor Frankel, "If we despair, they will have won."
Rabbi Noah Farkas of Valley Beth Shalom spoke of growing up as one of the rare Jewish families in a small Texas town. One night they awoke to a bomb outside their home that destroyed their mailbox, and a burning swastika on the lawn. But rough as the times may be that we must endure, as the Bible says, "There is evening, and there is morning."
Pastor Joseph Hamilton of One Church, related that the day after the 2016 election he was walking with his little granddaughter near his home, when a neighbor called the "N-word" out to them. Did we not see the signs, indeed! He thought of purchasing a gun, but decided upon reflection that "My gun is my faith."
Pastor William Smart, of the Southern Christian Leadership Conference (SCLC) Southern California, told a story of two West Virginia miners who went down to work one day in 1945, shortly after the owners integrated the workforce, which displeased many of the white miners. That day there was a bad accident, and the two miners, one black, one white, found themselves both with broken bones, unable to speak, and one lying on top of the other pinned down by beams and coal. But they could hear voices from the next seam. Their only moving parts were one right arm and one left arm, so they put their hands together to bang on the wall so they would be heard, and after two days they were rescued and survived. Racism became history that day in that town.
The crowd had thinned by now, as Smart wound down, and he took note. "Sometimes it's not the mass of people" who make the difference, he said, "but those who stay to the end—black people who love being in church, and white people who don't mind being in the black community after dark!"
"It's action time," Smart said, and there will shortly be a conference call for all in attendance who provided a phone number. "People came in here disheartened, but we're leaving here on fire to change America."
Pastor Sauls concluded the rally saying that "Every waterfall starts with one drop. You are that one drop." "Pray with open eyes so you can see where God is leading us—on the path of love."
Everybody joined hands for several choruses of "We Shall Overcome." And yes, deep in my heart (I know that) I do believe we shall.
Eric A. Gordon
People's Voice