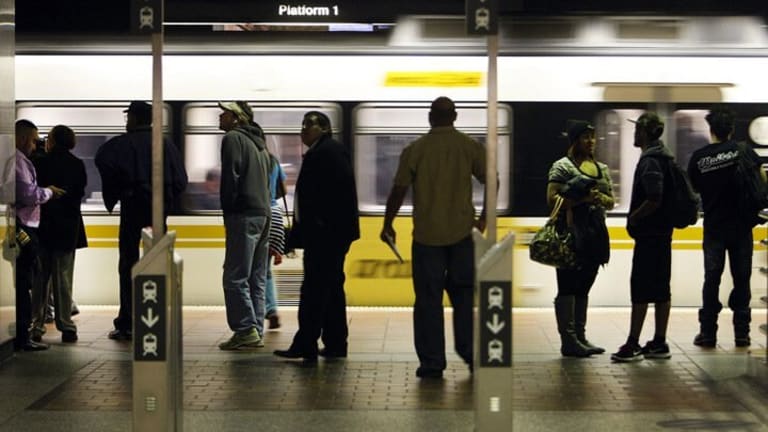 LACMTA's Measure M: Robin Hood in Reverse
Larry Aubry: In South L.A., LACMTA's Measure M plan has no feasible projects for the next 60 years. Not one. That's quite a statement given that our communities could most benefit from public transit.
The November ballot features a record number of propositions. By definition, the most expensive of the propositions is LACMTA's "Measure M," because it is a permanent sales tax increase. The proposed "forever tax" would raise sales taxes throughout L.A. County a half-cent from now until 2039, and then for 1 cent from 2040 until forever. LACMTA alleges that the tax increase will improve traffic congestion, but we've heard that one before. On three separate occasions in 1980, 1990 and 2008 voters approved a half-cent sales tax increase, generating collectively over $2.4 billion per year for LACMTA, and yet traffic has only worsened.
A coalition of civil rights organizations and Black leaders has formally opposed Measure M. The official signers of the ballot argument against Measure M includes Ron Hasson, who as Southwest Director of the NAACP represents all branches in Southern California; Damien Goodmon, Crenshaw Subway Coalition Executive Director; Barbara Lott-Holland, Bus Riders Union Co-Chair; and Sally Morales-Havice on behalf of the Greater Los Angeles County League of United Latin American Citizens. They are joined by the Black Community Clergy & Labor Alliance, noted Black activists/organizers Dr. Melina Abdullah, Greg Akili and Pastor William D. Smart Jr., Los Angeles Metropolitan Churches, Alliance of Californians for Community Empowerment Action, former L.A. City Councilmember Robert Farrell, and several others. Elected officials representing the South Bay and Southeast support their coalition, which officially operates under the name "No on Measure M 2016."
In South L.A., LACMTA's Measure M plan has no feasible projects for the next 60 years. Not one. That's quite a statement given that our communities could most benefit from public transit.
As retired Councilmember Farrell said in a televised interview this weekend, "We [south of the 10 freeway] believe we're being stiffed this time." In South L.A., LACMTA's Measure M plan has no feasible projects for the next 60 years. Not one. That's quite a statement given that our communities could most benefit from public transit. And in the working class Latino communities in the Southeast county, the projects they were promised when LACMTA's last proposition was passed, Measure R in 2008, have been pushed back decades in favor of new projects on the affluent Westside.
As Tori Bailey of the NAACP said on behalf of Ron Hasson at a press conference on Friday: "When you leave behind the blue collar communities and communities of color in favor of projects for the affluent Westside you have to call it what it is: racist."
Measure M is also a regressive tax – the poor and working class pay a disproportionately higher sum of their income than the rich.
Additionally, the permanent nature of the tax eliminates all accountability for the LACMTA board, which is controlled by the Mayor of Los Angeles and five County Supervisors. It would constitute a blank check for an agency that has to date racked up over $1 billion in cost overruns for projects just in the past 6 years, and historically has disrespected and disregarded the concerns of South L.A.'s Black community.
Exhibit "A" is the battle waged on the Crenshaw-LAX Light Rail Line led by the Crenshaw Subway Coalition. For years, the Black community has consistently requested that the 11-block portion of the line on Crenshaw from 48th to 59th Street (Park Mesa Heights) proposed to be built at street-level be placed underground to preserve the life, commerce and vitality of the last significant Black business corridor in all of Southern California.
Whether under former Mayor Antonio Villaraigosa or under current Mayor Eric Garcetti and County Supervisor Mark Ridley-Thomas, the LACMTA board has consistently ignored the community's request. Each time, the LACMTA board has said they lacked resources, seemingly expecting Black people to ignore the board's consistent appropriation of additional public dollars into other projects in other areas.
And in 2013, when three of the four bidders for the construction contract requested that they be allowed to give the community what it requested – the 11-block tunnel (including one which said it could be done for just $60 million dollars), the LACMTA staff rejected the bidders request and Mark Ridley-Thomas stood silent. To add insult to injury, the LACMTA board gave the large construction contract to the one bidder that did not request to bid the tunnel: Walsh- Shea Corridor Contractors.
The LACMTA board, including Mark Ridley-Thomas' refusal to allow the contractors to bid the Park Mesa Heights tunnel in 2013 is in itself is worthy of a grand jury investigation. But the absence of representation for South LA on the LACMTA board by Ridley-Thomas and Mayor Garcetti and his predecessor Villaraigosa is reflective of the current challenge we have with deficient representation and our inability to hold them accountable.
If the Pico community wanted an 11-block subway to maintain the Jewish business corridor or the Armenian community wanted an 11-block subway to maintain their business corridor in Glendale, would their respective representative on the LACMTA board be allowed to be anything but a champion for the cause? Yet not once in the past 5 years, with two ballot measures proposed and dozens of new appropriations provided to LACMTA has Ridley- Thomas or the Mayor ever made a peep about the Park Mesa Heights tunnel.
Fast forward to 2016. Did the LACMTA board carve out any money in their proposed forever tax for the Park Mesa Heights tunnel? Of course not. Instead, the Measure M project list includes an extension of the Crenshaw-LAX Line north through Mid-Wilshire and West Hollywood where the line will be completely underground. As said by Jackie Ryan, past president of the Leimert Park: "The northern extension of the Crenshaw Line through West Hollywood is the textbook definition of environmental racism. To have the train run all underground north of the 10 freeway in Miracle Mile and West Hollywood, while having the same 225-ton trains barreling down the middle of the street on Crenshaw in South LA in front of our schools is unconscionable."
This is LACMTA's record: disrespect and disregard of the Black community and consistently practicing policies that can only be characterized as racist. It is not a record worthy of praise, or a blank check. LACMTA has earned a "No" vote on Measure M.
Larry Aubry
No on M