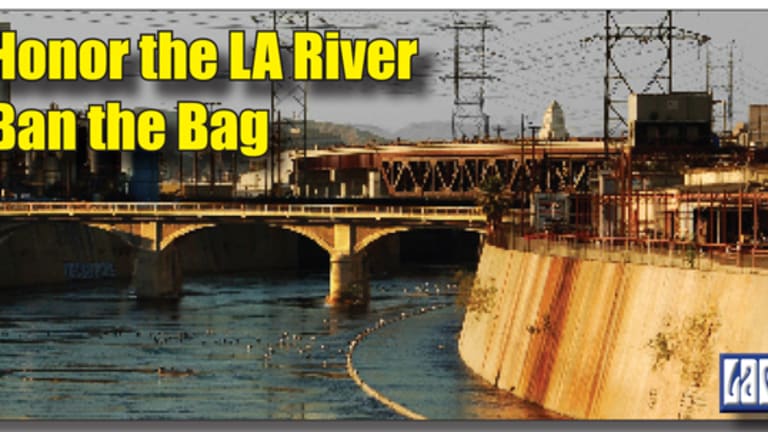 Honor the River, Ban the Bag
Los Angeles River -- Instead of dumping their trash in it, Angelenos are cycling along its banks, and kayakers are riding its current.
All of a sudden, the Los Angeles River is getting its due. Politicians are pushing for restoration funds. Developers are calling it a destination, rather than deeming it an eyesore and turning the backs of buildings on it. Instead of dumping their trash in it, Angelenos are running and cycling along its banks, and kayakers are riding its current.
Yet the fight to protect our resurgent river from pollution is far from finished. In fact, Californians can take an important step in support of this urban waterway and others like it by passing the state bill, SB 405, to ban single-use plastic bags. These ugly polluting bags litter the L.A. River shore and streambed itself.
I am proud that my neighborhood council is one of 15 in Northeast Los Angeles to pass a strong resolution urging passage of this important statewide anti-pollution measure, in line with ordinances in L.A. City and L.A. County and more than 80 other municipalities in the state. Just last week, the Silver Lake Neighborhood Council became the most recent to pass such a resolution.
The Alliance of River Communities was unanimous in joining this chorus. This fall, we voted to support the drive for the state law against non-biodegradable single-use plastic bags, which are poisonous to birds and marine animals. The state law will encourage reusable shopping bags and will prevent not millions, but billions of polluting plastic bags from being discarded into our trash bins, garbage dumps, street gutters, and the river.
Why must L.A. neighborhoods raise their voices now, before the bill comes up again in 2014? Because a state lawmaker who represents Northeast L.A., Senator Kevin De León, actually voted this spring to kill the bill on the floor of the state senate. He along with senators Ron Calderón and Ricardo Lara cast the key votes that stopped the anti-pollution bill during the previous session of the legislature. The votes by these three Democrats on the East Side of L.A. are especially upsetting because they represent the communities through which the L.A. River flows on its way to the Pacific Ocean.
As an Angeleno, I am mindful that the river gave our city its name. It was 244 years ago that Spanish-born missionary and explorer Juan Crespí, traveling overland while Junípero Serra ferried supplies along the coast, stopped here by a stream that impressed him for its abundant flow even in the heart of summer. He named the river for a tiny chapel associated with the celebration on the Franciscan calendar for that day, August 2. Twelve years later, in 1781, the city took its name from that river.
As a Latino, I feel a responsibility to uphold our city's historic tie to its namesake waterway and do everything possible to prevent its contamination. I also want elected officials who share my ethnic heritage to be leaders, not laggards, on stopping pollution.
Gone are the days that my neighbors called the river a drainage ditch. We need state lawmakers and anti-pollution policies to make that same evolution. In working to pass a state ban on single-use plastic bags that builds on local ordinances we have at the city and county level, Angelenos can correct a misstep by local lawmakers and honor our deep connection to the river, a touchstone for the past and future of the city.
Hector Huezo
Highland Park Patch