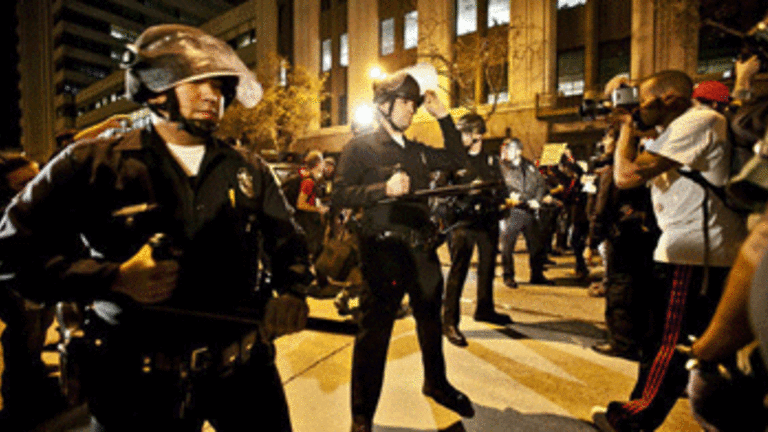 How the Los Angeles Times Can Help LA's Police Department Save Money
Dan Bluemel: Chief Beck should sack his own PR department and let the Times do what they do best — patching up and stitching together the department's image and keeping the population in the dark.
Police Chief Charlie Beck has commented on how years of budget cuts are hurting the Los Angeles Police Department, saying its "infrastructure is crumbling."
"I haven't hired a garage mechanic, a technical criminalist, a 911 operator for three years. This can't continue," he toldthe Los Angeles Times last month.
The department has had to undergo a $100 million loss in revenue in each of those three years, he said. Now that Proposition A, a proposed half-cent uptick in the city's sales tax, failed to pass in the recent local election, Chief Beck is probably even more worried.
These are tough times for the department, however they are not without solution. It may be considered radical or hasty, but what Chief Beck needs to do to help offset budget cuts is beautiful in its simplicity -- sack the entire LAPD public relations staff.
This can be done without too much pain to the department, primarily because the position is already filled. Though many local media outlets would qualify for this position, only one reigns supreme. It already rushes to LAPD's every cut and bruise, hurriedly applying bandages to the department's sordid reputation through editorials and one-sided reporting that seems legitimate and reasoned due to this newspaper's well-established history, but really only serves the interests of its subject through promotional advertisements disguised as journalism -- the most perfect press releases you've ever seen, really.
We're talking, of course, about the Los Angeles Times.
If there is any doubt about this new appointment, a brief look at the Times' resumé should put the matter to rest.
In early September of 2010, LAPD officer Frank Hernandez shot and killed Manuel Jaminez in Westlake, who, according to police and some witnesses, had been drunk and wielding a knife. The event sparked several days of protests in the poor, immigrant community, most of whom are from Central America.
Twenty-nine people were arrested as a result of the unrest, but all charges were later dropped. Beck blamed the Westlake uprising on a "bunch of agitators pushing the envelope and using individuals as their pawns."
A few days after the shooting, Chief Beck met with members of the Westlake community in an attempt to calm the situation. They were angry with Beck. Some heckled and booed him; others called his officers killers.
When the Times covered the event, their reporter spent the bulk of the article on the protests, officer Hernandez's record and Beck's reaction. A few paragraphs were spent on Carol Sobel, a civil rights attorney and her opinion of the shooting.
Two days later, another article was featured in the Times concerning the Westlake uprising. This time the article was practically dedicated to Chief Beck's opinions on the matter. A few paragraphs were spent on Carlos Vaquerano, an executive director of a nonprofit that advocates for Central American immigrants. Vaquerano praised Beck in the article, only disagreeing with him on a minor point.
The Times, however, did not interview anyone who was angry with the LAPD. Instead, they gave Beck the opportunity to explain what he thought was going on in the immigrant neighborhood.
"This community feels disconnected from the city," said Beck to the Times. "They feel like they don't have a voice."
Well said, chief. They don't.
Had anyone bothered to speak with the people who lived in Westlake, or even the "agitators," they may have learned some of the reasons behind their ire. They may have been told stories about how the police sometimes deal with illegal street vendors by throwing their wares into the street or into garbage trucks. They may have also found out that Officer Hernandez had a bad reputation in that neighborhood for being particularly brutal. Some felt disrespected and were incensed over how Jaminez's body was left uncovered for hours after he was killed.
But those voices were never heard. Instead, Angelenos heard the voice of a concerned and befuddled Chief Beck who could not understand why people were so angry at him and his department.
The Times, however, was not done with the Jaminez shooting. Columnist Tim Rutten wrote an op-ed, which defended the LAPD. He did mention that the department's crackdown on street vendors and public drunkenness "all went into fueling the protests." However, he didn't elaborate on that point further or get into possible civil rights abuses, which often pisses people off and has historically led them to riot. Instead, Rutten reminded us that the LAPD was better than ever.
"This is a new Los Angeles Police Department — one that not only has reformed itself … but also one that continues to learn as it goes," he wrote.
The PR men at the LAPD could not have done any better.
In late November of 2011, the Times praised the police again when they shut down the Occupy Los Angeles sit-in demonstration at City Hall. The Times gave a blow-by-blow of police shutting down the protest.
Much attention was paid to the "new tactics" of the department. Assistant Chief Earl Paysinger was quoted by the Times in praising Lt. Joseph McWilliams of the Metropolitan Division who oversaw the team charged with devising a plan to evict the Occupiers. He said Lt. McWilliams was "one of the brightest tacticians we have."
The article revealed praise all around. Times journalists wrote about how the "LAPD took a major step toward shedding a reputation earned over decades for heavy-handed crowd control." Pam Noles, an attorney with the National Lawyers Guild said the department had its "A game on." A quote from civil rights attorney Connie Rice ended the article with "You have to agree that this is not your grandfather's LAPD."
Within the lengthy article concerning the eviction, only one paragraph counters the narrative of the Times, the LAPD and those chosen as quotable.
"A few protesters said police used excessive force," reported the Times, but nothing more was said about it.
The Times' editorial board had been calling for an end to the sit-in demonstration for weeks, expressing concern, of all things, for the grass and "majestic fig trees" in City Hall Park. So it was no surprise when they said the eviction was the "best possible outcome, a tribute to Mayor Antonio Villaraigosa, Chief Charlie Beck and a disciplined, creative Los Angeles Police Department."
"In the end, it was something of a triumph of both policing and protesting," they wrote.
But there was another narrative to the eviction that did not fit the Times' version of events. It was the story of the protesters, just like in Westlake, that was being cast aside in favor of authority opinions.
Patrick Meighan, a writer for the TV show "Family Guy," was arrested during the eviction. He posted an online accountof his encounter with L.A.'s better-than-ever police department. According to Meighan, though he informed LAPD officers of his intended cooperation and nonviolence, he had his arms wrenched behind his back while his wrists were pushed into his inner arms.
"It was super violent, it hurt really really bad, and he was doing it on purpose," he wrote. "When I involuntarily recoiled from the pain, the LAPD officer threw me face-first to the pavement. He had my hands behind my back, so I landed right on my face. The officer dropped with his knee on my back and ground my face into the pavement. It really, really hurt and my face started bleeding and I was very scared. I begged for mercy and I promised that I was honestly not resisting and would not resist."
It is well known that one protester during the Occupy L.A. eviction was shot with a bean-bag projectile. This was considered a good thing, that no one else was shot with less-lethal rounds. However, after activists were released from jail following the raid on City Hall Park, it was revealed that one protester, and possibly one other, were shot with rubber bullets. The LAPD denied this, sticking to the one-bean-bag-round story.
The LAPD created a pool of hand-selected media outlets to cover the Occupy L.A. eviction. It was bad night for non-police-approved journalists, who were warned by the department that they would be fair game.
Margot Paez of InsightOut News, who had been actively covering Occupy L.A., posted a video of her being grabbed by officers for no discernible reason. Paez and protesters shouted "media" over and over to the cops, but the officers did not cease. Paez's press badge and camera meant nothing. Only when protesters grabbed Paez, pulling her back into their ranks, that the soon-to-be wrongful arrest was thwarted.
Calvin Milam, a reporter for the City News Service, was not so lucky. LAPD officers outright lied to put him in jail. They said Milam was drunk, disorderly and did not show his press credentials. Fortunately for Milam, a video surfaced which showed he was anything but drunk and disorderly. He is now suing the department.
Another video also captured journalist Tyson Heder being shoved to the ground, without provocation, by a cop. When Heder got up, now obviously angry, he shouted at the officer, demanding to know his name. In response, about five other cops tackled Heder to the ground and arrested him.
Occupier Ruth Fowlerwrote about what happened to protesters who simply left City Hall Park on Occupy L.A.'s website. Many activists, she said, despite their being nonviolent and respectful of private property, were attacked by police.
"The violence I witnessed was pretty intense," wrote Fowler. "Those cops were pissed and wanted to hurt people. They were running and beating people who were simply RUNNING away, trying to escape!" (Emphasis in original text.)
If the voices of activists and uncontrolled journalists were heard, Los Angeles would have had a different understanding of the raid on Occupy L.A. They would have understood that, despite what Connie Rice may claim, the LAPD has changed little. Granted, Occupiers were not beaten wholesale, like in a 1968 DNC-style attack, but the worst beatings in police history should not be the yardstick by which we judge all law enforcement encounters with peaceful protesters.
Occupy L.A. was, and remains, nonviolent and never deserved the treatment they received, particularly considering what they wanted, which, among other things, was a return to the rule of law over the financial industry. For whatever reason, the Times, as well as other local media outlets, had their own revisionist version of events written to maintain the LAPD's reformation.
It was a good PR campaign, and it cost taxpayers nothing.
However, the Times truly outdid themselves in their coverage of the manhunt for Christopher Dorner, an ex-LAPD officer who killed several cops and civilians in retaliation for what he felt was his wrongful termination.
All local media honed in on Dorner, but more on his actions rather than the viewpoint that drove him to commit his heinous acts. His manifesto was all but disregarded in a rush of ad hominem attacks, the most common of logical fallacies in our media cycle. There was scant reflection on what Dorner had to tell us, an acceptable leap for any journalist -- unless one is functioning as PR for the LAPD.
(The best propaganda in the world is nothing compared to utter silence, so don't fret too much about what a media organization reports, worry more about what they don't publish.)
Dorner's manifesto stated his grievances, as well as threats to law enforcement and what can only be described as his final good-bye. It was also an account of corruption, racism and brutality in the department, which is mostly kept from the public because of police secrecy and media cheerleaders. Despite the manifesto becoming public, Dorner's message to all of us would largely go unheard.
In his manifesto, Dorner described a police department that cares little about the public they are supposed to serve. He wrote that officers take pictures of dead civilians as part of a macabre game where the cops compare photos to see whose is the grizzliest. He wrote of officers allowing wounded suspects to bleed to death so they may collect more overtime because of future court subpoenas — dead victims in general are happily viewed as opportunities for more money.
Dorner was telling us that our cops, our heroes in blue, don't value our lives. That is newsworthy. At least it should be.
Of course, Dorner is one man and no media outlet can go on his testimony alone. That is why the opinion of someone like Brian Bentley, an ex-LAPD cop, matters.
Bentley served 10 years with the department. He wrote One Time: The Story of a South Central Los Angeles Police Officer, which delved into the misconduct and racism he observed while an officer.
"Not only do I believe it, but I lived it," said Bentley about Dorner's manifesto in an interview with EURweb.
What is particularly noteworthy of Bentley's interview is that he spoke of three other former officers he knew who had manifestos of their own. Instead of acting on them like Dorner, they committed suicide.
It is also interesting to note that in an interview with Times op-ed columnist Pat Morrison, Chief Beck said Dorner's manifesto "reminded him of other manifestos." His admission is telling in two ways. For one, it corroborates Bentley's statement and it hints of a troubled institution. Secondly, it was an admission that Morrison, as a journalist, should have pounced on, but didn't.
While Dorner was on the run, another ex-LAPD cop, Joe Jones, came forward by posting a statement on his Facebook page. Jones, who was a patrol officer for nine years, did not approve of Dorner's methods, but expressed empathy, for he too experienced police corruption firsthand.
"I need you to first assume that I would not surface 16 years later with lies about a situation that has me with PTSD to this very day," he wrote. "The pain forces me to speak as I have yet to shake the ill's of my experience as an LAPD Officer."
Mike Rothmiller, a former LAPD detective also came forward. Rothmiller is the co-author of L.A. Secret Police, which covered his experience in an illegal LAPD spy ring that focused on journalists, celebrities, business leaders and politicians. In an interview with LA Activist, he said Dorner's manifesto was "spot on."
But the voices of Bentley, Jones and Rothmiller, although arguably newsworthy, would not make it into the Times. Instead, the Times published an op-ed by Connie Rice in which she claimed that "today's LAPD is in the hands of new leaders who are slowly but surely ending the old subculture that Dorner describes."
Both Bentley and Rothmiller have stated they still maintain contacts with active-duty police officers in the LAPD and they both side with Dorner that nothing has changed in the department. It would have been interesting if Bentley, Jones or Rothmiller had been invited to write an op-ed for the Times, but, as good PR management dictated, damage control was needed. The LAPD's new brand was at stake and Rice offered her expertise — for free — to get the campaign back on its tracks. And so did Pat Morrison, who gave a soft interview with Chief Beck, and printed the results in an op-ed.
Besides ex-LAPD officers, there was another voice whom Angelenos did not get to hear. Just like in Westlake and in the eviction of Occupy LA, there was a silent counter narrative. It was the voice of inner-city youths, the poor, racial minorities and the homeless. They often have a different story to tell about police, and it doesn't always leave one feeling warm and fuzzy, especially in an era that has been termed by some as "the age of mass incarceration."
These Angelenos live in a world where they get stopped and searched, and with no apparent probable cause, are simply sent on their way in quiet humiliation. They know what it is like to be injured by police officers, falsely accused or just plain targeted for who they are. They know what it is like to lose loved ones who, though innocent and/or unarmed, were gunned down by cops just the same.
They also know what is it is like to be ignored by a society that chooses to believe a rosy image of their police officers rather than face reality, but for that we can thank publications like the Times.
Los Angeles never heard the full story of the Westlake uprising, the eviction of Occupy L.A. or the truth behind Dorner's manifesto. Because of this, the city's inhabitants were rendered impotent in what should have been a fight against injustices. They were lulled back into the myth of the LAPD by a well-organized and self-funded PR machine, the Los Angeles Times. Yeah, sometimes they publish police scandals and give officialdom indigestion, but like Pravda, the former Soviet state-run newspaper, they will never question the institution, nor listen to dissent.
In nearly every year since 2010, while the LAPD was losing a $100 million in public funds, the Times has conducted three major PR campaigns on behalf of the department. To get such service for free should not be passed up. It is for these reasons that Chief Beck should sack his own PR department and let the Times do what they do best — patching up and stitching together the department's image and keeping the population in the dark.
Dan Bluemel
L.A. Activist
Friday, 22 March 2013