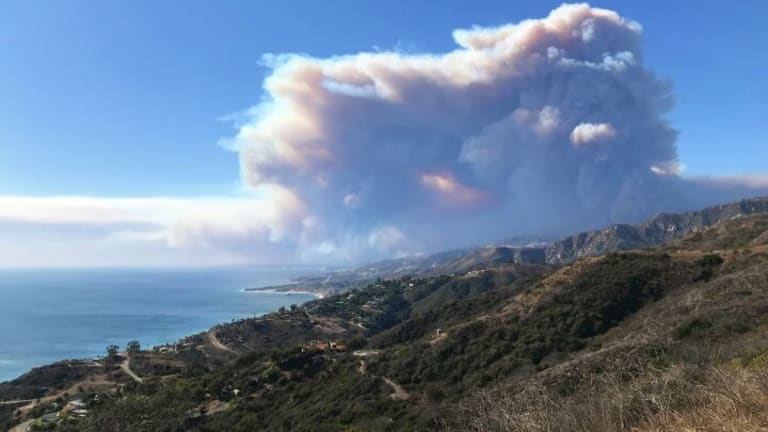 Reflections of a Malibu Evacuee
Ted Vaill: I spent most of the day deciding what to take: 44 years in the house, raised my kids there, have 30 or so photo albums of my trips around the world and life. Which ones to take and which to leave?
I woke on Friday morning, November 9, 2018 to find that there was a mandatory evacuation order for ALL Malibu residents, effective immediately. PCH soon was jammed, as all traffic had to go south to Santa Monica; no one was allowed to drive North on PCH. I decided to "shelter in place"—for now.
I soon put into effect the drill that I had implemented after the 1993 fire that destroyed 25% of the homes in my neighborhood, and over 400 homes in Malibu. We have not had a fire threatening our neighborhood in the 25 years since then, but our homeowners association had implemented hopefully effective brush clearance zones throughout the area.
I spent most of the day deciding what to take: 44 years in the house, raised my kids there, have 30 or so photo albums of my trips around the world and life. Which ones to take and which to leave?
I have developed lists of important items to take with me if I had to evacuate: a "short time" list and a "longer time" list. The first one was for situations where I would have to flee the house within minutes of getting the evacuation order, and the longer one for situations when the danger was not immediate. The latter was the situation at hand: I went to the top of the hill above my house and saw the fire, although looking ominous (see photo above), it was over six miles away.
The wind was blowing hard, to the north, which would carry the fire away from my neighborhood. I proceeded to collect items of value which were on my "longer time" list, and placed them in my Prius V wagon, which has a lot of room. I spent most of the day deciding what to take: 44 years in the house, raised my kids there, have 30 or so photo albums of my trips around the world and life. Which ones to take and which to leave?
Family pictures on the wall: which to take? The Vaill folding chair (my great grandfather invented the folding chair in the 1860s)? Yes, fit it in. A huge oil painting? No room. Silverware? Yes. Fine china? Yes. Fine wines? Maybe some of them. Books? Leave them. Family genealogy documents? Take them, absolutely. Medical and financial records? Take them. Bills to pay? Yes. Clothing? Take some. Food? Forget.
By 3 p.m., the fire had raged toward the sea, perhaps endangering numerous homes in the hills of Western Malibu. At 4 p.m., unsure whether to leave or stay, the power went off. Was it done intentionally by SoCal Edison to force us out, or did the fire cause the power failure? OK, I guess I will take some food, as a lot of it will be spoiled if left.
Shortly before the power went off, the Spectrum television reception quit, as did the internet. At 5 p.m., darkness descended, and there was no electricity, television reception or radio reception, except in my car and in a small AM radio I had. Stay or go?
In 1964, as a park ranger in the Tetons, I fought a forest fire for five days. I almost died twice: once, when a "widow maker", a deadfall tree, fell silently directly at me, and crashed to the ground two feet from me; and second, when a tree crowned directly above me, showering sparks and embers upon me as I was cutting down the tree with a chainsaw. And five days of constant battle against the fire told me: "This is what war is like; I never want to fight in one.": exhaustion, dirty all the time, and afraid for my life.
In 1993, I decided to stay until I actually saw flames. When I saw flames shoot up into a 200-foot angry snarl, my wife and I left, escaping to a friend's home in the Palisades. I did a film of the fire, our escape, our sanctuary with the friend (who also happened to be my insurance agent), and our return to Malibu to find the house across the street burned to the ground, but our house still standing. Before I left, I had shot footage of every room in the house, for insurance purposes at first, so that I could prove what we lost if our house burned to the ground. But I kept filming, and ultimately my footage was shown nationally on NBC's I Witness Video.
So I decided to leave, at about 6 p.m. I had heard horror stories of the traffic heading south toward Santa Monica, taking hours to crawl the 10 miles or so to the McClure tunnel. The authorities had prevented anyone leaving Malibu from driving north or doing anything other than driving through the McClure Tunnel onto the 10 Freeway. But by the time I left, the traffic had eased, and PCH was almost deserted. Two hours later, I reached the home of my girlfriend's parents in eastern Los Angeles County, where I remain to this moment, forbidden to return home, which I hope still exists.
One issue which has developed is the fact that everyone in Malibu was mandated to leave; most did; a few brave souls remained in the dark and without power and even batteries for their cell phones. However, at 11 p.m. that Friday night, I saw on Channel 5 that the 3500 students at Pepperdine University in the middle of Malibu had been told to "shelter in place" on the campus rather than join the exodus south out of Malibu. On the Channel 5 news, I saw flames encircling Pepperdine, with the power somehow still on (have they got their own power plant?) and many firemen preparing to protect the campus and its students from the fire.
Some students wanted to leave, but were prohibited from doing so by Pepperdine's administration. One student tried to leave in his car, but was blocked from doing so, so he escaped on foot and safely got out of Malibu before the fire reached the campus. Several television news outlets reported on this matter.
By the next morning (Saturday), it became clear that there was a tremendous loss of homes in Western Malibu, on Pt. Dume, and in Malibu West, and up Corral Canyon, as the Woolsey fire (as it was called) reached the ocean in several places. (I am certain that the loss of homes in Malibu will ultimately surpass 400, many worth millions of dollars.) And it was also becoming clear that the protection of Pepperdine drained firemen resources from the important job of protecting Malibu homes, as embers from the fire set them ablaze.
I also heard Supervisor Sheila Kuehl state that although the County of Los Angeles knew that Pepperdine had a "shelter in place" plan, no one from Pepperdine notified the County that they had implemented this plan until late Friday evening.
Pepperdine has had a somewhat contentious relationship with the City of Malibu. When the City was founded in the early 1990s, it was 22 miles long up the coast from Topanga Canyon Boulevard to Leo Carrillo Beach, and a mile inland from the ocean up into the Santa Monica Mountains. However, Pepperdine was able to get its property excluded from the City, taking a huge bite out of the City all the way to PCH, almost cutting the City in two in its middle. Why did Pepperdine do this? it had to be so they could manipulate the County, who retained control over Pepperdine's development plans, and get what they wanted.
And over the next 25 years, they completed massive expansions of the campus, something about which Malibu had no control. (I was on Malibu's Planning Commission for several years, and can attest to this.) Several endangered species of plants were plowed under as they expanded the campus up the hill. Tough luck, they said; the County said it was OK.
Pepperdine was the enemy within our midst, filled with upper middle class party animal students driving their BMWs, and run by Church of Christ fundamentalist Protestants out of step with the student body, except for one of Pepperdine's early Presidents, who killed two women in 1975 while driving drunk. And Kenneth Starr, fresh from impeaching President Bill Clinton and making his life unbearable, became the dean of Pepperdine's law school. (Many ardent Trump supporters are nested within the confines of Pepperdine, I am sure.)
By Sunday morning, Pepperdine's administration, recognizing the terrible error they had made by "sheltering in place" its students, released them and they poured forth from the campus in their BMWs down PCH to Santa Monica. Classes have been suspended until at least November 26, after Thanksgiving.
Property owners in Malibu who lost their homes are now questioning Pepperdine's decision to shelter in place its students and thereby draining firemen from their work protecting Malibu homes as the fire bore down on them on Friday night. Some people also charge that Pepperdine did this largely to protect their own campus property, at the expense of the destroyed homes of Malibu citizens.
More to come…
Ted Vaill