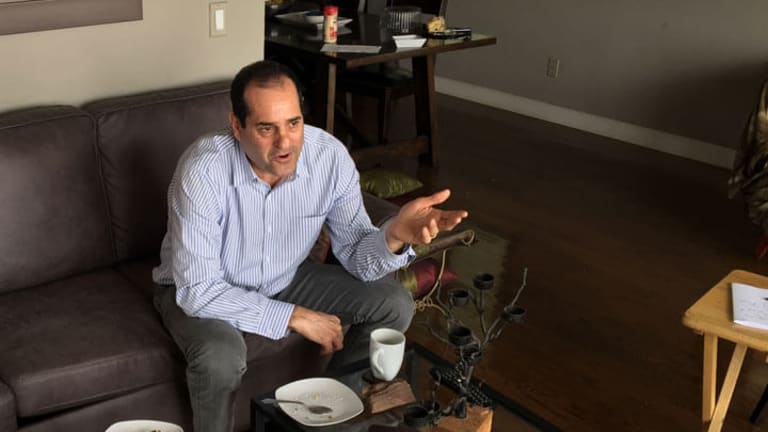 Why Mitch Runs
Dick Price: "We're at the precipice of determining what kind of city we want to have. Do we really want to be another San Francisco or New York, where only the very rich can afford to live?"
When you first meet Mitchell Schwartz—one of the dozen or more dark horses lining up to push Mayor Eric Garcetti out of office—you think, what a perfect candidate he is, and what a fine mayor he might make.
He's direct. He's friendly. He's unassuming. He looks you right in the eye and deals in facts. And he even stops to hear what you might have to say.
Sure, a lot of politicians are charming and engaging and can at least fake some interest in your opinions. But with Mitch, it seems that he's thinking through what he's saying, not simply repeating a canned pitch he's delivered in dozens of community forums and coffee klatches all across the city, "from the desert to the sea, to all of Southern California," as newscaster Jerry Dunphy used to say.
So he's got that going for him.
But then there's Eric Garcetti, running for his second term with every major Democrat from Barack Obama on down endorsing him, most newspapers starting with the LA Times in his corner, and a couple million dollars in his campaign war chest—ten times what his nearest challenger, Schwartz himself, has amassed. Plus, there's been no stench of the extramarital shenanigans that clouded at least a couple former mayors' administrations.
And Garcetti is direct and charming and deeply knowledgeable as well.
So why fight those very long odds?
"Los Angeles is in trouble," Schwartz answers. "And we can do better."
The biggest issue facing Los Angeles is the lack of affordable housing, according to Schwartz.
"We're at the precipice of determining what kind of city we want to have. Do we really want to be another San Francisco or New York, where only the very rich can afford to live?"
"We're at the precipice of determining what kind of city we want to have. Do we really want to be another San Francisco or New York, where only the very rich can afford to live?" Schwartz says.
"Los Angeles is being hollowed out. LAUSD has 100,000 fewer kids than it did just a few years ago," Mitch continues. "Families are being forced out to Riverside and San Bernardino because of skyrocketing rents and housing costs. The middle class is being squeezed out."
"Increasingly, you're either young or old in LA, rich or poor—but nowhere in between."
Garcetti, for all his popularity and backing, hasn't moved aggressively enough on housing issues, according to his challenger.
"My goal would be to build 350,000 new housing units over the next 10 years, and create 500,000 units over the next 15 years," Schwartz says. "That's compared to the 250,000 units Mayor Garcetti is targeting."
At 56, this first-time candidate is taking a year off from his successful public relations career to "repair the world," he says in citing a favorite Hebrew phrase — "tikkun olam"— or "repair of the world."
Schwartz remembers when big cities were home to all kinds of people.
"When I grew up in Rockaway, in Queens, my friends and I all thought we would move to Manhattan and get jobs there just as soon as we were old enough," Schwartz recalls.
"And that's what we did—the ones who were successful and the ones who weren't, too. Now? You couldn't dream of that," Schwartz says. "And a city needs all kinds of people to be great."
A long-term communications expert, About
" target="_blank">Schwartz ran Bill Clinton's New Hampshire primary campaign in 1992, which made Clinton the "Comeback Kid" and propelled him to victory at that year's Democratic Party convention. After working as communications director for Secretary Warren Christopher's State Department, he ran Barack Obama's California campaign in 2008, before founding his own public relations firm.
"The next mayor's term will be for five-and-a-half years, and I think I could get a lot done in improving LA's housing situation in that one term," Schwartz continues. "At 56, I'm not looking to move on to some other office."
That's a persistent knock on Eric Garcetti, that he's come into every office he's held with his bags already packed to move up the line. But Garcetti isn't the only politician accussed of focusing more on winning the next election than on serving his constituents. Proponents of public campaign finance argue that the high cost of running a political campaign make it almost impossible for politicians to do anything other than raise money and minimize risk if they plan on staying in the game. Former Congressional Representative Alan Grayson characterized his time in office as time spent "Dialing for Dollars". Often this starts the day after they win an election.
Mention possible successors to Senator Dianne Feinstein and Garcetti's name is high on the list. Governor Jerry Brown's successor and it's the same story. And whispers about Garcetti someday occupying the White House grow louder with each passing year.
"Which means he's cautious, risk-adverse," Schwartz says. "And improving housing in L.A. is going to be a battle, with developers especially, but also the City Council."
"That's why I'm not taking developer money for my campaign," Schwartz says. "Housing is incredibly corrupt, with pay-to-play, spot zoning, and nimbyism. We need to limit the amounts developers can contribute to candidates. And there needs to transparency."
Schwartz doesn't see Garcetti engaging those battles.
"Yes, he's popular. All the polls show that," says Schwartz. "But it's a thin popularity. You ask people what Garcetti has done as mayor and they can only think of a few things. His support is wide but weak."
In the crowded field for the March 8th mayoral election, Schwartz thinks he can finish second, forcing a runoff with Garcetti where he can get his ideas in front of the voters.
Schwartz raises questions about Garcetti's management as well.
"What was he thinking naming Matt Johnson, an entertainment lawyer, to head the Police Commission?" Mitch said. "That's just cronyism."
"Frankly, Los Angeles needs more police," Schwartz said, addressing L.A.'s continuing policing problems. "Right now, we're playing whackamole with public safety, taking police from one hot spot to another without really addressing the underlying problems."
"What we need are more officers who look like and come from the communities they police," Mitch says. "The LAPD under Chief Beck has done some good things, but there needs to be more emphasis on deescalating confrontations."
Schwartz would also try to move more quickly of connecting the city and going green.
"Los Angeles deserves free broadband. New York, San Francisco, but even Chattanooga, have free wifi. Why can't we?" Schwartz asks. "And we need to go green. I'd work to make Los Angeles 100% green by 2025."
Does that add up to a winning hand for Mitch Schwartz? In an ordinary year, maybe not. But with Donald John Trump grabbing pussy in the White House, this is anything but an ordinary year. A wild card like Schwartz might just strike a chord with a disaffected and deeply distressed electorate.
Dick Price