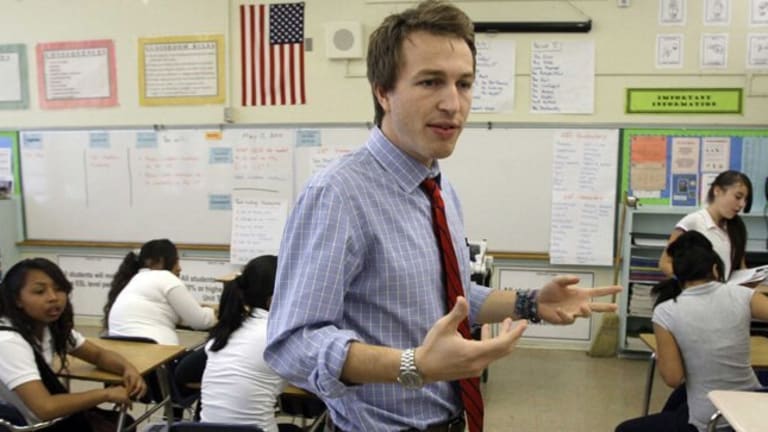 LAUSD's Coming District 4 Battle Royale
Get ready America.
Set the date in Spring, 2017.
Los Angeles will be hosting the biggest, most expensive school board election our country has ever seen.
Buy your tickets now.
Nick Melvoin is running for LAUSD' President Steve Zimmer's seat on the largest democratically elected school board in the country.
No expense is going to be spared in this Education Battle Royale.
At only 30 years old, Nick Melvoin has made an impressive name for himself. It's important to know his biography which definitely influences his political orientation on education. Nick comes from a very well-to-do Hollywood industry family and spent his youth in LA's elite private schools. He left for Harvard and later received his Masters in Education at Loyola Marymount University (the incubator for LA's Reform movement with former Broadie and LA Superintendent John Deasy and School Board representative Ref Rodriguez as star alumni).
Melvoin taught at LA's Edwin Markum Middle School after receiving his five-week teacher training from TFA. He credits his TFA experience important "to make young, promising people aware of the issues of education, so that when they 'graduate' from Teach for America and become important leaders in society, they will effect long term change in the education system."
Like many TFA'ers in the country's education system, Melvoin is set on making his mark as well.
Melvoin was the director of policy, communications and associate counsel for Eli Broad's bankrolled charter take-over Great Public Schools Los Angeles and is currently a consultant to the Charter and Reform advocates Educators4Excellence and Teach Plus.
Melvoin worked on the ACLU's Reed v. California lawsuit, which challenged LA Unified's seniority-based teacher layoff policies, by helping recruit former students and co-workers from Markham to join the lawsuit. He also testified in the Vergara v. California lawsuit where a group of students successfully argued that the state's teacher employment laws are unconstitutional.
Zimmer recognizes what he is up against and has recently forcefully challenged many of the corporate efforts that drive the politics of LA
When Eli Broad's plan to charter-ize LAUSD was made public last fall, Melvoin penned an article for Campbell Brown's The Seventy Four with this chilling challenge "If I were a shareholder of LAUSD — and as a taxpayer, I guess we all are — I might welcome a hostile takeover. In fact, a hostile takeover might be precisely what our district needs."
Admittedly, his oppenent, Steve Zimmer is not the most perfect candidate to contrast against Melvoin. When targeted by Reformers in his last re-election bid three years ago, Zimmer won with the huge support of Progressives and the United Teachers of LA. However, as the Reformers were literally storming LAUSD with both their people and their pedagogies, Zimmer was too often silent under Supt. John Deasy. Worse, Zimmer offered support for many of Deasy's awful initiatives and priorities. When educators wanted strong leadership tp decry what was happening in LA's schools by the rich and powerful, Zimmer gave comfort to the very enemies who today have set him in his sights.
His timidity bought him nothing.
Zimmer now realizes what is coming down the pike and he's changed. He recognizes what he is up against and has recently forcefully challenged many of the corporate efforts that drive the politics of LA. As President, Zimmer is trying to advance progressive education values.
Zimmer's District 4 race will be the most publicized race in the nation. Here we have the Reform candidate announcing his candidacy over a year before the election as if he were running for U.S. President. We all know how great the nationwide stakes are in these "piddly" school board battles and this race is the humdinger.
Here is where I have to groan in misery.
We are now looking at a year of tsunami fundraising the likes America has never seen for a school board race. Most of the money on Melvoin's behalf will come through the dark money contributions that have fueled all Reform races nationwide and Los Angeles in particular. The Who's Who of contributors is well known to all of us who know these billionaires as pop stars. Every charter group, hedge fund and corporate entity will pour massive resources into this race for Melvoin.
Despite his youth, the nexus of Melvoin's biography between Hollywood, TFA, LMU, Campbell Brown, Jamie Alter Lynton and the support of the Reform Army catapults him into the Big League. Melvoin is a perfect Central Casting school board candidate to "speak" to LA's more affluent, white and politically engaged West Side. The Reformers know what a great "fit" he is going to be.
LA's UTLA will pour tremendous money and manpower into the campaign to back Zimmer, but it certainly won't be enough to compete with what Zimmer will find himself up against.
If indeed Zimmer decides he is the one to take on the fight, it will be ferocious because it is going to be the clearest case of Democrat Vs. Democrat we have seen in a school board election.
Nick Melvoin uses the usual Ed Reform "Civil Rights" language to champion his advocacy. His "Progressive Education" policies are radically at odds with mine and other public school advocates' notion. Although he talks about the poor and disenfranchised, his wealthy backers are the same pedigree as those who give to the late Jeb Bush, Scott Walker, Bobby Jindal campaigns and still support those of John Kasich and Marco Rubio's. These moneymen completely understand both Donald Trump's AND Eli Broad's use of money to buy the public policy they want. In LA, he will sell himself as a liberal and I'm sure he believes it.
So here's an opportunity.
This should be the race where the Democrats argue out what Progressive Education truly is and should be. This is the fight that has been a long time coming between the Neo-liberal Democrats and the Social Justice Democrats. It is going to be an argument that will challenge notions of race and class and privilege and how each side defines and views it. Michelle Rhee/Arne Duncan/Eli Broad Democrats have strenuously acted on their belief of what this entails--wrong on so many counts.
I love to finally have that debate in public.
Our side has got to be ready, motivated, articulate and smart. The potential pitfalls are numerous. It is very tricky navigating and we have to articulate forcefully why Melvoin's notion of education is wrong for the MAJORITY of kids, educators and communities of LA.
The question isn't if Steve Zimmer is up to the challenge.
It's if we are.
Joshua Leibner
Joshua Leibner is a National Board Certified Teacher and twenty-year veteran of LAUSD's Carson High School.