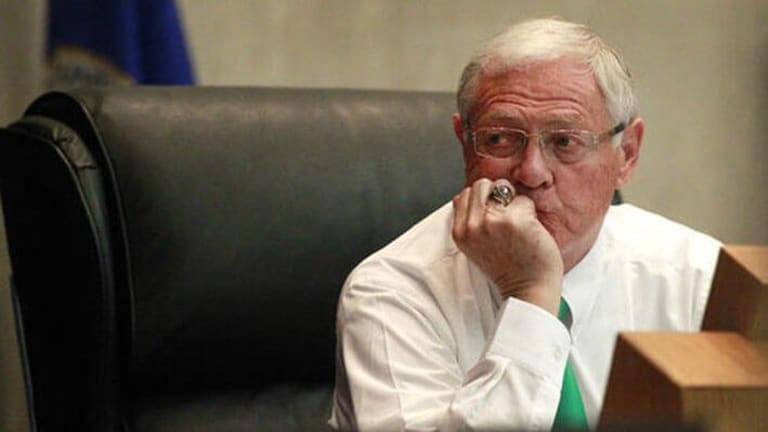 Michael Antonovich Dragging Racist Legacy to State Senate Race
Anthony Weiss and Juan Blanco: Lancaster's Michael D. Antonovich Courthouse and the county supervisor for whom it is named represent not justice, but institutional racism of the worst kind.
GOP Label Carries Price Tag of Crime Policies
Republican candidates for the presidency wrestled over the soul of their party last month in the Reagan Library, a temple to their patron saint. But another temple to Republicanism in action sits just over an hour north and east, at the Michael D. Antonovich Courthouse in the Antelope Valley city of Lancaster.
On the surface, the courthouse is an attractive, modern building. But its skin belies its significance for many black and Latino residents of the Antelope Valley. This courthouse and the county supervisor for whom it is named represent not justice, but institutional racism of the worst kind.
For the last 30 years, Antonovich has presided as LA County Supervisor for the Antelope Valley as well as parts south, making him one of the most powerful Republican officials in Southern California. During that time, the Antelope Valley has evolved, as this once largely white working-class exurb of Los Angeles became home to thousands of blacks and Latinos looking to flee the high housing prices that prevail closer to the county's urban core.
Far from a model of diversity, the Antelope Valley has become a poster child for entrenched institutional racism.
But far from a model of diversity, the Antelope Valley has become a poster child for entrenched institutional racism. This summer, Los Angeles County has been a party to two settlements with the US Department of Justice over abuses in housing and the sheriff's department, with penalties totaling more than $2 million.
The lawsuits that spurred these settlements paint a hellish portrait of life in the Antelope Valley for families of color. Sheriff's deputies and officials from the county Housing Authority staged raids at all hours of the day and night on families living in Section 8 housing, purportedly to look for evidence of housing violations. These representatives of the county burst into apartments without warning or search warrants and, backed by force of arms, rampaged through apartments rifling papers and overturning furniture.
Meanwhile, black and Latino drivers were disproportionately stopped and searched by the Sheriff's department. Those who were arrested as part of these discriminatory sweeps then entered a jail system where prisoners were regularly beaten, where those with mental illness were alternately ignored and abused, and where suicide rates were sky-high.
The message could not be clearer to blacks and Latinos in the Antelope Valley: You are not welcome here. What's more, in light of the continued reign of officials like Antonovich and Lancaster's Republican mayor R. Rex Parris, who continue to represent the shrinking constituency of white conservatives, this pattern of harassment and displacement takes on a more sinister and political message: These black and Latino barbarians at the gate of political power will be kept at bay. Small wonder that some local activists refer to the Antonovich Courthouse as "a slave ship on dry land."
And what has Antonovich's reaction to all of this been? When the federal investigations began in 2011, Antonovich decried them as "grandstanding" and "overkill." When the federal settlements were announced, Antonovich voted in favor of the county paying out millions of dollars in penalties—effectively admitting the county's guilt—but voted against the package of remedial measures that would put an end to these racist practices.
Most recently, and comically, Antonovich accused the American Civil Liberties Union of not doing enough to prevent violence in the famously brutal and dysfunctional LA County jail system. This was a particularly odd salvo, given that it is Antonovich whose job as a county supervisor gives him and his colleagues, along with the Sheriff's Department, the responsibility for overseeing the jail system, and it is the ACLU that has successfully sued the county for its obscene failures in that duty.
The 2016 elections present the opportunity for voters to render their own judgment on this shameful pattern. Antonovich will be termed out of the Board of Supervisors, which means his seat will be open, and already a competitive field of candidates—mostly Republican—is shaping up to succeed him. Voters ought to ask them what they intend to do to put an end to the long pattern of harassment and repression in the Antelope Valley.
Antonovich, meanwhile, has announced that he will run for the state senate in District 25. This district includes many of the southern parts of his old supervisor seat, such as Glendale and Pasadena, but not the Antelope Valley. Still, he will carry with him the racist legacy of what he has overseen for the last 30 years, and voters ought to hold him accountable for it.

Anthony Weiss and Juan Blanco