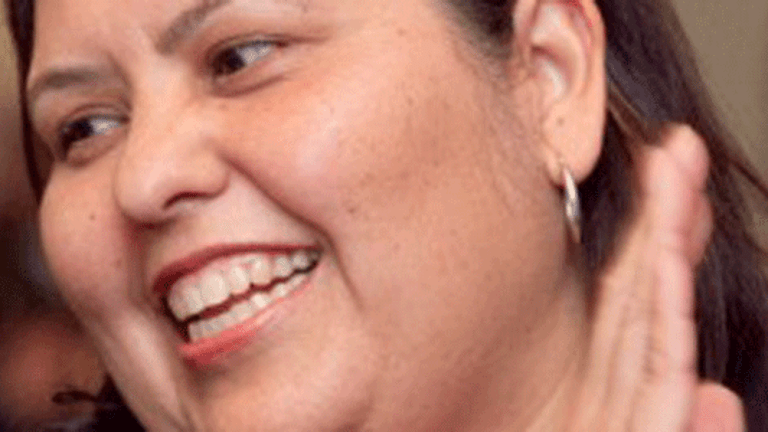 Monica Garcia's Fall from Grace
Joseph F. Mailander: The fact of a sizable potential parental voting enfranchisement in a city of largely politically disenfranchised or disinterested citizens has remade outgoing LAUSD President Garcia into a burnt-out shooting star, hitched to the hopes of the most strident (and mostly Anglo) charter reformers.
Of the 662,140 little darlings who populate outgoing Board President Monica Garcia's schools in the leviathan Los Angeles Unified School District on any given day, only a small handful--those few over 18 in their senior years of high school--are able to vote their own destinies for school board candidates or candidates for any other kind of LA race.
But nearly all their resident parents are.
And there is the rub; this is why schools and especially school board politics often figure so prominently in Mayoral races, even if the Mayor of Los Angeles has no direct jurisdiction over the District's 1,124 schools. And this fact--the fact of a sizable potential parental voting enfranchisement in a city of largely politically disenfranchised or disinterested citizens--has remade outgoing President Garcia into a burnt-out shooting star, hitched to the directives of billionaires and the hopes of the most strident (and mostly Anglo) charter reformers, who'd like to make off with as much LAUSD chattel as possible.
The outgoing Garcia--a one-time progressive, and even a recognizable Chicana progressive at that--astonished District watchers recently by openly backing Dick Riordan's candidate Wendy Greuel over the teachers-backed Eric Garcetti in the Mayor's race. No, she went the extra mile this past week, proving to all she really meant it, playing Greuel's willful co-conspirator in a political stunt the Greuel team engineered to try to embarrass the UTLA-backed Garcetti.
Garcia, it turns out, allowed herself to be named "moderator" of a debate to which Garcetti wasn't even invited until two hours prior to Greuel's self-appointed debate-time. The stunt backfired enormously on Greuel, whose team seems to be more than flailing lately. But Garcia remained nonplussed, even if her actions offended the teacher's union to a degree it hadn't been offended before.
Garcia has become a political oddity over the years, increasingly distanced from nearly everybody.
She cut her teeth on District politics while serving as Jose Huizar's administrator and later chief of staff to his City Council campaign. The two were both favored by--and much beholden to--Mayor Villaraigosa's erstwhile Eastside Latino Machine, which drew supplemental energy from former Mayor Riordan, after Riordan became disenchanted with his successor James Hahn's hands-off approach to schools.
Riordan of course extracted from the machine his Faustian bargain: the pair of progressive liberals, along with the new Mayor, all of whom one would ordinarily think were strong union types, had to swallow Riordan's and billionaire Eli Broad's hopes for undermining the strength of the teacher's union and chartering more public/private hybrid charter schools in the District--placing the District up for grabs.
When Huizar was elected to City Council in 2005, Garcia, a Chicano Studies and Poli Sci major at Berkeley, dusted off the Latina-distinguishing diacritical marks to her name and became Mónica García for the school board ballot of June 2006. She wasn't much of a political force on her own, but a direct mail piece featuring a single photo op with several key Latino politicians, Villaraigosa among them, was enough to install her as Huizar's ultimate school board replacement.
But after Villaraigosa's time of troubles, while other Latino politicians in the city garnered more courage to stand up to the Mayor's machinations, Huizar and Garcia remained loyalists to his suddenly sputtering machine.
They may have remained hitched to the wrong post too long. The city and the state have indeed become a lot less identity-politics oriented even in this short time. Even while there are record numbers of Latinos on California college campuses, interest in Chicano Studies is declining among them.
And raw Latino citizenship numbers in the City of LA have also slowed their climb, as many of the very disenfranchised Latino citizens that politicians such as the Mayor, Huizar, Garcia, and dozens of others originally pledge to serve have, as the Mayor's city became both pricier and less middle-class, driven-'til-they-qualified out of LA and into the Inland Empire and other points east, reducing the size of the most identity-driven element of the Latino voter base here.
As for the 82-year-old Riordan, as Garcia leaves her school board post, he continues to meddle with the District as best he can, now solidly backing candidate Greuel, and perhaps Greuel's most dependable education policy force. But the days of Riordan's influence too have similarly declined, as the most credible recent polling results for the Mayor's race have her behind Garcetti by far more points than she trailed Garcetti in the primary.
"Eric helped them get a soccer field. Admirable. He is anti-parent trigger and UTLA endorsed," a bitter Jim Dantona Jr., candidate Greuel's Simi Valley-based policy director, tweeted to his friends after this past week's faux-debate debacle.
Parent Trigger is but one way corporate or even community interests might turn a public school into a charter--Garcetti has engaged the idea cautiously, hoping to see more examples of successes. But here, Team Greuel was caught at its most embarrassing moment, surprised to learn that the very school at which they issued their spurious challenge, a charter school itself, had been supplied with a soccer field largely through Garcetti's previous efforts.
"Wendy, why would you start caring now?" a frustrated Lydia Grant, a staunch activist on behalf of Parent Trigger, asked her one-time Councilmember Greuel on Facebook, after Greuel took the Riordan-Garcia bait and announced her new foray into reforming education. "I have asked your staff repeatedly for years for help on school issues ever since you became my Councilmember. I have never felt supported by you nor have I had your support for anything I have accomplished at the State or City level. I am sad you are using it as a political football now. I was always told it was 'out of your jurisdiction.' That doesn't change when you become Mayor. What you are doing is disrespectful to those of us that are really out there trying to make a difference and trying to improve the education system for our children."
Grant worked hard for third place finisher Kevin James, who once was backed by Riordan himself but who now backs Garcetti over Greuel, even though Garcetti's embrace of Parent Trigger has been a cautious one.
But the truth also is that the LAUSD that Riordan and Villaraigosa tinkered with is much smaller today than it was when Villaraigosa first became Mayor--and therefore parental voting impact has diminished as well.
The District's enrollment peaked at 747,000 just before Villaraigosa took office and has shrunk by over 15% since. Many of the new parents involved with the District now blame politicians more than teachers for the District's ongoing problems.
Greuel is one of those, and Garcia, now hitched resolutely to Greuel's star, may yet find she has yet to fall even further from the red hot center of progressive politics that the City of Los Angeles has become.
Joseph Mailander
CityWatch
Republished from CityWatch with permission.
Friday, 12 April 2013