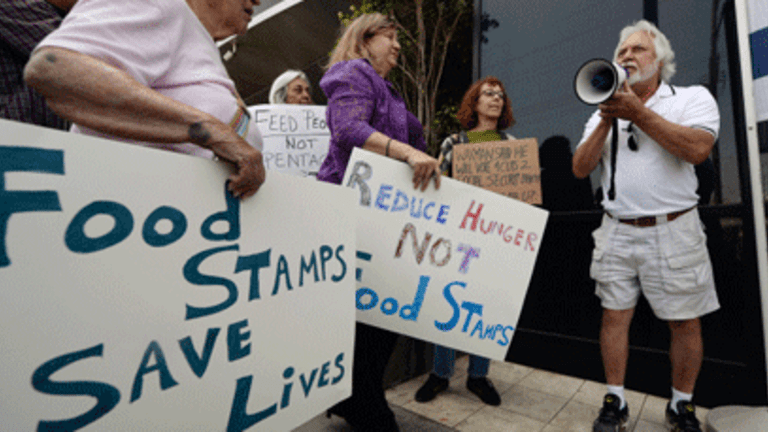 Constituents Tell Waxman: No Cuts to Food Stamps
Lauren Steiner: So while America is supposedly coming out of the recession, many Americans are not experiencing any relief. 50 million Americans live in food insecure homes, including 17 million children.
Access to healthy food is a right that should be accorded to all Americans, not just those with the means to shop at farmers markets and Whole Foods. That is why I organized Occupy Fights Hunger last spring after our protest of Obama's $35,800 a plate fundraiser in Beverly Hills. We figured the amount one person paid for dinner with the President could have fed 17,500 people at a food bank.. It was our goal to raise money for the Market Match program of Hunger Action LA. This program matches up to $5 what food stamps will purchase at a farmers market. And yes, most LA farmers markets accept food stamps, which are actually not stamps anymore but an EBT (Electronic Benefits Transfer) card.
In short order, I found out that in LA County, only 42% of those entitled to receive benefits were actually enrolled in the Supplemental Nutrition Assistance Program or SNAP. Some people are not aware of its existence. Some find it too cumbersome to enroll. Still others erroneously believe signing up will affect their immigration status. And some, mostly older people, actually feel shame at having to ask for help. So our campaign expanded to become EBT outreach and enrollment events which we conducted at two farmers markets and in a Ralph's parking lot. We signed up about 80 people at the three events. The program did not continue, because most Occupiers viewed it as a "liberal reformist" program, preferring instead to work on guerrilla gardening and Food Not Bombs. I support those too. However, it was my contention that if bankers are taking advantage of government assistance, then certainly the people who really need it to survive should as well.
So a year later, it appears that the situation has grown more dire. In March, a record 23.12 million households -- one in every five households -- received food stamp benefits. At 47.3 million, the total number of persons was only 65,000 below the record set in December of 2008. So while America is supposedly coming out of the recession, many Americans are not experiencing any relief. 50 million Americans live in food insecure homes, including 17 million children. To add insult to injury, as part of the re-authorization of the nation's Farm Bill, which occurs every five years, the GOP led Congress proposed cutting a whopping $20.5 billion from the food stamps program over the next ten years. That would immediately remove 2 million people from the rolls. While the Senate has already voted to cut the program by a mere $4 billion, the Congress was to vote this week. So food policy and hunger activists organized to try to eliminate or ameliorate these draconian cuts.
They argue that SNAP is not only the most effective anti-poverty program today, but that it acts also as an economic multiplier. For every five dollars that are spent, nine dollars are returned to the economy. If anything, the program should be increased. Jim McGovern, Democrat from Massachusetts, issued a SNAP challenge. He and 27 other Congress members have been trying to live on a typical SNAP budget of $31.50 a week. Every Congress member, most of whom are now millionaires living lifestyles far removed from the 99% of the people they represent, should be required to try to live on this budget and see how they fare.
On Monday, I had the opportunity to participate in and document a lobby visit by about 20 LA residents to tell Congressman Henry Waxman (D-CA 33rd District) to vote no on the 2013 Farm Bill. The event was organized by Susie Shannon, Executive Director of Poverty Matters, and coordinated with Progressive Democrats of America, whose members were targeting several key Democrats across the country. Also present were representatives from the California Food Policy Advocates, AFSCME and Hunger Action LA.
Watch as activists riled up the crowd outside Waxman's office near the Beverly Center. Then come inside to see what a real citizens lobby visit looks like. Hear three Angelinos who depend upon government assistance for basic subsistence share their personal stories. Finally, see how effective we were. I won't spoil the ending.
To his credit, President Obama has said that he will veto any Farm Bill that has cuts to the Food Stamp program. So it is important to make sure he can get at least the number of votes necessary to prevent a veto override. Debate on the Farm Bill amendments start this week. It is up to you to make sure legislators hear from ordinary Americans and not just paid lobbyists for corporate interests. See if you can set up a lobby visit like this one with your Congress member. If not, at the very least, please contact your representative to confirm that he or she plans to vote against the Farm Bill. No child in the wealthiest country in the world should go to bed hungry. Find your Representative at : www.house.gov
For more information, contact Frank Tamborello at Hunger Action LA at frank@hungeractionla.org
Lauren Steiner
Thursday, 20 June 2013