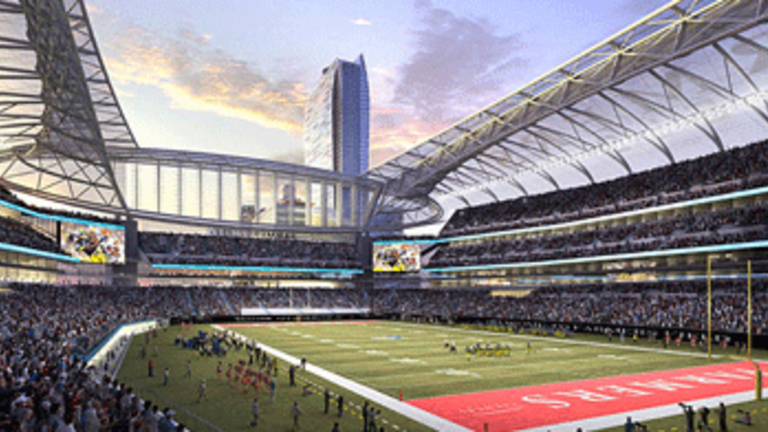 LA Football Stadium a Bad Idea
Elizabeth Knipe: Who can afford a $100 to $200 ticket to a pro football game? Who wants to pay that freight, when we can stay home and watch it on the big screen, and save the environment
Valley Democrats United devoted the entire November program to the pros and cons of building a professional football stadium in downtown Los Angeles. We invited elected Democrats who voted for this project to speak for the issue. None came.
Brad Parker, our president, and I researched the issue, and of course we did not find much to like about the project. In other words, this project does nothing really to enhance the quality of life in Los Angeles and the surrounding areas.
Valley Democrats United believes that the City Council and Mayor should be devoting themselves to such vital issues as taking care of the homeless population, repairing our roads, restoring fire and police services when possible. In other words, a pro football stadium is not really an important priority for the city. Hence, Liz Knipe's Ten Reasons and More on why a new professional football stadium should not be built in downtown Los Angeles.
1. There is no commitment from the National Football League to send a team to Los Angeles. In other words, WE HAVE NO TEAM yet. As of Friday, December 20, according to the San Fernando Valley Daily News, Commissioner of the National Football League, Roger Goodell, called Los Angeles a very "viable market" but, he said, bringing a team to Los Angeles - which Anschutz Entertainment Group (AEG) had initially hoped for in 2010 - isn't likely. My guess he is looking for the highest bidder. AEG vs. Ed Rosti?
2. We need to look at AEG's books to see if they are financially solvent, and can back up their financial commitments. I have not read anywhere, heard any council member say that the city will, or has done that. Will Wendy Gruel please step up to the plate on this? This stadium is supposed to cost in the neighborhood of $1.4 billion. So far, AEG has signed a $700 million deal with Farmers Insurance for naming the proposed stadium "Farmers Field." (I can hear the puns and jokes now).
3. AEG has persuaded City Council to approve a memorandum of understanding for the project and to issue nearly $300 million in tax-exempt bonds to relocate and rebuild the West Hall of the Convention Center, in order to make room for the proposed new 75,000-seat stadium. There is a big gap here isn't there?
4. At present, the city receives no income from new hotels in the LIVE L.A. area, as they have been exempted from the room tax. Will future hotels also be exempt from a room tax? And why should they be?
5. AEG will own the parking lots surrounding the stadium. At least in other cities the municipality owns parking lots surrounding stadiums to add to the tax base for the city.
6. Nowhere have I seen any mention of a sales tax on the game tickets. Most cities who host pro football teams slap a hefty tax on tickets. Is the City Council going to waive that tax too?
7. The city will lose badly needed income from the Convention Center in the interim because it will be removed to make room for the new stadium and a renovated West Hall of the Los Angeles Convention Center. Granted, the Convention Center needs some upgrades, but like anything else, why do we have to destroy a sure moneymaker to make way for a stadium, which is not one? Just check with cities like San Diego.
6. Job creation is a sometime thing. Football season is barely a 6-month phenomenon. Jobs created when the stadium is finished and a football team is in place, are at best minimum wage jobs for a few months of the year. Do not forget the football team plays only 9 games (maybe 10) a year at home. Even the folks in the Pico-Union area got that...they told the AEG representative, when AEG held a session with some of the community leaders, they said they were very wary of the promise of jobs, which were seasonal and low-paying. The community leaders also expressed their unhappiness with the traffic, and all the inconveniences that go with heavy construction that were really not going to benefit their community
7. What is AEG going to do after football season that is at best 6 months out of the year? You only get the Super Bowl every so often. The stadium is empty except for sporadic rentals The City of San Diego loses $17 million a year because it cannot rent out QUALCOMM's Stadium year round. Because they are an entertainment conglomerate, maybe AEG could get Ringling Brothers or Barnum & Baileys to make the stadium a semi-permanent home. That might be very appropriate given that this whole thing has become a three-ring circus.
8. Multi-millionaire Ed Rosti is ready to build a stadium in the City of Industry, entirely financed by him. He, too, is being kept at arms length by the National Football League. I say, let him have it.
9. As of right now, sports fan that I am, I like the choice I have on the Tee Vee of the various football teams playing on any given Sunday, Monday or Thursday during football season. I will not have that choice if we are forced to have a local NFL team. A factoid: Over a period of years, the City of San Diego bought up unsold tickets to Charger games so that the game could be televised.
10. I hate it when our City Council look like they have caved into this idea that we need in Los Angeles another stadium and a pro football team. Even the Governor and the State Legislature bought into the idea. Don't these folks ever look under the covers, or see what has happened in other cities and towns? May I strongly recommend they Google a publication titled "The Journal of Sports Economics" a publication of this Sports Economist group who study the economic impact of sports stadiums on local economies.
AND Reasons 11, 12, 13 and 14 for NOT voting for a $300 million bond issue which in essence gives AEG carte blanche to tear down the West End of our Convention Hall, to make room for their stadium.
11. Los Angeles is the homeless capital of the United States. We have more homeless veterans than any other city in the Nation and many active groups in the city working hard to end this sad situation. We really need an honest and sustained commitment from the city to help these groups accomplish their goals of feeding and housing an ever growing population of homeless people and families.
12. We have miles of road that need fixing. We have infrastructures that needs repair. Moreover, our city council is considering dumping the upkeep and responsibility of tree maintenance on hapless homeowners owners without giving them any control over the property.
13. Our fire department and ER services have been curtailed, and the city can't seem to get a grip on runaway departments like Housing, and Coliseum commissioners. BUT, OH YES, WE NEED A STADIUM FOR A PROFESSIONAL FOOTBALL TEAM.
14. Priorities are seriously out of whack at City Hall. Who can afford a $100 to $200 ticket to a pro football game? Who wants to pay that freight, when we can stay home and watch it on the big screen, and save the environment by NOT driving downtown to a football game, pay outrageous parking fees, and buy overpriced food from the concession stands who have had to pay a fortune to AEG to do business in the new stadium. The money we would spend on one afternoon at the game would be better spent in local restaurants, theaters, or the movies
I would like our City Council to give this entire matter very serious consideration, and contract for an in-depth study as to the actual pros and cons that a 75,000 seat football stadium will bring to Los Angeles.
There is a group of very capable sports economists, headed by Dr, Brad Humphries who has testified before Congress on the financing and economic impact of professional sports facilities on local municipalities, who will do an honest job of studying the pros and cons of a professional sports stadium in Los Angeles. I recommend that the City contact this group and ask them to do a study. Money is tight and very careful consideration should be given to this bond issue.
In the meantime - GO PACKERS....
Elizabeth Knipe
Valley Dems United