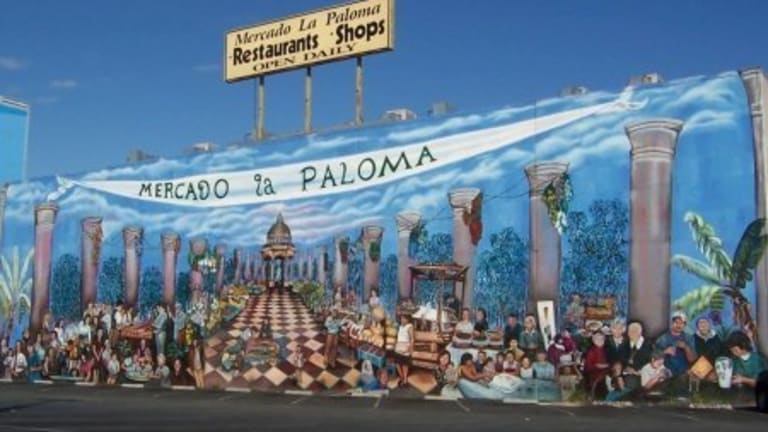 Rethinking 27 Years of Organizing in South LA
Adolfo Alzuphar: Community organizing as it is understood today in Los Angeles mushroomed out of the popular perception of what we know as the 1992 LA Riots/Rebellion.
Dreams of dignity from democracy in South LA have once again faded. Evictions and a lack of governmental services combined with a lack of agency in comparison to the rest of the city are day to day realities. No solution seems to be in sight. There's a common enemy: central power, understand as a reflection of white supremacy with some soft acceptable aspects. Here, spontaneity and affordability, both institutionalized along with strong anti-racism could be the foundations of real change. Instead, community co-exists with government grounded in a survivalist liberalism that leaves many apathetic, vowing neither to rule nor to be ruled, as anarchy.
This anarchy can create the trouble that can be the foundations of new democracy in LA. It's 10:41 in the morning and Mercado La Paloma is teeming with purchasers, South Central regenerated as it is being gentrified. SAJE, a well-known community organization, is meeting at a table to my right me as I drink a vampiro, fresh pressed juice made of beet, orange, carrot, and celery from Cafe Oaxa. Caetano Veloso, a live version, is playing on the speakers. Then reality sets in: two police officers walk by, as they always fill the Mercado with their insensitive nonchalance, not one of them having been prosecuted for murder. Here, so close to USC, the biopolitics that trample community is all around.
Community organizing as it is understood today in Los Angeles mushroomed out of the popular perception of what we know as the 1992 LA Riots/Rebellion.
Mercado La Paloma was a new beginning. Community organizing as it is understood today in Los Angeles mushroomed out of the popular perception of what we know as the 1992 LA Riots/Rebellion. As David Graeber asks in an essay, "Why should worker bees kill themselves to protect their hive? If to advance a scientific explanation of any behavior means to attribute rational, maximizing motives, then what, precisely, was a kamikaze bee trying to maximize?"
From "why" came the organizing that led to Mercado La Paloma, Esperanza Community Housing's indoor agora in both the commercial and political sense, as one the biggest successes in LA cultural life in the last 30 years. The LA it came to impose itself in was buzzing with positive political initiative, and with this politics meaning and direction that was not only corporatist.
Despair has not set in, though intergenerational poverty has. The political community that is newly South LA (South Central +) is where the Black Lives Matter movement erupted before making its way to the streets of Ferguson, Missouri. Emily Apter writes beautifully about the impolitic, or the not political that is rhetorically abrasive, brash, often truthful about the everyday. The political community that is South LA works with this, openly chiding at moral rot and the fact that government cannot be trusted, but privately coexisting with government.
Los Angeles is a commercial city that serves a purpose, and that purpose is today mostly real estate capital accumulation. Thus, the same goes for South LA and its massive number of evictions (near USC has 60,000 in the last five years, an organizer with SEIU 721 has told me).
Where to go from here? Perhaps toward meaning again, collective life for the citizens of South LA/South Central. A jobs crisis has brought the area to its knees along with a lack of social infrastructure to pursue its hopes and dreams. For this to happen the police state in LA must be replaced with a state that cultivates community.
There's good news. It's not just Mercado La Paloma. In South LA a strong new-civics movement has developed, from the participation of community members in initiatives, campaigns, etc. This movement grounds itself in social justice movement ethics as both new civility and new civics. This new-civility movement is especially appealing despite the contradictions of gang and other outlaw civics that have often typified Los Angeles through bands like NWA, the destruction from the 1992 riots/rebellion.
This new-civility, mostly based in communities where residents are predominantly brown and black, is informing culture and language, and is slowly building the social movement (defined here as how Alain Touraine defines it, or a movement that vehicles an alternative society) that will change LA. This new civility, Mercado La Paloma for example, is beautiful.
Adolfo Alzuphar