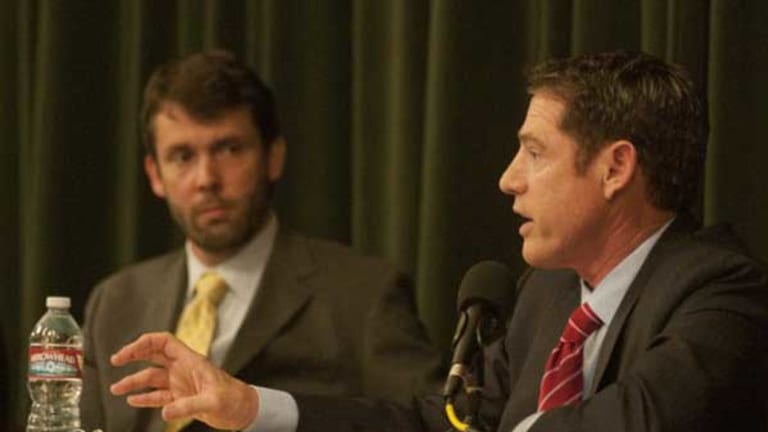 Civilian Oversight for Pasadena's Police Department?
Dick Price: The evening turned on the question of who trusts the Pasadena Police Department, who doesn't, and why not.
Pasadena Police Oversight
Responding to several well-publicized police officer-involved shootings in recent years, Pasadena activists groups kept the pot boiling on possible civilian oversight for the city's police department at a recent debate held at Pasadena's wood-paneled main library meeting room. The evening turned on the question of who trusts the Pasadena Police Department, who doesn't, and why.
Organized by Pasadena ACT, the political action group, and cosponsored by NAACP Pasadena, the Pasadena-Foothills chapter of the ACLU Southern California, All Saints Church, and the Pasadena Foothill Democratic Club, the September 23rd discussion featured long-time Pasadena City Councilmember Steve Madison facing off against ACLU Senior Staff Attorney Peter Bibring, with former California State Assemblymember and State Senate candidate Anthony Portantino keeping most body blows above the belt.
Pasadena's officer-involved shootings of Leroy Barnes Jr. in 2009, Kendrec McDade in 2012, and Paris Holloway in 2013 -- all African American men, often in questionable circumstances -- have drawn lawsuits and public outcry, adding weight to arguments for greater civilian oversight.
Bibring made the case that such civilian oversight is rapidly becoming the norm.
"Pasadena, like many small cities, has part-time city council members," Bibring said. "The public safety committee doesn't meet often, and police is only part of its responsibilities – with fire and public health as well as other issues. So for those public safety committee members to dig into problems with the Police Department with the limited time they have is really an impossibility."
Bibring pointed as well to the progress the Los Angeles Police Department has made with civilian oversight and the ongoing efforts to improve oversight of the Los Angeles Sheriff's Department.
Madison, a former federal prosecutor and 14-year councilmember who represents the moneyed west side of mostly affluent Pasadena, argued that additional civilian oversight is not warranted for such a small police department that already receives adequate oversight from the Council's four-member Public Safety Committee.
"Given the size of the department and the numbers we are talking about in terms of cases we have to review, I'm very comfortable we should not create, especially in a time of tremendous budgetary challenges, we shouldn't create a whole other apparatus that isn't as accountable to the community as I and the other council members are," Madison said.
Bibring countered that the $350,000 annual budget proposed for an independent auditor and administrative staff is a good investment, not only in restoring public confidence, but also as a hedge against spending the $4 million Pasadena has paid out in police department-related lawsuits over the past four years.
A polished debater, Madison pointed out that Pasadena's small police department's statistics pale compared to the much larger Los Angeles Police and Sheriff's departments, which have both been riddled with scandal and abuse, some of which -- such as cases involving the officers who beat Rodney King half to death -- Madison himself helped prosecute in his years as an Assistant US Attorney.
"We have 6,000 arrests a year, roughly 230 officers, just 52 use-of-force incidents in 2012 -- any kind of force, not just with guns -- which fell to 35 in 2013," Madison said, reporting as well that there have been just four officer-involved shootings in 10 years, all involving convicted felons committing new crimes when they were shot. "I do regular ride-alongs with our police officers and I bet I've met nearly every officer on the force. You just can't compare what's going on in Pasadena with what's happening with the Los Angeles Sheriff's Department."
"We have robust civilian oversight in Pasadena of our police department," Madison concluded. "And I do not believe that the proponents of some new, different kind of mechanism have not carried the burden of proof."
Bibring countered that the 12 annual Council meetings, the three dozen annual Public Safety Committee meetings, and a handful of trips in the passenger seat of a police car don't amount to effective oversight, witness the growing drumbeat of calls for civilian oversight over the past several years, witness the 100 people packing a library hall on a gorgeous Southern California summer evening -- many not from the tony Westside, but from Northwest Pasadena where the city's African Americans and Latinos live.
Comments from several of the Northwest Pasadena residents during the question period afterwards underscored the sense in their community that Pasadena's police are not in their neighborhoods to protect their children.
[dc]"I[/dc]t comes down to trust," Bibring concluded. "And right now, the Pasadena Police Department doesn't have that trust -- at least not in all its communities."
Perhaps a walk-along in Northwest Pasadena would change the Councilmember's perspective.
Dick Price
LA Progressive