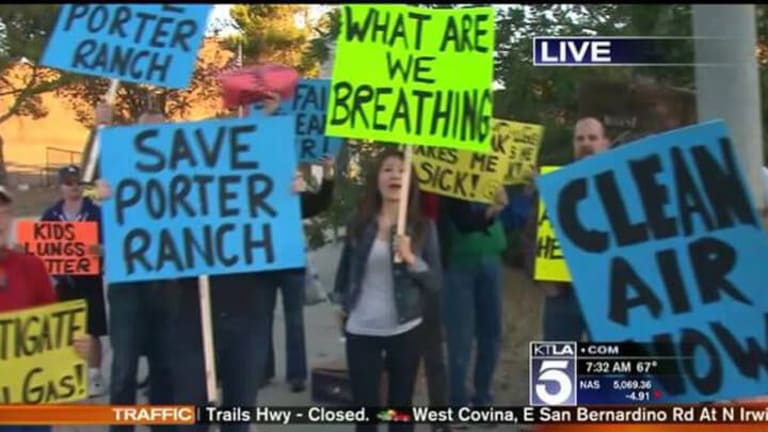 Porter Ranch Gas Leak: Why Such a Conundrum
Rosemary Jenkins: Sempra has agreed to the following conditions after having taken full responsibility for the gas leak that was discovered on October 23—going on two month ago.
Last Wednesday, about a thousand people (including some children) attended a standing-room-only meeting at a community church to hear about the seemingly interminable gas leak quandary in their neighborhood. The event, sponsored by the Porter Ranch Neighborhood Council, brought in quite a distinguished panel of experts to discuss what is at the root of the problem and how it can be resolved.
In addition to local lawmakers and their staff—kudos especially to Councilmember Mitch Englander (CD 12) and his people; so compassionate, concerned, and committed to his constituents—there were environmental specialists from the fire and police departments, the health department, DOGGR (Division of Oil, Gas, and Geothermal Resources), AQMD, LAUSD, City Council, and County Board—the list goes on.
The site in question is the Aliso Canyon Facility (which is located just above Porter Ranch), a workstation which has been a "critical energy facility supporting customer demand and electric grid reliability." Despite the "necessity" for its existence there (ironically, many residents were unaware of its presence when they bought their homes), it has become too obvious that proper and adequate oversight of the facility was not being implemented, thus allowing this type of crisis to occur.
Sempra has agreed to the following conditions after having taken full responsibility for the gas leak that was discovered on October 23—going on two month ago
Sempra, which is a privately owned gas company (which must answer to its shareholders and the bottom line), has agreed to the following conditions after having taken full responsibility for the gas leak (and its consequences) that was discovered on October 23—going on two month ago:
full cost-recovery on behalf of its gas customers who have had to be relocated to temporary housing, who have incurred additional transportation and meal costs and have had to seek medical attention (including prescriptions) for illnesses directly related to the leak
claims assistance will be available on a 24/7 basis
local storefront offices to handle customer concerns: information and help with applying for assistance; such offices will be ADA compliant; there will be a multi-lingual website established which will be a place to answer questions and offer other support services
the Health Department will provide facts, on a regular basis, regarding short- and long-term health effects from this episode
the monies received from fines that will be assessed to Sempra will go to customers whose residential and commercial property values have been affected
a community advisory committee (made up of NC members and other members and individuals representing a broad spectrum of pertinent groups) will be set up to meet on a weekly basis to be advised of the ongoing efforts to close off this leak and to inform the public about progress
a commitment by Sempra not only to locate the leak (which is well below the ground surface—8500-feet deep well) but to cap it off and cement it in so that it will NEVER be utilized again
furthermore, Sempra will remove any ignition sources in addition to the gas leak in question at this location, sources like dry grass and timber, for example, that can possibly lead to environmental and health problems there
the local schools will be monitored on an hourly basis and the community at-large will also be monitored several times a day—24/7 to keep on top of emission levels
The reality is that it is expected that it might take up to four months before this issue can be fully resolved. There is every effort being made to expedite this path to completion but because of the high winds in the area--health and safety concerns for workers have to be taken into consideration first before work can proceed—which means that there will have to be intermittent work halts on the fix.
The mercaptan chemical, that is injected into the gas we use so that we can smell the gas should there be a leak (whether in your home, business, or throughout the community), is an ongoing concern. Even though it is not poisonous to the extent that Sarin gas is, its effects can and do cause nausea, headaches, dizziness.
Benzene is another chemical that is of great worry to the public. It is a sulfur-based compound that is part of what is utilized in production and storage of the gas. Supposedly, used at low levels, benzene should not be a health hazard but at higher levels, it can produce human cancers, especially leukemia. Because of this, the use of benzene is tightly regulated, but the public is rightly concerned that when these anomalies occur, the release of potentially deadly benzene can be a frightening by-product.
Radon, a chemical that is often produced during the distribution and storage process (and which can also be found in our homes), can migrate during the repair process to the surface above the subterranean gas line. Radon is produced as a result of a break-down of other chemicals and, unfortunately, Porter Ranch (because of its windy and hillside location) is particularly susceptible and vulnerable to the risk of radon exposure (we have often been asked in the past—and currently--to check the radon levels at our own various properties). Because it is an unfortunate fact that through the repair process radon can be released, we must be ever vigilant, on guard, and watchful to protect ourselves above and beyond what the City, County, and Sempra will be doing.
Because of the regular windy conditions that the San Fernando Valley (270 square miles in area) faces each year, these gas emissions can affect residents—well beyond the Porter Ranch area. This problem, in reality, is an issue for all of us, and, therefore, we must insist that an effective process be put in place for immediate and improved responses to such emergencies.
Sempra has admitted it waited too long to address the issue and to inform the residents, and, as a result, it promises to change its way of handling such incidents. In the meantime, HAZMAT (hazardous materials response teams) is in the business of regulating this gas industry (with its potential for toxic emissions) and for responding to crises in a timely and effective manner. Its knowledge of and expertise regarding the particular chemicals used at the Aliso Canyon gas facility (under both City and County jurisdiction) will be utilized and depended on by the experts at hand who are working on remediating this potentially toxic issue and insuring that this kind of incident cannot repeat itself there or elsewhere within our City and County (realizing, of course, that there really are no air-tight guarantees that new and/or similar problems cannot transpire).
As of that meeting, more than one thousand complaints had been registered with the AQMD. At least 350 families (out of a thousand) had already been re-located. There is a commitment that school children (from Porter Ranch Community School and Castlebay Lane Elementary School and perhaps others in the affected area) who will temporarily be relocated to other schools to protect their health and safety will be guaranteed a place back in their respective schools upon their return.
The affected schools will also be assigned full-time nurses to be on the ready should students still attending those schools need medical help. Each classroom will also be fitted with air filter systems to help mitigate air-quality problems. Furthermore, outdoor activities will be optional (children can choose to conduct their exercise in enclosed areas inside).
These decisions from LAUSD are greatly welcomed by the parents of these children. Such actions will naturally provide some relief for the wide range of apprehensions that parents and guardians cannot help but feel.
In the meantime and during this long process, it is necessary to be pro-active and keep pressure on the various powers-that-be to address the causes of this significant health, safety, and environmental issue and to do what must be done to prevent a repeat of this unnecessary and preventable crisis.
Never feel hesitant to contact your City Councilmember or County Supervisor, your LAUSD Board Member, your State Assemblymember, and/or your State Senator when there are concerns that you have regarding these or other circumstances which can affect you or the community at-large.
Be on the watch for future meetings, townhalls, press conferences, media coverage on this Porter Ranch issue to keep informed and perhaps get involved.
Rosemary Jenkins