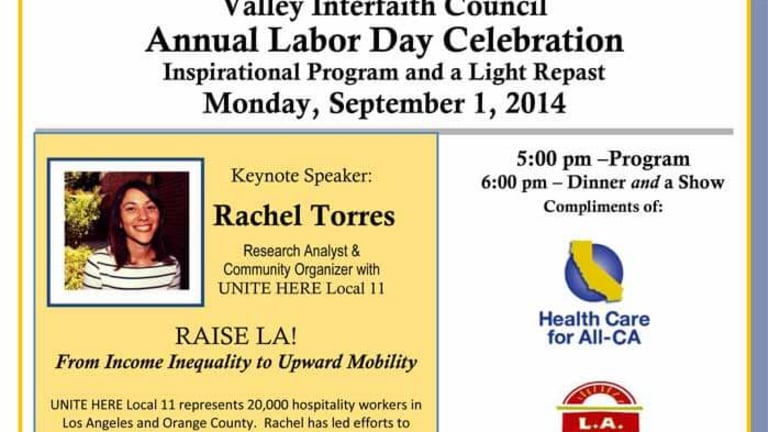 Raise LA! at Valley Interfaith Council on Labor Day
Rachel Torres, lead community organizer with the Los Angeles Alliance for a New Economy (LAANE) and UNITE HERE Local 11, will speak at the Valley Interfaith Council's (VIC) Annual Labor Day Program to be held at 5 pm on Monday
RAISE LA! From Income Inequality to Upward Mobility Rachel Torres, with the Los Angeles Alliance for a New Economy (LAANE) and UNITE HERE Local 11 is the keynote speaker for VIC's Annual Labor Day Program
Rachel Torres, lead community organizer with the Los Angeles Alliance for a New Economy (LAANE) and UNITE HERE Local 11, will speak at the Valley Interfaith Council's (VIC) Annual Labor Day Program to be held at 5 pm on Monday, September 1, 2014 at the Greater Community Missionary Baptist Church located at 11066 Norris Ave. in Pacoima. She will speak about the highest living wage policy in the country currently moving through the city of Los Angeles. The policy, entitled Raise LA, seeks to raise the minimum wage to $15.37 with five paid sick days for over 40,000 working families in the tourism industry.
Founded in 1993, LAANE is recognized as a national leader in the effort to address the challenges of working poverty, inadequate health care and polluted communities. Combining a vision of social justice with a practical approach to social change, LAANE has helped set in motion a broad movement to transform conditions in Los Angeles and beyond.
For the past 20 years, LAANE has been in the forefront of the nation's most dynamic progressive movement. LAANE spearheaded the defeat of Wal-Mart's ballot initiative in Inglewood, led Los Angeles' groundbreaking living wage campaign and pioneered a new approach to economic development that has become a national model for community empowerment.
The impacts of the policy could be extraordinary for the San Fernando Valley. While the hospitality industry has received record profits since the Recession, over 43% of workers live below the poverty line, and over half of these workers live in the San Fernando Valley. Raise LA has the potential to lift families out of poverty and put over $73 million dollars back into the local economy.
Come learn about the campaign and how you can be part of this national movement to address the most critical issue of our time. The purpose of VIC's annual Labor Day program is to strengthen the connection between the religious and labor communities in support of common values. A light meal will be provided immediately following the program. All are welcome and reservations are not required. Note: Founded in 1948 and long a center of social justice and community activism, the Greater Community Missionary Baptist Church is host to a hub of social service organizations including ABC Learn and Pacoima YouthBuild. It is the oldest African American church in the San Fernando Valley.
The mission of VIC is to create positive change within communities of the Greater San Fernando Valley as we serve, support and engage others through unity and faith in action. Established in 1964, VIC operates four multipurpose senior centers, a Meals on Wheels program and a coalition of independently operated food pantries in the San Fernando Valley. VIC is celebrating 50 years serving the San Fernando Valley. For more information about VIC and our 50th anniversary year events, visit VIC . Celebrating 50 Years!