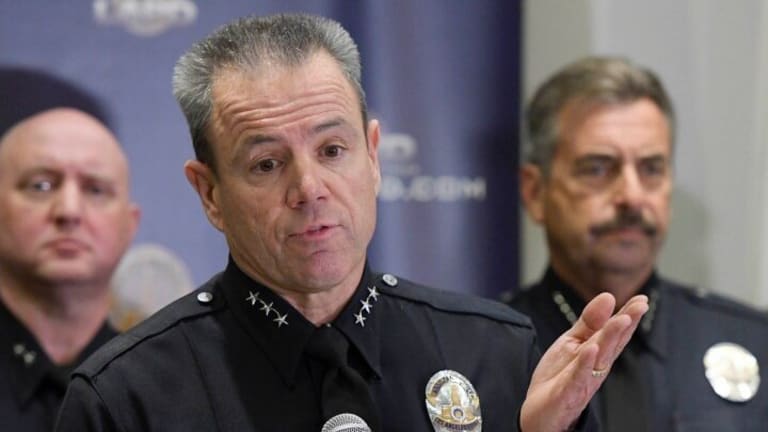 Replacing Charlie Beck
Dick Price & Sharon Kyle: the contest to become the next LAPD Chief is both more complex and less involving: complex because it requires a three-step City Hall appointment process, but less involving because voters have no direct voice at any critical step.
This summer, Angelenos are bracing for a law enforcement facelift, with an LA County Sheriff's race heading toward a primary in early June and LA Mayor Eric Garcetti slated to nominate a new Los Angeles Police Department chief, likely by late June.
In the Sheriff's race, incumbent Sheriff Jim McDonnell faces a June 5th primary against two recently retired sheriff's deputies, Bob Lindsey and Alex Villanueva, with the top two vote getters facing off in the November general election should none of them—read McDonnell—fail to corral 50% of the primary vote.
In living memory, the only way a sitting LA County Sheriff's re-election bid has failed is when the incumbent dies in office, as did Sheriff Sherman Block in 1998, or faces criminal indictment and ultimate conviction, as did Sheriff Leroy Baca four years ago.
So, while activists are trying to use the current race to focus attention on widespread concerns with LASD officer-involved shootings, overzealous collaboration on immigration raids, and lack of transparency, LA County is not likely to see the kind of enthusiasm we saw four years ago, when a eight sheriff candidates fought it out toe-to-toe in debates held in every corner of the county.
Unlike the Sheriff's race, the contest to become the next LAPD Chief is both more complex and less involving: complex because it requires a three-step City Hall appointment process, but less involving because voters have no direct voice at any critical step.
By contrast, the contest to become the next LAPD Chief is both more complex and less involving: complex because it requires a three-step City Hall appointment process, but less involving because voters have no direct voice at any critical step.
The Chief Retires
In January, LAPD Police Chief Charlie Beck announced plans to retire on June 27th, his 65th birthday, having served eight years at the top post, during which he earned praise for his down-to-earth leadership style and work in building trust for his officers in high-crime neighborhoods, while also facing sharp criticism for persistent high-profile police shootings and a light touch on officer discipline.
Because Beck plans to serve right up to his retirement date, the City shouldn't need to name an interim chief. That will give the Police Commission time to recommend three candidates to Mayor Garcetti, who will then select one, after which the City Council will decide whether or not to confirm the mayor's choice.
More than 30 candidates have applied to be the city's next police chief, including several current and former LAPD officers. The Commission plans to forward their recommendations in early June, well before Beck's last day on the job.
As the Los Angeles Times reports, the next chief faces daunting challenges:
"The next head of the LAPD will have to confront some of the most intractable problems facing the city and policing overall, including ongoing concerns over how officers use force, a sharp rise in homelessness, allegations of racial profiling, a stubborn uptick in crime and friction with a White House angry at the city's "sanctuary" policies that limit cooperation with immigration agents."
Leading the Pack?
Widely considered a frontrunner for Beck's office is First Assistant Chief Michel Moore, a 36-year LAPD veteran who has served eight years under Chief Beck as assistant chief and who was one of three finalists for the chief's job in 2009, along with Beck and current LA Sheriff Jim McDonnell.
Currently, as Director, Office of Operations, Moore oversees the LAPD's four geographic bureaus—Central, West, Valley, and South—and patrol divisions, and also directs the Compstat program, which deploys data analysis to gauge the department's policing effectiveness. Nearly 7,500 officers and other police personnel are under his command—roughly 75% of the force.
We visited Moore at his LAPD Headquarters office this week. Although he didn't say as much directly, the main message he delivered is that he aims to be a "This is not your father's LAPD" kind of guy, as did Beck.
"Today, what's huge for us is community engagement," Moore said in the interview Wednesday. "More important than the sheer number of arrests is the trust we have with the communities we serve."
"It starts with recruitment, training, expectations, accountability," he continued. "Rather than focus solely on arrests, we ask our officers what they're doing with the community, who they're talking to, what community groups they're engaged with. We set those expectations and hold them accountable."
He's particularly proud of the work he's done with juveniles.
"An example is pre-arrest juvenile diversion, preventing bad behavior and modeling good behavior, and contact with crime victims," Moore said."Daryl Gates, for all his ills, had a project to show young kids how to be a good cop."
Of Basque descent and the son of an immigrant, Moore was born in Porterville, California, and grew up in Arkansas, before coming to Southern California in 1978.
In his varied career in every level and corner of the department, he was brought in to clean up the Ramparts Division after the arrest of Rafael Perez, the corrupt officer who ultimately implicated 70 other Ramparts Division officers in various forms of misconduct. He also investigated Detective Mark Furman of OJ Simpson murder investigation infamy.
"I'm known as a bistered-earth guy, with a low tolerance for bad behavior," he said."I've got no tolerance for lack of respect, particularly with members of our communities."
He also worked in the two other divisions besides Operations—Special Operations, where he worked on revising vehicle impound policies, and Administrative Services, where he worked on changing use-of-force guidelines from "reasonable and standard" to"reasonable and necessary."
A self-described "systems guy," he worked in crime analysis in the early 90s, work which became Compstat, the crime-mapping program credited with better deploying officers to crime hotspots.
Thorny Problems
"Homelessness is the greatest humanitarian crisis we face—and it's on the rise again in Los Angeles," he said. "Lots of people believe it's a police problem. And police officers, like firemen, are "fix it" people so they sometimes fall for that trap, too. They see a problem and they want to fix it. But the homeless crisis is going to take all parts of the community working together."
Rather than simply arrest the homeless for minor infractions, Moore wants LAPD officers to protect the safety of all involved—business owners and residents nearby and also the homeless themselves.
"We're criticized for the increase in homeless arrests, but that's because there's also been an increase in violent crime rates among the homeless."
"We're criticized for the increase in homeless arrests, but that's because there's also been an increase in violent crime rates among the homeless," he continued.
"We try to seek voluntary compliance, encouraging people to change their behavior, rather than automatically arresting them," he said."For example, we've begun distributing trash bags on Skid Row, working with leaders among the homeless like General Jeff to clean up the streets where they live. I believe that they'd want to cooperate if they're shown respect and support."
Asked how he would resist pressure from the Trump administration for wholesale deportations, Moore cited the LAPD's 50-year history of providing services regardless of immigrant status. "Violent criminals should be police business, yes, but sweeping up people just because we can—no."
Again, he wants his officers engaged with all communities, such as through town halls and parents nights at schools. "And I'll use my bully pulpit to make the point that we're here to serve."
Asked about charges of racial profiling, Moore initially responded that communities with a higher incidence of crime need more police. When probed deeper, he made a distinction between "street crime" and "white collar crime," and the interview went into a different more meaningful direction.
Acknowledging that implicit racial bias is as prevalent inside of the LAPD as it is in the general community, Moore said, "policing south of the 10 freeway has often been conducted differently than it is in Bel Air." He added, "It shouldn't be that way."
Moore remarked that he intended to increase awareness of implicit bias but is fully aware that changing a culture takes time. "With more training from people like Dr. Bryant Marks, the Founding Director of the National Training Institute on Race and Equity, we will see improvement."
"But communities have a memory of some of LAPD's past misdeeds, even if the department has changed its ways," he said. "So we stress the need for constitutional policing and strict use of force guidelines."
Moore cites advantages evolving technology affords modern police departments.
"Since we outfitted our officers with body-worn cameras, we've got millions of hours of videos of good behavior—of officers following procedures in making arrests and working with the public. But we never look at them," he said. "We need to look at the good and the bad and then model good behavior to the command staff."
What the Community Needs
"This is a critically important moment to identify a chief of police who will rethink and refashion the police department. The new chief should fight for fewer (not more) resources, and less (not more) responsibility," remarked Emi MacLean, an attorney with the National Day Laborers Organizing Network. "The city's limited resources should be devoted more to social programs and less to policing."
"The new chief should ensure that the heavy arm of the law is not used in response to minor, low-level and quality of life offenses. When all you have is a hammer, everything looks like a nail; when all you have is a police force, everything looks like a cause for arrest," MacLean continued. "Any new police chief should fully disentangle LAPD from immigration enforcement so that the police are not funneling our residents to the deportation machine—as still happens too often now."
"And there should be de-escalation rather than lethal force as the response to tense situations—and accountability for unlawful killings and use of force by police," she concluded.
Moore says he wants that kind of feedback from the community and plans to began a regular series of surveys, both internal to the department and with the communities it serves, should he be named chief.
"We seldom ask victims—or criminals— 'how are we doing,'" he said. "But we need to hear bad news. Chief Beck moved us quite a bit in this direction, but we're still just in the third or fourth inning of a long game."
Escorting us to the interview with Chief Moore, Deputy Chief Debra McCarthy said, "Not too many people can handle the complexity, the challenges of the chief's job. Chief Moore can. He's a good guy. Respected."
Dick Price & Sharon Kyle
LA Progressive, Editor & Publisher